Though they are small and relatively harmless, skunks can be a nuisance if they take up residence under your house. Not only do they can damage house and attract other pests but they also produce a strong odor which can last up to 6 months. If you've ever been unfortunate enough to find a skunk smell under your house, you know just how potent can their smell can be. You may be wondering why do skunks spray under house?
Skunks are able to spray this noxious liquid up to 15 feet, and the smell can linger for weeks. But why do skunks spray under the house?
The Short Answer…
While skunks spray for many reasons, skunks typically spray under houses to deter predators and mark their territory. If the skunk feels threatened, the skunk will spray. They can be threatened by you, your dog, or anyone else in the house. Once they smell, the scent will spread into the whole house no matter where in the house skunk has sprayed.
When a skunk feels threatened, it will turn its rear end toward the predator and release a stream of musk. This musk is incredibly foul-smelling, and it will often cause the predator to back off. However, skunks will also spray if they feel trapped or if they are trying to mark their territory. If you have a skunk living under your house, there's a good chance that it will spray at some point. The best way to avoid being sprayed is to give the skunk its space and refrain from disturbing its nest.
Most people don't know that there's a good reason why these critters spray their foul-smelling scent. What's behind this behavior and what can be done to prevent it? Importantly, why do skunks spray under the house? If you're finding skunk odor under your home, there are some simple things you can do to keep them away. Read on to learn more!
Why Do Skunks Get Into Your House In The First Place?
If you have a skunk living under your porch or deck or smelled the potent smell, you are probably thinking how to deal with it. But aside from why do skunks spray under the house, why do skunks come into our houses in the first place?
The answer is simple: they're looking for food and shelter. While skunks are attracted to these places, they may also make their dens in the house. These places are under the deck, under sheds, porches, garages, in crawl spaces of homes, and dried drainage.
No doubt, skunks raid gardens, chicken coops, and compost piles for a quick meal of grubs, insects, fruits, and veggies. They often rummage through trash cans in search of food. And if a skunk feels threatened, it will spray a foul-smelling liquid as a form of self-defense.
Especially when winter rolls around and food becomes scarce, skunks have been known to break into houses in search of a meal. And that isn't only limited to winter, but skunks will also come into the house during the summer, spring, and fall.
Anywhere that provides a dark, sheltered environment is where skunks may live and make their den. All of these problems comes down to food availability and shelter.
Starting from spring particularly from February to March, skunks will start looking for shelter where they will also deliver babies while male skunks will look for shelter from early winter (December to January).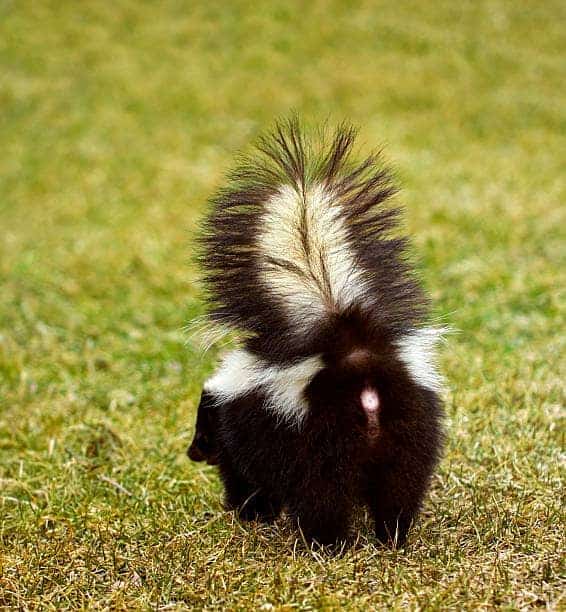 In the breeding season, male skunks will spray for attracting female skunks. And if the female skunk doesn't like to mate with the male, she will spray to deter the male and stay away from her. All of this happens under the house and the smell will soon approach every corner of the house.
The smell is so potent that will definitely cause you think, care, look and work for it. The bad part is, this smell will continue to stay as long as 6 months if you don't do anything about it especially if it's on a carpet.
As long as either one of these is available, skunks will either live or visit frequently in the house. The worse part is, if they sense a human, predator, or a pet, they will emit their terrible spray which the smell will pass on to every corner of the house in a short period of time. This odor is so potent that it can be detected by human noses from up to a mile away.
While skunk spray for many reasons, skunk spray under house because of being threatened, ward off predators, and to mark their territory.  Skunks spray as a way to defend themselves from predators. Find out how soon skunks can spray.
If you have a skunk living in or near your house, it's likely that it has found an easy food source that it can access on a regular basis.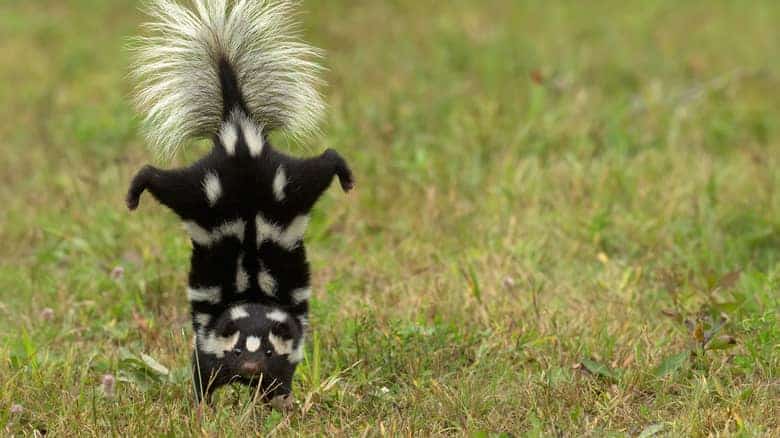 How Do Skunks Get Into House?
There are a few main ways that skunks can get into your house: through an open door or window, through cracks and holes in the foundation or walls, or by digging under your porch or deck. Once they're in, they'll often take up residence in your basement, crawl space, or shed. If you have a skunk living under your porch or deck, it will probably smell one day when they feel threaten from you, your family member or pet.
Although it's possible to clear out the smell, it won't be removed permanently until the skunk is in the house. The best way to get rid of the smell permanently is by removing the animal.
You can do this by setting a live trap baited with cat food, dog food, or bacon. Once the skunk is trapped, you can release it far away from your home. If you can't remove the skunk yourself, you can call a wildlife control company or your local animal control office.
How Long Do Skunks Live In A House?
To be honest, skunks will live in the house until they are left. This is usually because the house provides the skunks with what they need to survive. Either that be food or just a great shelter with dark and quite envoriment. Skunks need access to food, water, and shelter in order to live, and a house typically does have all of these things.
Many people believe skunks will leave the area once they have delivered the babies or they are matured. But the reality is, skunks do not leave the area even after the babies have matured.
How to Get Rid of Skunks Smell In The House?
A skunk smell can be from many places and not only from skunks. Find out what else can cause skunk smell in the house. Now that we know why do skunks spray under the house, here's how to deal with skunk smell.
But if you have realized a skunk in the house, here are a few tips for getting rid of the skunk smell in the home:
Identify The Source of Odor
* First, identify the source of the odor using your nose and following up to the area where the smell is strongest. Once the source of the odor has been identified, it is important to ventilate the area.
This can be done by opening windows and doors and turn on fans to circulate air. If the smell is emanating from a particular piece of furniture, it may be necessary to remove it from the room and allow it to air out in a garage or shed. In some cases, it may also be necessary to remove carpeting or flooring if the skunk smell has permeated these materials.
Neutralizing The Skunk Smell
Once the source of the odor has been removed, you can then begin to work on neutralizing the skunk smell itself. This can be done by using a variety of household cleaners, including vinegar, baking soda, and hydrogen peroxide. Clean it up as best as you can. This may mean removing skunk spray from walls or flooring.
Place Bowls of Vinegar For A Day or Two
Place bowls of vinegar in all rooms for 24 to 48 hours until the scent isn't there. The vinegar helps to neutralize the skunk's odor. This will help to absorb some of the odor.
Finally, make sure to keep your windows and doors open to allow fresh air to circulate. You can clean up hard surfaces like floor and furniture with 10% bleach or vinegar and 90% water. Make sure to test the mixture first so it doesn't ruin the color of the furniture.
Other than that, if skunks smell is to you, your clothes, your pet, your car or your furniture, here's the solution to all of this here.
How to Get Rid of Skunks Under The House?
As skunks are nocturnal, they are most likely to be found under your house at night. If you suspect that you have skunks living under your home, there are a few things you can do to get rid of them.
If you have skunks living under your house, the best way to get rid of them is to install a bright light or a motion sensor flood light. Skunks are very sensitive to light and will avoid areas that are well lit.
The motion sensor will scare the skunks away every time they approach your house. This method is safe, effective, and does not require the use of chemicals or traps.
Motion Detection Sprinkler
If you're dealing with a skunk problem, installing a motion detection sprinkler is a great way to get rid of them for good.
These devices are designed to detect movement and then release a burst of water. The sudden noise and movement will startle the skunks and discourage them from returning. Motion detection sprinklers are safe to use around children and pets, and they can be found at most home improvement stores.
Sprinkle Skunk Repellent Granules
A good option is to sprinkle skunk repellent granules around the perimeter of your property. These granules release a strong scent that will deter skunks from entering your yard. These repellent will make the area uninviting for skunks, and they will eventually move on in search of a new home
Ultrasonic Skunk Repellent
One popular method is to use an ultrasonic skunk repellent. These devices emit a high-frequency sound that is supposed to be intolerable to skunks, driving them away from the area. There is some disagreement as to whether or not these devices are actually effective, but they are relatively cheap and easy to use, so they are worth a try
Sprinkle Skunk Repellent Citrus
One way to deter skunks is to sprinkle skunk repellent citrus around the perimeter of your home. The strong smell of citrus will help to keep skunks away. You can also try placing mothballs or Ammonia-soaked rags around the entrance to the den. These strong smells will also help to discourage skunks from making your home their own.
Another option is to set up a live trap and release the skunk far away from your home. This method is more humane, but it does require some patience and effort on your part. Skunks are intelligent creatures and may figure out how to escape from the trap if it is not set properly. Here are more tips on getting rid of skunks.
How To Prevent Skunks From Getting Into House In The First Place?
While skunks are generally shy around humans, skunks will spray if they feel threatened. The musky odor of skunk spray can be difficult to remove, and the smell may linger for weeks. To deter skunks from your property, here are a few steps to take. If you are wondering why do skunks spray in the house, check above.
Get Rid of Their Food Sources
The best way to keep skunks out of your yard is to remove any potential food sources, such as garbage cans or pet food left outdoors. Keep trash cans securely covered, and pick up any fallen fruit from trees or bushes.
You should also make sure that there are no gaps or holes in your fence or foundation that could provide an easy entry point for a skunk.
Seal Any Cracks, Openings & Holes
If you're dealing with a skunk problem, the first step is to seal up any cracks, openings, or holes with with soil, leaves, straw. This may require some material and work, but it's worth it to keep skunks out. You should seal any gaps or holes in your home's foundation, as skunks may take up residence in an undisturbed area.
Seal Shelter Points with Chicken Wire
One of the most effective methods is to seal off their shelter points with chicken wire. This will prevent them from getting access to the underneath of your house, and over time, they will likely move on to find a new place to live. You will also need to take steps to deter them from returning, such as removing sources of food and water. With a little effort, you can get rid of skunks for good. And that was all about why do skunks spray under the house.