While it's common to see squirrels frolicking around with nuts or acorns in their mouths, it's difficult to find squirrels drinking water. In fact, little or no people have seen squirrels drinking water, so do squirrels really drink water? And do they actually need it?
The Short Answer…
Contrary to people's belief, squirrels drink plenty of water every day with pregnant and nursing squirrels drinking more. In fact, they need to drink water more than food in order to survive. While squirrels can live only 2 days without water and 5 to 8 days without food.  
While squirrels do drink water, they also get some water from the food they eat like fruits, vegetables like mushrooms,, plants, and small puddles. But that doesn't mean squirrels do not need water and don't have to drink water at all. If they don't drink enough water, they can become dehydrated and sick.
In fact, squirrels will NEED to drink even more water than usual like during hot summer or pregnancy. Here's when do baby squirrels leave the nest.
Do Squirrels Need To Drink? How Much Water Do Squirrels Drink A Day?
Yes, squirrels need 30 to 60 ML of water every day in order to survive. Although they drink water, squirrels also stay hydrated by eating fruits like strawberries and vegetables that contain water.
While they don't need to drink as much as other animals, they do need to stay hydrated. In the winter, squirrels may get most of the water from their food but in the summer, and spring, they may need to drink more than just getting water from food. And although squirrels rarely die from dehydration, it's better to offer some water in the summer.
Why Do Squirrels Drink Water?
While we all know that squirrels are fond of nuts and acorns, you might not be aware that these furry little creatures also need to drink water on a regular basis. Although they drink water to stay hydrated, they drink less water but why? Here's why.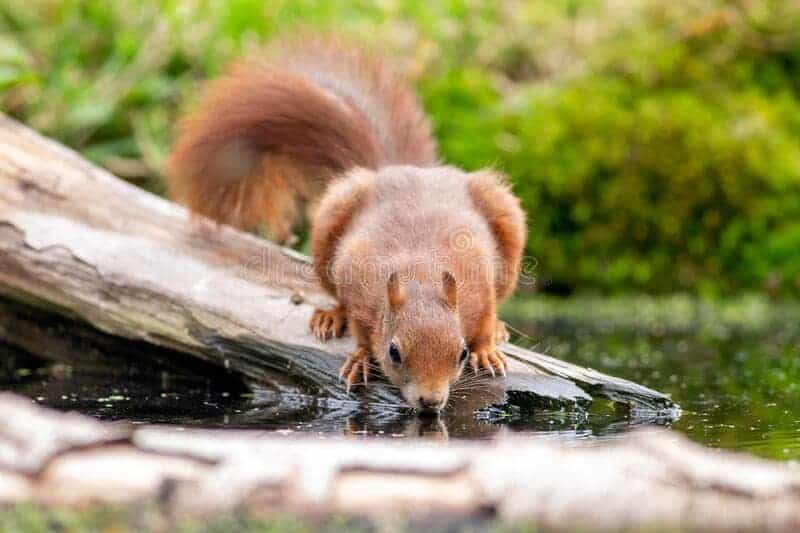 In fact, squirrels have surprisingly efficient kidneys that allow them to extract all the moisture they need from their food. However, during periods of hot weather or drought, their bodies can become dehydrated, and they will need to find an external source of water.
While squirrels have higher body temperature than humans which causes squirrels to save and not lose water as much as we do. A squirrel's body temperature is 99 to 101 degrees Fahrenheit and a human body temperature is 97 to 99 degrees. Its probably not a big difference in numbers, but its a great change in action.
While squirrels have sweat glands under their feet, they do not sweat as much as we do and so they need less water to regulate and lose less water from sweating. Their sweat glands are under their feet but it doesn't cause sweating much but instead it helps in leaving a scent and trail.
The only time squirrels lose water is when they pee and poop. Here's what squirrel's poop looks like but what does squirrel poop smells like?
How Long Can Squirrels Live Without Water?
Squirrels are able to live up to 2 days without water, depending on the temperature and the squirrel's activity level.
If a squirrel doesn't have access to water, they will start to dehydrate within 24 hours. After 48 hours without water, a squirrel will die. The average squirrel needs about one to two ounces of water per day. A hot day or a lot of physical activity will require more water. Therefore, it's important for squirrels to have access to a reliable source of water.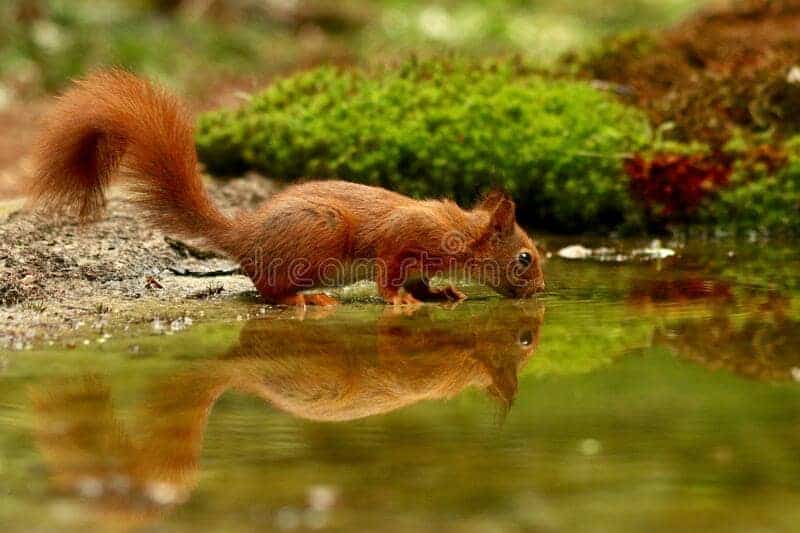 Fortunately, they are adept at finding water sources in the wild and are often able to find enough water to stay hydrated.
How Do Squirrels Find Water?
Squirrels are experts at finding food, but how do they find water? When it comes to finding water, squirrels are resourceful creatures. They are able to find water in different ways through food, licking leaves, and using their keen sense of smell and sight.
Studies have shown that squirrels can detect the scent of water from up to a mile away. This helped them to survive during periods of drought when other animals were struggling to find enough to drink. When a squirrel picks up the scent of water, it will follow its nose until it finds the source. In some cases, this can lead them on a long and treacherous journey. However, the effort is always worth it, as water is essential for their survival.
Where Do Squirrels Get Water?
Most people know that squirrels like to eat nuts, but they may not realize that these creatures also need to drink water on a daily basis. Although they drink from the closest, safest and freshest water source but that doesn't mean squirrels will always drink from one place all the time. In fact, squirrels often change and food and water from different places.
In The Wild
From Rivers, Fonds, Streams, Fountains
In the wild, squirrels will typically get the majority of their water from the river, fonds, streams, waterway and fountains. However, during periods of drought or when food is scarce, squirrels will turn to other sources of water. This can include rain puddles, dew on leaves, or even bird baths. In some cases, squirrels have even been known to raid pet bowls or drip faucets in search of a drink.
In the winter, if a squirrel doesn't have access to water, it may eat snow to get the water it needs. However, eating snow can also lower a squirrel's body temperature, so they don't do it often.
In The City
In the city, with no natural sources of water, it can seem like these furry creatures must be at a loss. However, there are actually a number of ways that squirrels can get the hydration they need.
One common method is to drink from bird baths or fountains. These small bodies of water often attract a variety of wildlife, and squirrels will frequently take advantage of them.
Another option is to lick raindrops from leaves or other surfaces. This may not seem like much, but it can actually provide a significant amount of water for squirrels.
Many people leave out dishes of water for their furry backyard friends. By taking advantage of these resources, Squirrels can stay healthy and hydrated in even the driest conditions.
While squirrels do get a lot of their water from the food they eat, they also need to drink water daily to stay hydrated. If there is no fresh water available, they will turn to dirty waters like standing waters and other sources like toilets and sewage pipes!
No matter where they find it, water is essential for keeping squirrels healthy and hydrated.
How Squirrels Drink Water?
While squirrels are not known for their drinking water, they do drink water in a very smart way.
Squirrels drink water using their tongues to lap up water just like a dog would but quicker. A squirrel dips his tongue into water and curl like spoon and move back to his mouth and close their mouth and swallows it. And they do the same until they are out of thirst. It's not much impressive or different than cat or dog but it's probably a beautiful and amazing moment.
They will also chew on leaves or other vegetation that is soaked in water.
Can Squirrels Drink Out Of A Bowl?
Squirrels are one of the most common backyard critters. As such, many people often wonder if they can provide these furry creatures with a little water to drink.
Fortunately, squirrels can drink out of dishes, bowls, and bird feeders. However, they may not be able to reach the water if the bowl is too deep. Make sure to provide a shallow bowl of water for your squirrel friend! They are often seen using their long tongues to lap up water from bird baths or other shallow dishes.
While they prefer to drink from moving water sources, like streams or ponds, they will drink from still water if it's their only option.
How Do You Give Water To Squirrel?
In the summer during the hot days, water is one of the most important things that you can give to a squirrel. It helps them stay hydrated, which is essential for their overall health. Just like any other animal, squirrels need water to survive.
The best way to do this is to use a squirrel water feeder or a dish. You can also put out a shallow dish of water, but be sure to empty it and clean it daily to prevent mosquitoes from breeding.
Remember to refresh and re fill the water every day or every two days maximum.
Should You Feed Water To Squirrels Every Day?
While it's true that squirrels are wild animals, there's no harm in occasionally feeding them. In fact, doing so can provide some benefits but not everyday.
For one thing, it can help to deter them from raiding bird feeders or damaging trees and shrubs in search of food. Also, providing a consistent food source can help to keep squirrels healthy and avoid from starvation.
However, there's no need to go overboard; once or twice a week should be plenty. Otherwise, you may find yourself with more squirrels than you know what to do with!