Have you ever been curious about what squirrels do when it rains? Wonder no more!
In this blog post, we will detail everything there is to know about rain and squirrels.
From discussing how different types of rainstorms affect them to providing advice on what to do if you encounter a wet one. Read on to get all the answers to your questions and some extra tips too.
Where Do Squirrels Go When It Rains?
The short answer is: Different squirrels have different preferences when it comes to weather conditions. Some squirrels may prefer to hole up in a hollow tree or another sheltered spot when it rains, while others may choose to forage for food even in wet weather.
That said, most squirrels will do their best to stay dry during wet weather by finding cover wherever they can.
They may climb up into the trees, find a spot under a porch or deck, or even curl up inside an old appliance or other pieces of discarded furniture.
Do Squirrels Stay In Their Nests When It Rains?
Although squirrels are more visible running around in the trees during periods of dry weather, they're just as likely to stay huddled up in their nests during heavy rainfall.
Squirrel nests act as both shelter and storage for them, so it makes sense that they would want to stay put when the weather outside is terrible.
Plus, wet fur can be very uncomfortable and challenging to keep clean and dry.
So next time you see a squirrel darting across your yard in the rain, remember that he's not necessarily looking for shelter – he's just trying to avoid getting soaked.
Do Squirrels Get Wet In Trees or Nests?
When rain falls, squirrels are usually good at finding ways to stay dry. There will be times, though, when they get wet.
If a squirrel can't find shelter from the heavy rain, it will first try to climb a tree or go back to its nest in a hollow tree. The more leaves there are on the tree, for example, the better coverage the foliage offers against rainfall.
Even with this shelter thought, sometimes squirrel's fur gets soaked through, which then requires sitting in sunlight until dried off again.
Maintaining a dry and healthy fur coat is crucial for any squirrel – they can do this by licking themselves or grooming with their paws.
Do Squirrels Hide In Manmade Structures When It Rains?
Did you know that squirrels often take advantage of manmade structures for refuge when it rains? The answer may surprise you.
While it's true that we see squirrels running around in the rain, they typically don't look for human-built shelters to stay dry.
Instead, they usually keep on going about their business, searching for food or chasing each other around.
In fact, studies suggest that the majority of squirrels prefer being out in light rain than staying cooped up indoors.
So next time you see a squirrel frolicking rather than looking somber in the raindrops, don't feel sorry for them – they're probably having a great time.
Do Squirrels Afraid Of The Rain?
As anyone who has ever been chased by a squirrel knows, these furry little creatures are not afraid of getting wet.
In fact, they seem to enjoy the rain, leaping and bounding through puddles with abandon. But what do squirrels think of the rain?
For one thing, the rain allows them to take a much-needed bath. Squirrels are naturally clean animals, but they can still benefit from washing off now and then.
The rain also has a few benefits for squirrels. The moisture helps to keep the fur from getting too matted or dry, and it also helps to ward off fleas and other pests.
Of course, the strong rain can bring some challenges as well, such as difficulty in finding food that is hidden under leaves or buried underground.
Also, being wet makes it difficult for them to stay warm and comfortable.
Do Squirrels Come Out In The Rain?
Although you would expect squirrels to remain in their nests within trees in rainy weather, you may spot one running around your yard instead.
Squirrels come out in the rain because they are looking for food, such as nuts and acorns, to store away for the winter months or their babies.
When it's raining outside, squirrels have an easier time looking for food since the ground is softer and easier to dig.
Also, rain can help cover their scent from predators.
So if you see one running around next time it's wet out, know that they're just trying to get something to eat.
Do Squirrels Run Around In The Rain?
Although squirrels less often spend time in the harsh rain, there are moments when they may need to search for food or find shelter.
Some of them look like they're playing games and appear to be having fun, but all animals get sick more easily if their fur gets soaked and can't dry soon enough.
Pneumonia is one severe health condition that any animal risks developing if this occurs.
So although you might see an adult squirrel or two running around in the rain every now and then, as a general rule, they prefer to stay dry.
What Happens To Squirrels During Hurricanes?
During extreme weather conditions, such as hurricane grade weather, squirrels will generally hide in a safe place.
When a hurricane is brewing, they look for shelter instinctively so that they aren't blown away or drowned. They'll often go to nearby trees, burrows, or other dense vegetation.
Once the storm has passed, they come out of hiding and continue their activities as usual.
Consequently, even the most severe storms can be weathered by these furry little creatures.
What Happens To Squirrels During Thunder Storms?
During a thunderstorm, squirrels will quickly retreat to the ground or back to their den for safety.
Scientists do not entirely understand why they behave this way, but it is believed that their sharp hearing enables them to detect approaching thunder much sooner than humans can.
As soon as squirrels sense an approaching storm, they jump down from wherever they are and look for a burrow or den to take shelter in.
In some cases, they might curl up into a tight ball to minimize their exposure to the elements.
By taking these precautions, squirrels can safely wait out the storm until it passes.
What Should I do If I Find A Squirrel That Soaks Wet?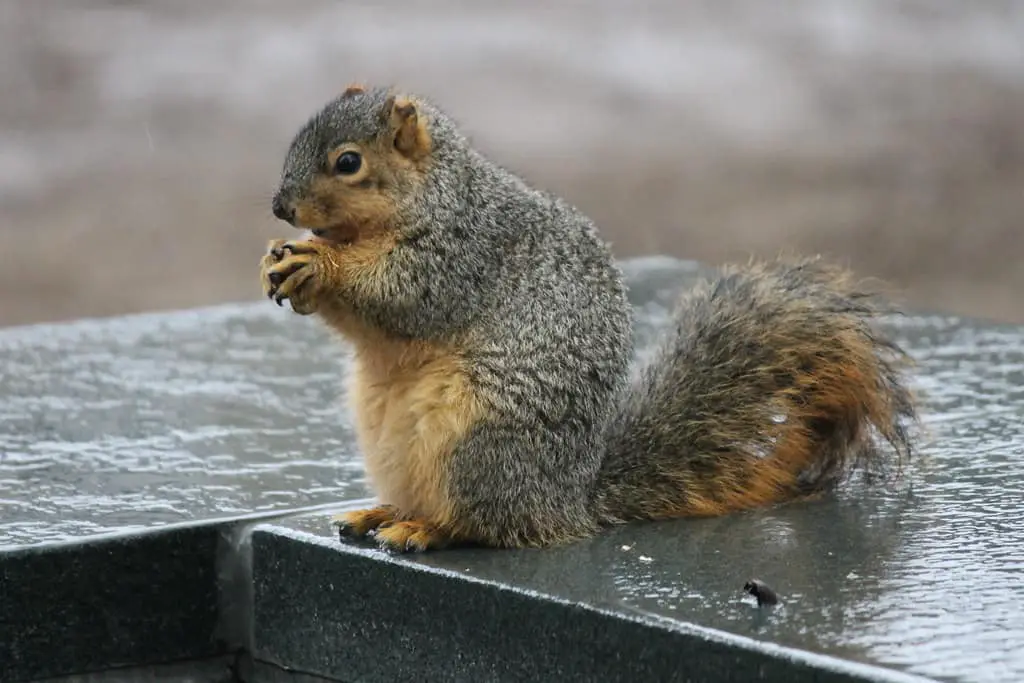 If you come across a drenched squirrel, here are some ways to assist it.
Time is of the essence once you see them, so try to get them out of the water as soon as possible.
If available, use a towel or blanket to dry off the animal gently, ensuring not to scare it in the process.
Once its fur is no longer wet, give it access to food and water – but be mindful not to overtax it with too much at first.
Milk might seem like an obvious liquid solution for small and cute squirrels as they are lactose intolerant; however, avoid giving any since it is disagreeable with their stomachs.
All things considered, if the squirrel looks healthy otherwise and doesn't have trouble moving around, then release it back into nature.
If the squirrel appears to be weak or hurt, take it to a wildlife rehabilitation center nearby. With some assistance, the soaked squirrel will soon be back on its feet.
Conclusion
To sum it up, here is everything you need to know about what happens to squirrels during different types of weather. They aren't too picky and can acclimate well to most conditions; yet, if you find a shivering squirrel in the rain or snow, give it a little help so that it can get well soon and return to the wild.
Frequently Asked Questions
Do Wild Squirrels Get Sick When They Are Soaking Wet?
If squirrels get soaking wet in the rainy weather, they won't get sick as long as they can find somewhere warm and dry to rest. When their fur expands from the water weight, it becomes difficult for them to move or stay warm.
Do Baby Squirrels Come Out In The Rain?
Newborn squirrels are born hairless and pink, so they need their mom to keep them warm and dry in her nest in the hollow tree. Baby squirrels that get wet can die quickly from sickness, So if you see a baby squirrel struggling in the rain, try to help it find shelter.
Do Squirrels Fear Of Lightning?
Some researchers think squirrels might be afraid of lightning because it is related to thunder from a distance. On the other hand, some people hold the opinion that squirrels are unafraid of the bright light from a lightning storm.
What Do Squirrels Do During Snowfall?
There are several things that squirrels may do during a snowfall, which vary depending on climate and other conditions. In general, however, squirrels will:
1. Stay in their nests until the storm passes;
2. Come out to play once the flakes have stopped falling;
3. Look for food beneath the surface of newly fallen snow; or
4. Build dens or find shelters by burrowing into the drifts.