What do squirrel nests look like? Where do they live? Why do squirrels build nests? and when? What are the different types of nests that squirrels build?
Squirrels are very resourceful animals and will build their nests in a variety of locations depending on their needs.
Do squirrels come back to the same nest year after year?
In this blog post, we will answer all of those questions and more!
What Do Squirrel Nests Look Like?
Squirrel nests, also known as dreys, are usually built in the forks of trees.
They are typically spherical in shape and range in size from about eight to ten inches in diameter.
The outer layer of the nest is made up of twigs and leaves, while the inner layer is composed of softer materials like moss and grass.
The nests are lined with shredded bark and pine needles to keep the occupants warm, and they usually have one or two entrances.
Nests are not only used for sleeping; they also serve as safe places to store food and raise young.
Given their importance to squirrels, it's no wonder that these nests are so well-constructed.
How To Distinguish A Squirrel Nest With A Brid Nest?
There are several ways to distinguish a squirrel's nest from a bird's nest.
One way is to look at the size of the nest. Squirrel nests are usually larger than bird nests because squirrels need more room to move around.
Another way to tell the difference is to look at the shape of the nest. A squirrel's nest is generally more round and conical in shape, while a bird's nest resembles a cup.
Finally, you can usually tell the difference by looking at the materials used to build the nest. A squirrel's nest is usually made of twigs and leaves, while a bird's nest is usually made of grass and feathers.
Taking these factors into account, you should be able to distinguish between a squirrel's nest and a bird's nest.
Where Do Squirrels Build Nests?
Squirrels are creatures of habit and will often build their nests in the same location year after year.
However, they are also adaptable and will use whatever materials are available to them.
Tree dreys
Tree dreys are the most common type of nest built by tree squirrels.
These nests are made of twigs, leaves, and other vegetation and are typically found in the forks of branches or near the trunk of a tree.
Tree cavity dens
Tree cavity dens are another option for tree squirrels.
These dens are created when a squirrel enlarges an existing hole in a tree, or excavates a new one.
Underground burrows
Ground squirrels, on the other hand, build burrows into the ground.
These burrows can be quite extensive, with multiple entrances and chambers for storing food and nesting.
Indoor nests
Finally, indoor nests are built by ground squirrels who have taken up residence in human homes.
These nests are usually located in attics or behind walls and are made of insulation, paper, and other soft materials.
Squirrels build nests in a variety of locations depending on their needs, but they are most commonly found in the forks of trees or in holes in trees.
Where Do Flying Squirrels Live?
Flying squirrels are one of the most adorably furry creatures in the animal kingdom, and they're also one of the most widespread species.
But where exactly do these nocturnal animals make their homes?
While it depends on the specific species, flying squirrels typically reside in tree cavities in forests, abandoned bird nests, woodlands, and jungles.
So the next time you're out for a walk in the backyard, keep your eyes peeled for these acrobatic animals.
Do Squirrels Build Multiple Nests?
Squirrels are not only interesting and adorable but also known for their nests that are built high up in the trees.
After squirrels mate, they need to build a new nest for either themselves or their young.
If you frequently see more than one nest in trees, don't be alarmed—this is actually quite normal! Squirrels do build multiple nests.
In fact, building multiple nests provides many benefits for these furry little creatures.
First, having several places to sleep allows them to get the best rest possible while continuing to care for their offspring.
Second, as they are constantly searching for food, multiple nests help save time traveling for squirrels.
Lastly, it also provides them with a degree of safety from predators.
By having several nests spread across their territory, if one nest is attacked, the young in other nests may survive.
So next time you see a squirrel running around carrying twigs in its mouth remember that it could be helping ensure the survival of its species!
Do Squirrels Come Back To The Same Nests?
A nesting squirrel will often return to the same nest site year after year.
The female will usually have 2 breeding periods per year, with each litter consisting of 2-4 baby squirrels.
Once the young are old enough to leave the nest (usually around 3 months), they may not travel far – studies have shown that juvenile squirrels often stay within just a few hundred meters of their birthplace.
As a result, it's not uncommon for several generations of squirrels to live in close proximity to one another.
Although squirrels don't typically build entirely new nests, they will commonly make repairs to their existing ones by adding fresh leaves or twigs.
By doing this periodic cleaning, they guarantee that their nests stay warm as well as comfortable for not only themselves but also the next generation of squirrels.
Why Do Squirrels Build Nests?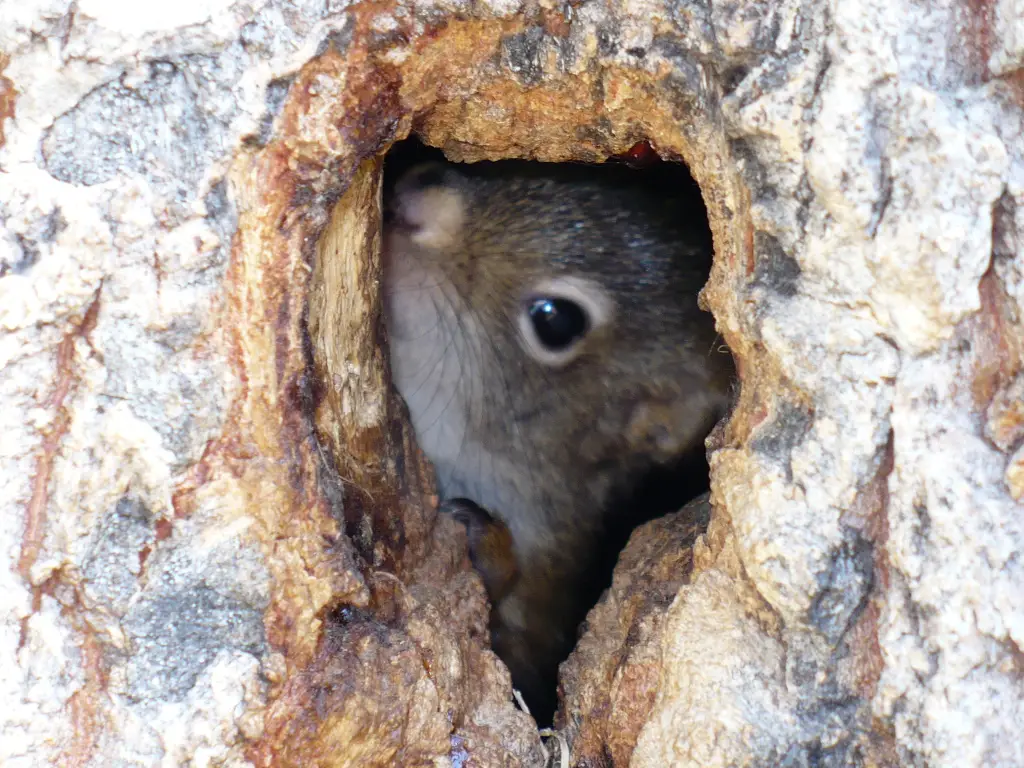 Squirrels are not known for being the tidiest of creatures. Their nests, which they build out of leaves and twigs, are often messy and unkempt.
But why do squirrels go to all the trouble of building nests?
Territory
Squirrels use their nests to mark their territory. By building a nest in a particular location, a squirrel is letting other animals know that this is its home.
If another squirrel tries to move in, the original owner will often chase it away.
Raise babies
The answer lies in the fact that squirrels are very social creatures. They live in family groups consisting of a mother and her offspring.
And like most families, they need a safe and cozy place to call home.
Squirrels build nests so that their young will have a place to stay warm and dry.
Protect from predators
The nests also provide protection from predators. By being high up in trees, they are out of reach of most ground-dwelling predators.
And because they are made out of leaves and twigs, they are also camouflaged and difficult to spot.
This makes it much harder for predators to find and attack squirrels and their young.
Survive in winter
In winter, when food is scarce, squirrels will often share their nests with other members of their family group.
By huddling together, they can stay warm and improve their chances of surviving the cold months ahead.
So next time you see a squirrel scurrying around with a mouthful of twigs, remember that they're just trying to build a comfortable home for their loved ones.
When Do Squirrels Build Nests?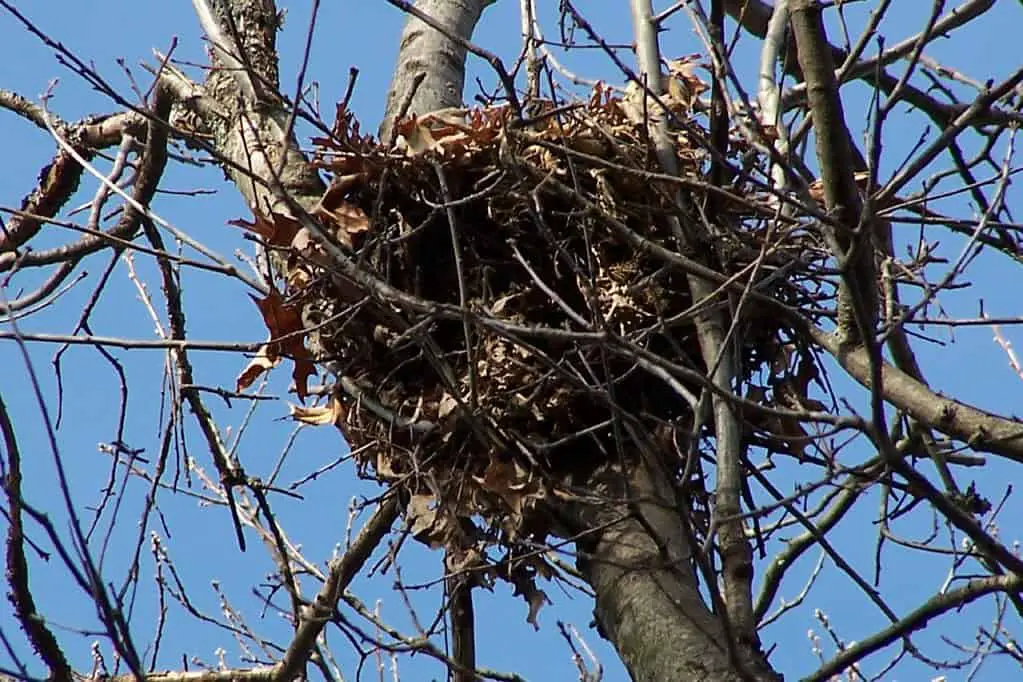 Squirrels are interesting creatures, and their nesting habits are no exception.
While most animals build their nests in the spring, squirrels actually wait until late summer or early fall to start construction.
This is because they want their nests to be finished before the winter weather sets in.
Squirrels typically build their nests high up in trees, using twigs, leaves, and other materials to construct a cozy home.
However, ground squirrels will also build nests on the ground.
In either case, squirrels take care to build their nests in locations that offer protection from predators and extreme weather conditions.
As a result, their nests often provide a safe haven for other small animals as well.
So next time you see a squirrel busy at work on its nest, remember that it is preparing for the winter months ahead.
Why Do Tree Squirrels Build Nests In My Backyard?
There are many reasons why squirrels build nests in backyards.
For example, without people around, yards provide a safe environment for baby animals to stay away from predators.
Additionally, the trees and other plants give squirrels access to nesting materials while also providing them with shelter.
Backyards often have an abundance of food as well, which gives adult squirrels one less thing to worry about while raising their family.
Because of all these reasons, it's not unusual for yard owners to find themselves with some new furry neighbors every now and then!
Why Do Squirrels Build Nests Beneath My House and In My Attic?
If you have ever discovered a squirrel nest in your home, you may be wondering why they chose your house as their shelter.
Ground squirrels usually build nests under houses while tree squirrels usually build nests inside attics for a few reasons.
One reason is that these areas provide a safe place for the animals to raise their young since they are prey animals whose young are vulnerable to predators.
Thus, by nesting in an enclosed space, squirrels can help keep their offspring safe from harm.
Ground and tree squirrels are often attracted to houses because they are typically warm places, which is significant during colder months.
Additionally, nesting inside a house or beneath a porch gives squirrels easy access to food sources like bird seed or pet food.
If you find a squirrel nest on your property, it's best to leave it be and wait for the animals to move on eventually.
Conclusion
Squirrels are fascinating creatures, and their nests are just one of many things that make them unique.
Next time you see a squirrel busy working on its nest, remember it is preparing for the coming winter months.
And if you find a ground squirrel nest on your property, it's best to leave it alone and let them stay. They will eventually move on if you give them time.