When it comes to raising chickens, feeding a balanced diet is necessary. As much as giving the right amount of protein can help, too much protein can even cause more health problems for your chickens. However, there are many early signs and symptoms which could indicate overfeeding proteins and potential problems if left untreated. But what are the symptoms of too much protein in chickens? And what to do if you find chickens to be in the situation? Here are the details.
The Short Answer…
There are several symptoms that can indicate that a chicken is getting too much protein in its diet. Symptoms are an dehydration, loose bowels, respiratory problems, watery eyes, coop and poop, blistered feet, weight gain, irritability, headache, exhaustion and respiratory problems. In extreme cases, too much protein can be fatal to chickens.
Symptoms of too much protein in chickens include digestive issues such as soft or runny stools, gout, and kidney problems. 
Chickens may also become more aggressive when they are getting too much protein, as the amino acids can have a stimulating effect on the brain. And they may start picking fights with each other or with other animals.
While chickens need protein, however, if it exceeds, chickens cannot store protein like some animals that will lead to problems.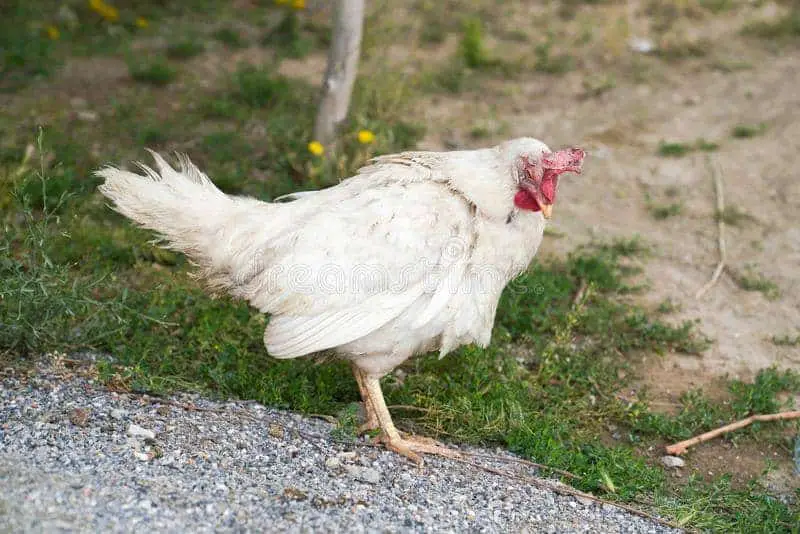 How Much Protein Do Chickens Need?
When it comes to feeding chickens, there is no one-size-fits-all answer to the question of how much protein they need. The amount of protein a chicken needs will depend on its age, breed, and stage of development. However, the University of Alabama has a great chart which breaks down the exact amount of protein chicken needs and how much young, adult, female chicken needs.
For example, young chicks need more protein than adult chickens, as they are growing and developing. Similarly, egg-laying hens require more protein than non-laying hens, as they need the extra nutrients to produce eggs.
Not only that, the amount of protein in a chicken's diet also depends on the time of year. In the summer, when its hot and there is an abundance of insects and other small animals for them to eat, chickens need less protein in their diet than in the winter months. However, as much as the protein is helpful, it also creates problems if it's fed more than enough.
But how do you know if you're overfeeding chickens? And how much is the right amount? Well, there is not a one size fit answer that's simply because there's a lot more to decide than just an amount. You can check out the chart and decide it for yourself.
Related: Can Chickens Eat Timothy Hay? Why? (Answered!)
A general rule of thumb is to feed Day 1 to 6 weeks of chickens diet needs to be 20% protein.
7 to 18 weeks chickens should be 17 – 18% protein.
19 weeks and older chickens and hens during egg-laying needs 16% protein.
However, if you have been feeding chickens without knowing if its the right amount or not, its easy to find out. Simply watch for these signals and if you find one, then it's probably too much protein, and maybe its not the right time.
5 Main Symptoms Of Too Much Protein In Chickens
Protein is essential for chickens, but it's easy to overfeed them with protein. However, too much protein can cause problems such as liver damage and kidney disease. In worst cases, it also lead to overnutrition and death. So, how much protein do chickens need? The answer depends on the age and breed of chicken.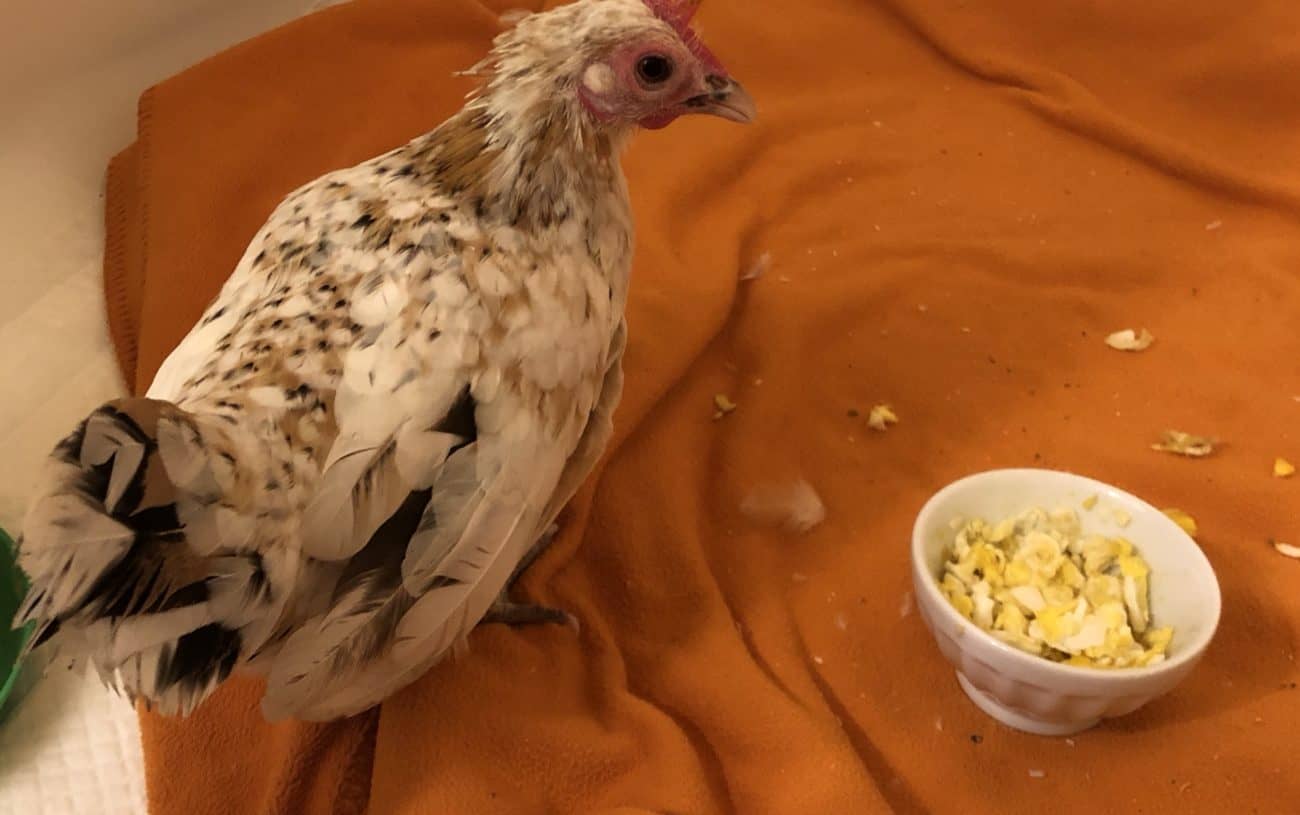 Chickens need more protein when they're growing, so young chickens should be fed a diet that's higher in protein than adults. Some breeds of chickens also require more protein than others. For example, egg-laying hens need more protein than meat birds. Ultimately, it's important to consult with a vet or poultry expert to determine the right amount of protein for your chickens. Overfeeding them with protein can have serious consequences, so it's best to err on the side of caution.
Chickens that are eating a high-protein diet will often drink more water than usual in order to filter out the excess protein. Although chickens do use more water than usual in the summer, however, an excessive amount of water usage is definitely can be easily noticed. That will lead to wet coop, watery poop, and sometimes even watery eyes.
As a result, those who consume too much chicken may experience dry mouth, excessive thirst, and dark urine.
Gout is a condition that affects the joints and causes them to become inflamed. It can be very painful and may make it difficult for chickens to walk or move around.
Chickens may also experience feather loss, seizures, decreased egg production, diarrhea, headache, irritability less or no food eating, and lastly increased susceptibility to disease. If you suspect that your chicken has too much protein in its diet, please consult a veterinarian.
Too much protein in a chicken's diet can lead to respiratory problems. The chicken's intestines are not able to absorb all the nutrients in the feed, so the excess protein is excreted through the lungs. This can cause difficulty breathing and an increased risk of pneumonia. In addition, too much protein can also lead to kidney damage and liver problems.
Chickens who consume excessive amounts of protein may also suffer from stunted growth and reduced egg production. Because of these potential health risks, it is important to carefully monitor the amount of protein in a chicken's diet. Too much protein can have serious consequences for a chicken's health, so it is important to ensure that they are getting the right nutrition.
Other symptoms of too much protein in chickens include kidney problems and .
When chickens consume too much protein, it can lead to a condition called amine toxicity. Amine toxicity occurs when the ammonia levels in the chicken's gut become too high. This can cause a number of symptoms, including an ammonia smell in the feces, increased water consumption, reduced feed intake, weight loss, increased respiration rate, and lethargy. If left untreated, amine toxicity can be fatal.
However, it is important to note that not all cases of amine toxicity are caused by the overconsumption of protein. Sometimes, other factors (such as a lack of ventilation) can contribute to the build-up of ammonia in the chicken's gut. If you suspect that your chicken may be suffering from amine toxicity, it is important to seek veterinary care immediately.
Chickens are high-energy animals that are constantly on the move, so it's easy to tell when something is wrong. If your chickens seem less active than usual, it could be a sign that they're getting too much protein in their diet.
Chickens require a balanced diet to stay healthy, and too much protein can lead to health problems. And too much protein can cause exhaustion for no reason, headache, irritability and internal and external indigestion.
Excess protein can cause liver and kidney damage, and it can also lead to obesity. Chickens that are overweight are more likely to suffer from health problems, so it's important to keep an eye on their weight. If you think your chickens are getting too much protein in their diet, talk to your veterinarian about changing their food.
What To Do If You Find Chickens with Symptoms of Too Much Protein?
One of the first things you need to do if you find your chickens have symptoms of too much protein is remove any sources of high protein from their diet. This could include bugs, certain greens, and leftover cooked food.
You should also check to see if they are getting enough water. Chickens need about a pint (0.5l) of water per day according to this study. In this case, a flock of 6 chickens needs 3l of water a day. If they are not getting enough water, this could be causing their symptoms.
Finally, you should contact your veterinarian to see if there are any other underlying health issues that could be causing these symptoms. Too much protein in a chicken's diet can lead to health problems, so it is important to take measures to prevent this from happening.
What Are The Right Foods For Chickens?
While chickens will eat just about anything, however, this does not mean that all foods are equal when it comes to chicken nutrition.
In order to keep your chickens healthy and happy, it is important to feed them a diet that is high in protein and low in fat. However, it's important to keep the diet in check and not overfeed protein no matter how good it is.
One way to achieve this is to feed them different types of foods, such as rice, beans, and other legumes. For example, proteins are essential for chicken growth and development, so it is important to include plenty of meat, eggs, and insects in their diet.
Chickens also need carbohydrates for energy, so grains such as wheat and corn should make up a significant portion of their diet.
Finally, chickens need vitamins and minerals for proper metabolism, so fresh fruits and vegetables should be included as well. By providing your chickens with a variety of different foods, you can ensure that they get all the nutrients they need to stay healthy and thrive.
Although they are great food but if you over feed then, it can easily cause problems. The key to this is to always keep balanced diet and no one food should be the main diet for long.