If you're like most people, you probably think of chickens as being solely seed or meat diet birds. However, chickens are actually great eaters which can swallow a variety of things, including insects, weeds and yes corn. But which corn can they eat chickens eat? Can chickens eat whole corn? Raw or cooked? And when can chickens eat whole corn?
In this blog post, we will discuss the benefits of feeding corn to chickens and how to properly feed them this food. We will also cover some of the potential risks associated with feeding too much corn to your birds. Let's get started!
Can Chickens Eat Whole Corn? Raw or Cooked?
Surprisingly, yes! Chickens absolutely love to feast on corn and can digest whole corn raw and cooked with no problems. Chickens are able to digest corn with their stomach acid and pepsin which is a digestive enzyme breaking down the food into smaller pieces and also extracting the nutrients from it.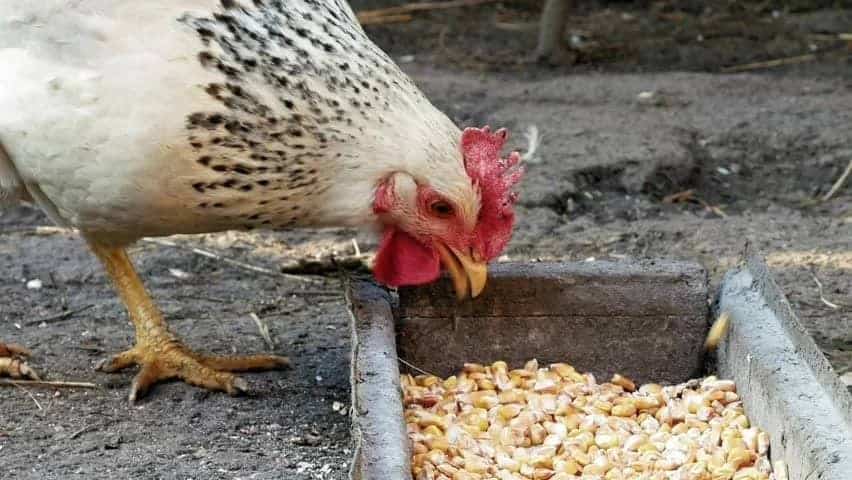 In addition to being a tasty treat, corn is a good source of necessary nutrients like vitamins, minerals, and fiber. It's also relatively low in calories, making it a good choice for chickens who are watching their weight. Of course, as with any food, it's important to offer in moderation. It simply means the right amount and right time.
Too much of whole corn or corn, in general, can lead to obesity and excessive amount of fat. Be sure to provide a variety of other healthy options as well. But as long as it's part of a balanced diet, there's no reason why your chickens can't enjoy some delicious corn from time to time.
When Can Chickens Eat Whole Corn? At What Age?
When it comes to feeding chickens, many people wonder when do they feed whole corns or cracked corn to chickens. At what age? In summer or winter? However, the answer is simpler than you think.
Chickens can start eating corn as early as 6 weeks old. However, it's important not to overdo it. Corn should make up no more than 10% of a chicken's diet, as too much can lead to health problems. So if you're looking for a way to add some variety to your chicken's diet, consider giving them some corn. Just be sure not to overdo it.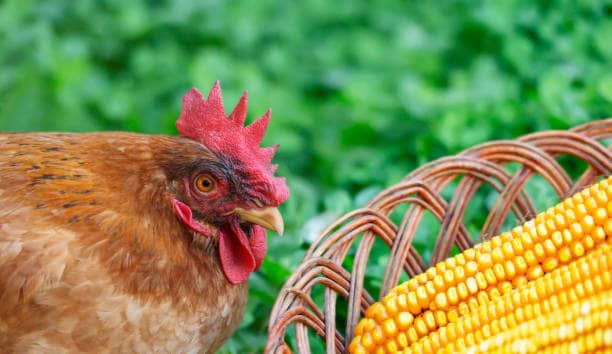 Can Chickens Eat Whole Corn Kernels?
Absolutely! While they are able to digest corn kernels, some people wonder whether it is actually healthy for chickens to eat whole corn kernels. Whole corn kernels are relatively simple food that would be easily digested by the chickens stomach. n fact, they are packed with nutrients that are essential for the health and growth of these birds. Corn is rich in protein, amino acids, B vitamins, iron, calcium, and other minerals that help to promote healthy feathers and strong bones.
And because corn is also relatively inexpensive and easy to find at most grocery stores or feed shops, it is an ideal food for chicken owners on a budget. Some people are growing corns so that's even cheaper and easier. If you are one of them, you're pretty good for start.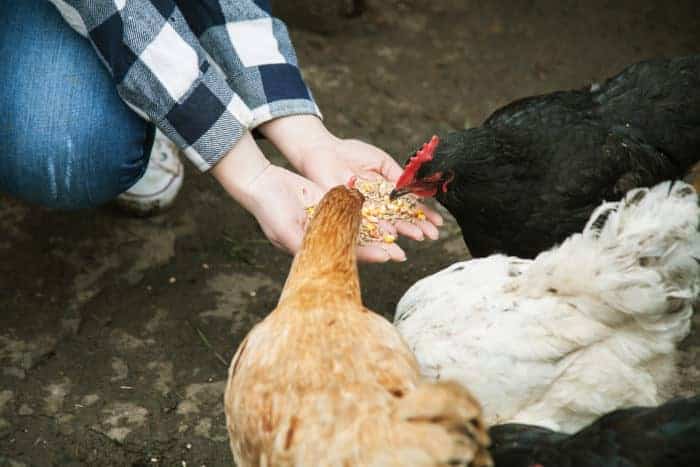 What Type Of Corn Can Chickens Eat?
Chickens are omnivorous creatures, which means they will eat just about anything. However, that doesn't mean that everything is good for them.  When it comes to corn, chickens can eat fresh maize, corn on the cob, husks, cracked corn, frozen corn, field corn but not popcorn.
Fortunately, chickens can eat all of these corns raw and cooked as snack and with the kernels.
Although fresh maize and frozen corn aren't grown in the US, but you can definitely buy them from Amazon.
Whole Corn Vs Cracked Corn: Which One Is Better For Chickens?
You are willing to feed corn to chickens but which corn is better: cracked or whole corn? Here are the differences.
Whole corn is less processed and generally considered to be more nutritious. This means that it contains more calories and nutrients per serving. Not only that, but also prefer whole corn more than cracked ones. Additionally, whole corn is less likely to spoil than cracked corn.
Cracked kernels can quickly become moldy, which can make your chickens sick. Whole kernels, on the other hand, can last for months without going bad. Finally, whole corn is less likely to attract rodents than cracked corn.  But the only downside is, it's a bit difficult for chickens to break into however, can digest well once they swallow.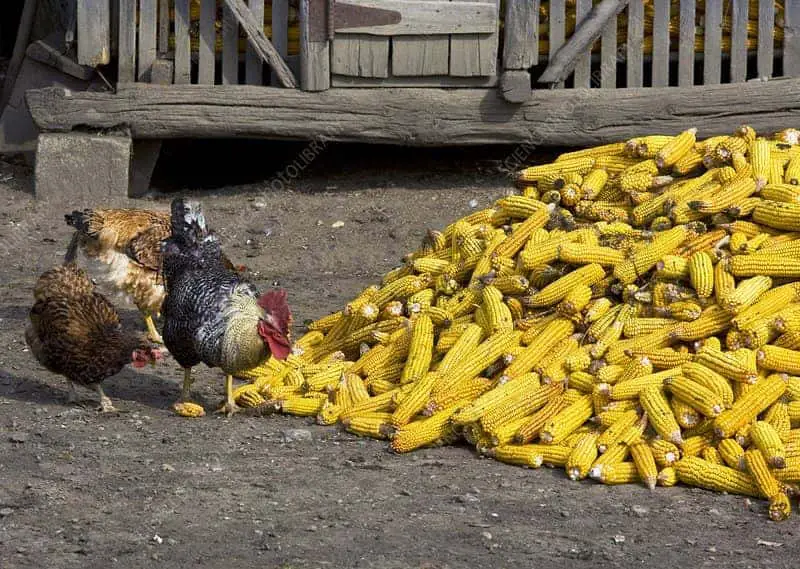 Cracked corn, on the other hand, is easier to digest but doesn't provide as many nutrients as whole corn. In addition, cracked corn can attract rodents and other pests if it's not stored properly.
In conclusion, whole corn will generally be healthier and have more energy than those that eat cracked corn. Plus, chickens won't have any issue digesting it, however, if feeding to other birds, especially smaller birds cracked corn is the better option as they can digest well.
Does Corn Make Chickens Overheat?
Many people think corn make chickens overheat espically in summer when its hot but no corn do not make chickens overheat.
While corn may warm chickens, but by no means it overheat chickens not even in hot summer. Contrary to popular belief, corn cannot raise and reduce body temperature. But how does corn warm chickens? As corn is high calorie, it will make warm chickens in winter raising their metabolism.
Chickens are actually much better at regulating their body temperature than humans or other mammals. Chickens are capable of easily shedding or adding layers to their feathers as needed, allowing them to stay cool in the hot outdoors. While excess heat can be a problem during particularly warm summer days, simply providing ample shade and access to plenty of cool water will help keep your flock comfortable.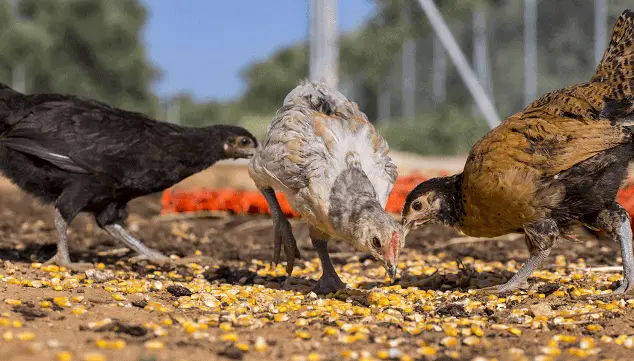 Will Chickens Have A Problem Digesting Corn?
While some people think chickens might have trouble digesting corn, there is no need to worry. Not only chickens can digest corn but they can also extract the nutrients pretty well.
Chickens have a gizzard in their digestive system that helps them to break down all kinds of food, including corn. In fact, corn can be a healthy part of a chicken's diet and can provide them with important nutrients.
What Are The Risks of Feeding Corn?
When it comes to feeding our livestock and farm animals, there are a number of different options available. Some people choose to feed their animals traditional grains such as wheat or barley, while others opt for more unconventional alternatives like soy or corn.
While there are certain benefits to feeding corn, such as its high protein content and abundance, there are also some risks associated with this practice.
Mycotoxins
A big concern is the possibility of mycotoxin contamination. Mycotoxins are toxic compounds produced by certain types of fungi, and they can become harmful if ingested in large quantities.
Cancer
Another major risk associated with consuming too much corn is an increased risk for certain types of cancer.  The risk for certain cancers, liver problems, lung issues, and slowing of your immune system is actually also high in case of consuming large quantities.
Obesity
When chickens are fed a diet that is high in corn, they tend to gain weight. But too much can lead to health problems, such as heart disease and diabetes. Finally, corn is often grown with the use of pesticides and herbicides, which can be harmful to animals if they ingest them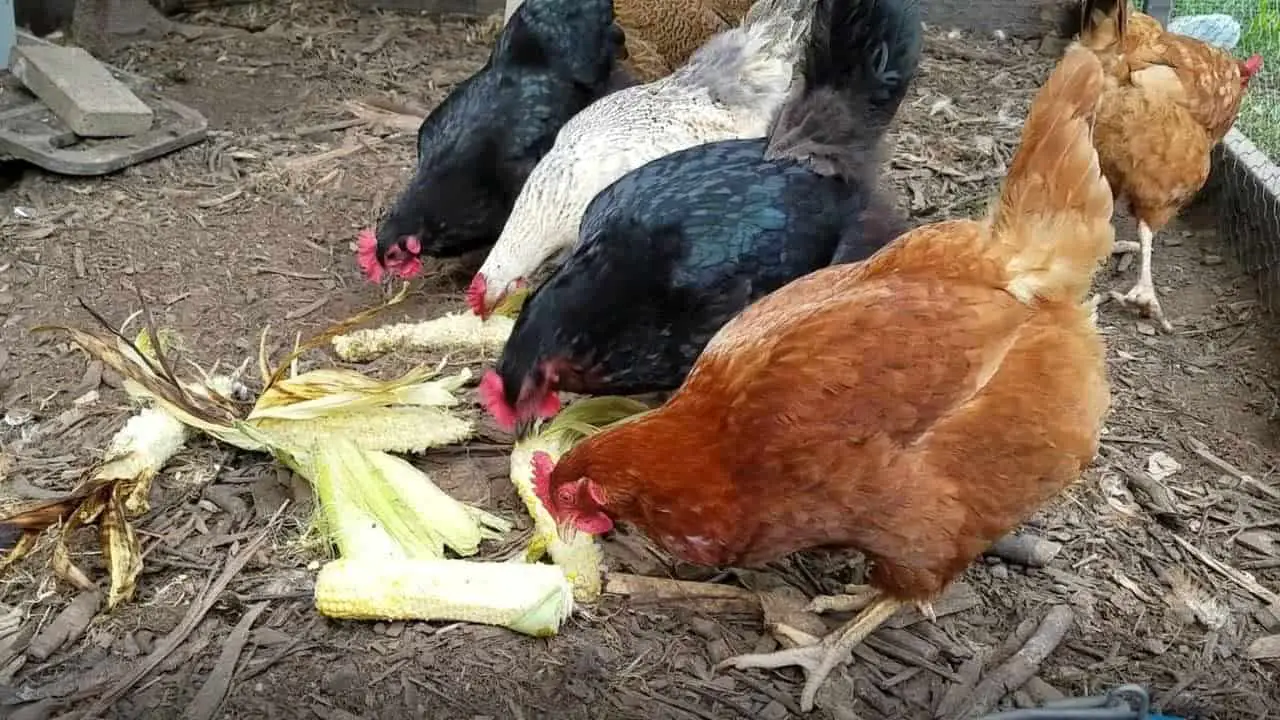 How Much Corn Should You Feed Chickens?
Chickens love corn, and it can be a healthy part of their diet. However, too much corn can lead to obesity and health problems. So how much corn should you feed your chickens?
A good rule of thumb is to offer them no more than a few small tablespoon a week or every two weeks. This is a amount for one chicken. You can increase the crop depending on the number of chickens you have.
This will provide them with the calories they need without leading to weight gain. By doing this, you'll ensure that your chickens stay healthy and happy.
Can You Feed Chickens Straight Corn & Field Corn?
Chickens are omnivores, which means they require a diet that includes both plant and animal matter. A chicken's diet should be around 20% protein, with the rest coming from carbohydrates and fat.
While straight corn can provide chickens with some of the carbohydrates they need, it is not a complete food and should not be the only thing chickens eat.
Field corn is typically used as livestock feed because it is less expensive than other types of grain. However, field corn is also lower in nutrients, so it should only be fed to chickens in small amount. In general, it is best to provide chickens with a variety of different foods to ensure they get all the nutrients they need.
What Kind Of Corn Is Best For Chickens?
While all types of corn are safe for chickens to eat, not all types are equally nutritious. For example, sweet corn is a good source of carbohydrates and vitamins A and C, but it is relatively low in protein. On the other hand, field corn is higher in protein, but it is also higher in fat.
Corn is a staple food for chickens, providing them with essential nutrients like protein, fat, and carbohydrates. The best type of corn for chickens is whole kernel corn, also known as "corn on the cob." This type of corn is less processed than other forms of corn, such as cracked corn or pellets, and it contains more of the nutrients that chickens need. In addition, whole kernel corn is more digestible for chickens and less likely to cause intestinal blockages.