Possums are opportunistic feeders which typically eat fruits, vegetables, flowers, insects, small rodents, and birds. However, do possums eat kittens also?
Possums are North America's only marsupial, and they're often considered to be pests. These nocturnal animals are attracted to human settlements because of the easy availability of food. Unfortunately, this means they sometimes come into conflict with people's pets. However, do possums really eat kittens? Here's the truth.
Do Possums Eat Kittens?
While possums do not eat a kitten, there are a few circumstances in which it could happen. If a possum is desperate for food, it may attack and eat a kitten if it's small enough.
Additionally, if a mother possum feels that her young are in danger, she may attack and eat a kitten to prevent it from harming her offspring. However, it's important to remember that these scenarios are relatively rare, and most possums pose no threat to kittens.
While it is true that possums are opportunistic feeders, there is no evidence to support the claim that they will deliberately prey on kittens. In fact, possums are more likely to avoid confrontation than to actively seek out prey.
If a kitten were to wander into a possum's territory, the possum would probably flee rather than risk injury in a fight. It is also worth noting that possums are not particularly adept at hunting, and their diets consist mostly of fruits, vegetables, and insects.
While it is possible for a possum to kill and eat a kitten, it's not something they generally do. So if you're worried about your kitten being eaten by a possum, rest assured that it's very unlikely to happen.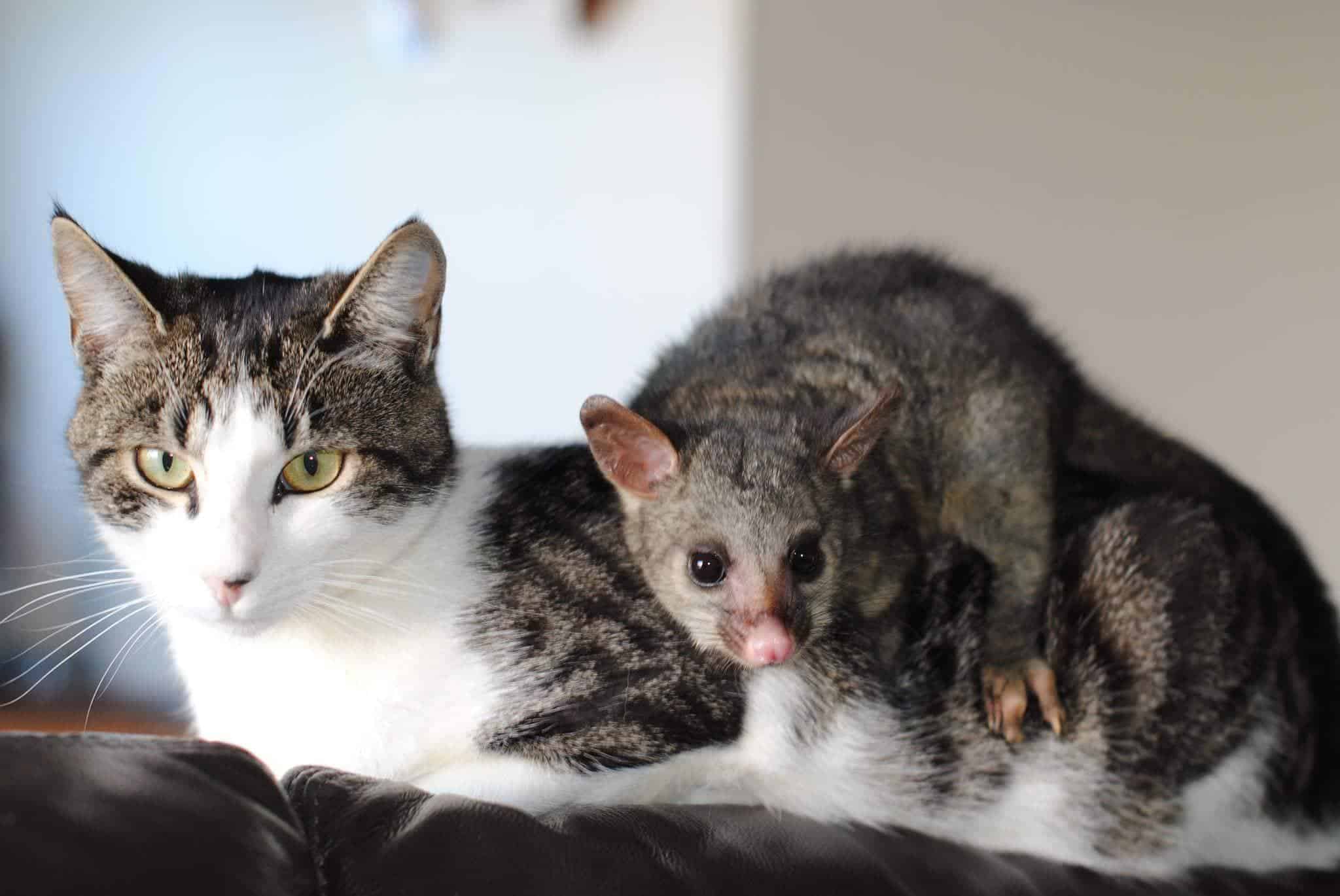 What Animal Will Eat A Baby Kitten?
Unfortunately,  there are many animals that view kittens as a tasty treat. From coyotes to snakes, there are a number of predators that will snatched up an unprotected kitten in a heartbeat.
Dogs, Wolves, coyotes, foxes, birds of prey such as hawks and owls, large snakes, raccoons and bobcats are all known to eat kittens if they come across them. Even smaller animals like raccoons and snakes will kill and eat baby kittens if they are hungry enough.
In most cases, the mother cat will be able to protect her kittens from these predators. However, if she is outnumbered or overpowered, her kittens could become a meal.
How Do You Keep Possums Away From Kittens?
Although possums do not eat kittens, it may come in contact with them. If you have kitten which you would like to keep from possums away, here's how to do it.
Possums are attracted to areas where they can find food and shelter. If you have a possum living near your home, it may be attracted to your garbage cans or pet food. To keep possums away from kittens, make sure to keep all food sources clean and secure.
You should also trim back any trees or shrubs that provide potential hiding spots for possums.
If you suspect a possum is living in your attic or crawlspace, block off all openings with heavy-duty hardware cloth. By making your property less attractive to possums, you can help reduce the risk of them coming into contact with your kittens. Do possums eat kittens? No, they do not.
Can Possum Eat Cats?
Just like raccoons, possums typically forage for easy food that doesn't require fighting and hunting, and avoid confrontation. However, possums will defend themselves, and their sharp teeth can be capable of causing serious injury. Given their timid nature, it's unsurprising that possums generally avoid contact with cats.
In other words, they don't typically eat prey animals like cats. That's not to say that it's impossible for a possum to eat a cat; if a possum were desperate enough, it could probably stomach just about anything. However, it's not likely that a possum would purposely seek out and kill a cat for food.
This is because cats are much faster and more agile than possums, making them difficult for possums to catch. Additionally, cats have sharp claws and teeth that they can use to defend themselves against predators. So while it is technically possible for a possum to eat a cat, it is not likely to happen.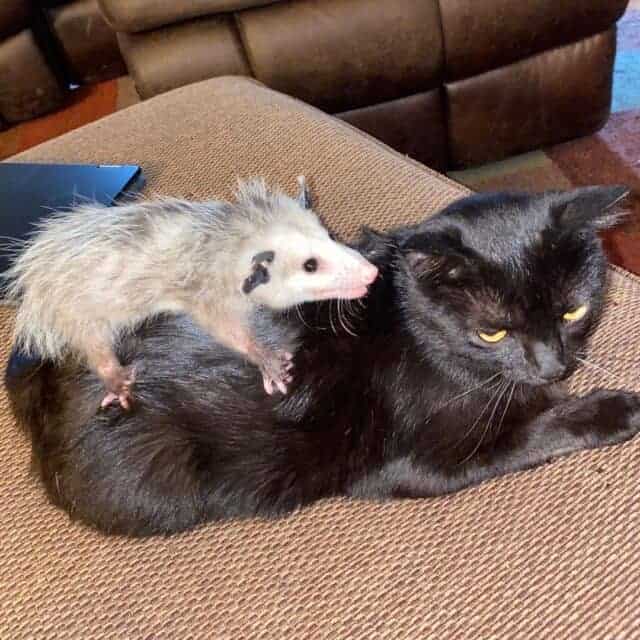 Are Possums Afraid Of Cats?
Possums are not afraid of cats. In fact, they are often attracted to them. This is because possums are attracted to the same things that cats are: warmth, food, and shelter. As a result, it is not uncommon for possums to take up residence in attics or crawlspaces. While they may not be afraid of cats, possums can be dangerous to have around. They are known to carry diseases such as rabies, and their feces can contain harmful parasites.
If a cat attacks a possum, the possum will usually try to escape. If the possum cannot escape, it will play dead in order to avoid being hurt. In most cases, possums and cats can coexist peacefully. However, if a cat is persistent in bothering a possum, it is possible that the possum may bite.
Are Possums Dangerous?
While possums are considered to be pests and dangerous, it's no wonder why these animals have such a bad reputation. However, possums are actually quite harmless and can even be beneficial to humans.
Despite their vicious appearance, possums are quite nice by nature and typically shy away from confrontation. They are also clean animals that groom themselves regularly.
In fact, the vast majority of human-possum interactions are positive, as these animals help to control rodents and insect populations. As such there's no need to be afraid of possums.
Although they may look a bit strange, possums are actually gentle, timid creatures that pose no threat to humans or pets. In fact, these marsupials are more likely to flee than fight when faced with a perceived threat or play dead.
However, there are some exceptions to this rule. Female possums, for example, can become aggressive when protecting their young. And possums may also bite if they feel cornered or threatened. But for the most part, possums are harmless animals that pose no danger to people or pets.
Are Possums Dangerous To Pets? Are They Aggressive?
Though they may look like giant rats, possums are actually fairly harmless animals. They are typically shy and rarely aggressive, preferring to curl up in a tree or under a house to sleep during the day.
At night, they will come out to forage for food, but they are not typically interested in preying on pets. In fact, possums are more likely to flee from a confrontation than to attack. However, that doesn't mean that possums are completely harmless.
If they feel threatened, they may hiss and growl, and they can deliver a nasty bite if provoked. As such, it's best to give these creatures a wide berth and avoid handling them if at all possible.
Would A Cat Fight A Possum?
Though they may look cute and cuddly, cats are natural predators. A cat's natural instinct is to chase and capture small prey. They are agile and have sharp claws and teeth that they use to kill their prey.
In addition, cats are very territorial animals and will protect their territory from intruders, including possums. In contrast, opossums are relatively harmless animals that avoid confrontations. In fact, both wild and pet cats kill a numbe rof opossums.
So, if a cat and a possum were to meet in the wild, it is likely that the cat would attack the possum. Possums may try to bluff their way out of a fight by hissing and baring their teeth, but if a cat doesn't back down, it will eventually take down the possum.
Do Possums Carry Diseases Fatal To Cats?
Possums can carry a variety of diseases that are fatal to cats, including distemper, hepatitis, and leptospirosis. One disease that possums can carry is toxoplasmosis, which can be dangerous for pregnant women and immunocompromised individuals. This condition is caused by a parasite that is found in the Possum's feces, and it can be transmitted to cats.
Possums are also known to be carriers of fleas and ticks, which can transmit disease to both cats and humans. iIt is important to take precautions when dealing with possums, such as wearing gloves and washing hands thoroughly after contact. In addition, it is best to keep cats away from areas where possums are known to live or roam.
Do Cats Hang Out With Possums? Do They Get Along?
Though they may seem like unlikely companions, there are plenty of reasons why possums and cats can get along just fine.
For one thing, both possums and cats are relatively solitary creatures, so they're not likely to compete for attention or resources.
Additionally, cats and possums occupy different parts of the food chain. Possums are primarily scavengers, while cats are true predators. This difference in diet means that the two animals do not typically compete for resources. In fact, they often rely on each other for food.
Possums are also nocturnal, so they are often active when cats are asleep. This can make it difficult for the two animals to interact with one another.
So while they may not be best friends, possums and cats can certainly coexist peacefully. Here's an interesting article.
Are Possums Afraid Of Humans?
Possums are often considered to be pests, and it's true that they can cause damage to property and gardens.
However, these marsupials are usually more afraid of humans. In fact, possums are incredibly shy creatures that will go to great lengths to avoid contact with people. If you do happen to encounter a possum, the best thing to do is to simply leave it alone.
Possums are not aggressive animals, and they pose no threat to human safety.
While possums will sometimes enter into homes and cause damage, it's usually only because they're looking for food or shelter and not because they're seeking out human interaction.
How Do I Get Rid Of Possums In My Yard?
If you have possums in your yard, there are a few things you can do to get rid of them.
First, take away their food source by cleaning up any fallen fruit or nuts and securing garbage cans. You should also trim back any trees or shrubs that could provide shelter for possums.
Make sure to eliminate any potential food sources by putting trash cans in a secure location and keeping pet food indoors. You can also try to deter possums by setting up motion-activated lights or sprinklers in your yard.
If these methods don't work, you may need to call in a professional to remove the animals safely. With a little effort, you can get rid of possums and keep them from coming back. That's a great way to avoid possums despite do possums eat kittens or not.