If you live in an apartment or even a single-family home, you have probably a balcony or deck. A balcony is a great place to relax and enjoy the view. Unfortunately, pigeons can also be quite comfortable there.
While these birds can add a touch of charm to your cityscape, they can also be messy and noisy. These birds are generally harmless but they easily become a nuisance when they appear on the balcony of your home. And not only that, they can carry diseases and leave behind droppings that can be difficult to clean up. Fortunately, there are a few simple things you can do how to keep pigeons away from your balcony.
While there are tens if not hundreds of methods on the internet, quite few of those actually work. Some of the popular ones that don't work are birds sound deterrent, spreading pepper, predator decoys such as plastic owls and many sprayers, lasers, and sprinklers. Not only they come at a heavy cost but may also be annoying for your pets or require installation that takes much time.
Other methods that are cheap and easy to install are spikes, aluminum foil, wires, Baking Soda, shiny objects and garden balls. While spike and wire seem good, it's cheap and easy to install but it makes our balcony terrible. You can't place hands on the grills and plus it looks really bad. It's really annoying when one cannot place their hand on the balcony. However, is there a solution that doesn't annoy and also looks good. Well, keep reading to find out.
The Short Answer…
In short, pigeons can keep off balcony by removing any food scraps, blocking nesting places and empty spaces including under solar panels and more importantly use scare tape hanging, pinwheels, spikes or ribbons. For roof and garden, you can use motion water sprinkler which spikes water when birds or pests come around. 
Why Do Pigeons Keep Coming To Balcony?
Pigeons are attracted to balconies for a variety of reasons. First and foremost, they offer a safe place to roost and nest. Balconies provide pigeons with protection from predators, the elements, and other hazards.
Balconies offer an easy source of food for pigeons, as people often leave out crumbs or other bits of food. In addition, balconies provide pigeons with a safe place to perch, especially if there are no trees or other structures nearby.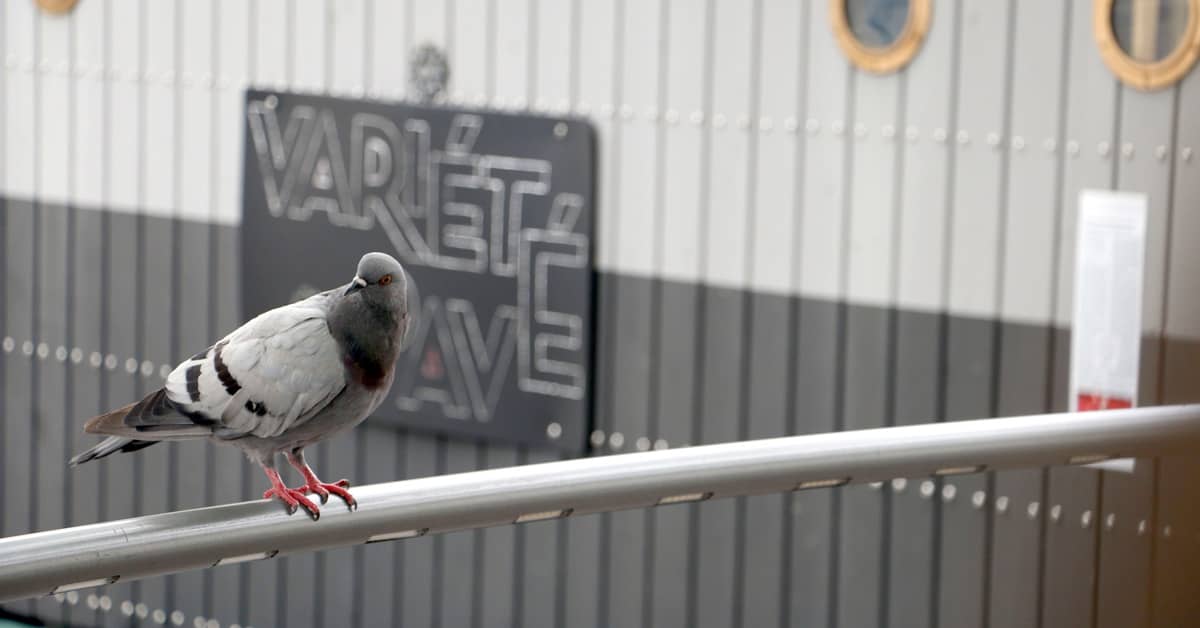 Pigeons are also attracted to balcony railings because they offer a good vantage point for surveying their surroundings. From a perch on a balcony railing, pigeons can keep an eye out for potential threats and identify sources of food. Ultimately, balconies offer pigeons everything they need to survive, which is why they keep coming back.
However, there are a few things you can do to discourage them from making your balcony their home. Here are they.
How To Keep Pigeons Away From Balcony – (Best Ways)
Pigeons are attracted to ledges and other elevated areas where they can enjoy a good view while staying out of reach of predators. Unfortunately, this often means that balconies become a prime target for these feathered intruders. There are a few things you can do to discourage pigeons from spending time on your balcony.
One of the most effective methods is to install some type of physical barrier. This could be anything from chicken wire to netting. You'll also want to remove anything that might attract pigeons, such as food or water sources.
A General Rule of Thumb
Pigeons are attracted to areas where they can find food and water, so keeping your balcony clean and free of potential sources of food or water will help deter them. One is to keep the area clean and free of food scraps or other potential attractants. From seeds to rice to chia seeds and even meat, pigeons eat everything they get.
Remove Food Sources
The first and basic way to keep pigeons away from your balcony is to make it less inviting for them. Remove any food sources that may be attracting them, such as bird feeders or open garbage cans. You should also keep your balcony clean and free of debris. Pigeons are attracted to cluttered areas where they can build nests and froage for food so keeping your space clean will help avoid coming pigeons.
See Related: How Good Is Pigeon Eye? Can Pigeon See Color?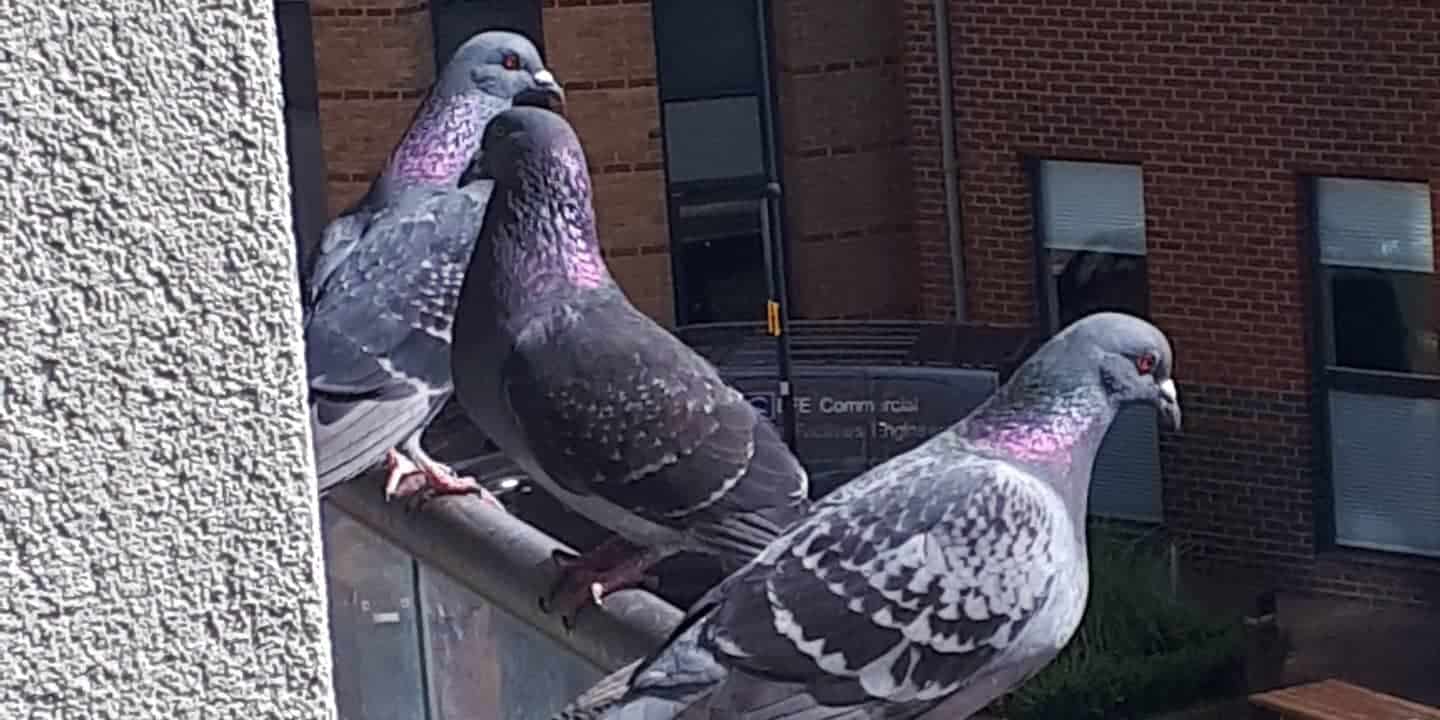 Block Nesting Places
Pigeons typically like to nest in areas that are safe and protected from the elements, so blocking off their access to these areas can be an effective way to discourage them from setting up shop in your yard or on your property. If you're having trouble with pigeons, one of the best ways to keep pigeons away is by blocking their nesting places via wire.
This will make it much harder for them to build nests and roost in your home or office.
Pigeons like to nest in high places, so consider sealing off areas where they might roost, such as:
Gutters
Roof peaks
Openings in buildings
Trees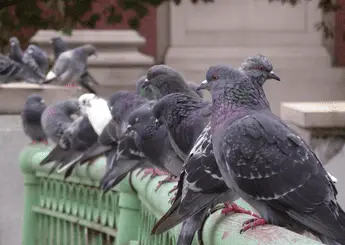 1# Scare Tape
One of the effective ways to keep pigeons away is to hang streamers or scare tape from your balcony railings. The movement and noise of the streamers will scare the pigeons away. This method is also useful for balconies, decks, and porches but also for wildlife and farms.
Without heavy cost, hurting other pets, kids or environment or creating an unpleasant look and feel, you can simply hang it wherever you want. You can cut in whatever length you want. It has proven to work and will do continuously.
And not only pigeons, it will take care of woodpeckers, ducks, geese, herons, blackbirds and much more.
See Related: Beautiful Oriental Roller Pigeon Breed: A Unique & Rare Breed of Pigeon
However, if the roof isn't near and isn't reachable or would like to simply attach it to the grills, it's another way to do it. Although this mightn't be as effective as hanging one, however, it will do the work.
Start off by opening the bird scare tape and cleaning the grills. Once that's done, simply roll the scare tape to the grills and tapping a simple tape on the opening of it. When its done, simply tape the ending of the scare tape as well. Here's a video of how to do it.
2# Pin Wheels
If you're looking for a way to keep pigeons away from your balcony without resorting to harmful chemicals or traps, pinwheels are a great option.
These colorful spinning toys make a lot of noise when they spin. This will scare the pigeons and other birds away. Just be sure to place them in an area where the wind will spin them and you're good to go, like in the video.  You can buy them from any department store near you or online.
Why Choose This?
Well, unlike sprays, chemicals, traps and chicken wires, it does its job very well without any pysical barrier for us. That means we can enjoy our balcony without covering it with net wires, chemicals, or spray. Not only that, it comes at a low cost and is easy to install. It has no smell, no bad look, and more importantly, no physical barrier.
See Related:African Grey Parrot Lifespan: How Long Do African Greys Live?
3# Use Spikes or Ribbons
While spikes may not be the most aesthetically pleasing option, they are an effective way of keeping pigeons away.
Though I'm not the biggest fan of spikes, they are an effective way of deterring pigeons from roosting on your balcony. There are a variety of spike strips on the market that can be easily installed on ledges, rails, and pipes.
Another advantage of spikes is that they are not harmful to pigeons, and will not cause them any harm if they come into contact with them.
However, spikes aren't the absolute best solution. However, if somewhere isn't a surface, spikes cannot be installed.
See Related: Do Pigeons Get Fat? How? When? + (Photos + Videos)
In that case, ribbons such as birthday ribbons, and paper ribbons do better. Even in surface places, ribbon works better and more pleasing and works well. This will make it difficult for pigeons to land and will discourage them from hanging around. These measures can help to create an unwelcome situation for them.
What Do Pigeons Hate?
Like most birds, pigeons have good eyesight which they feed and depend on. That includes watching predators and other birds. However, pigeons hate the sight of predator birds such as hawks, owls, and eagles. But those aren't the only sight they hate.
Pigeons also hate the sight of dogs, cats, raccoons, and other predators. The next sense which pigeons use a lot  is sense of hearing. That means pigeons hate the sound of birds of prey, cats, dogs and most predator animals.
However, that doesn't mean sound repellents are the solution. Because pigeons can be scared with sound repellents for the first few times when they visit. Once they figured its fake and there's no predators around. They will continue to come and roost in the balcony.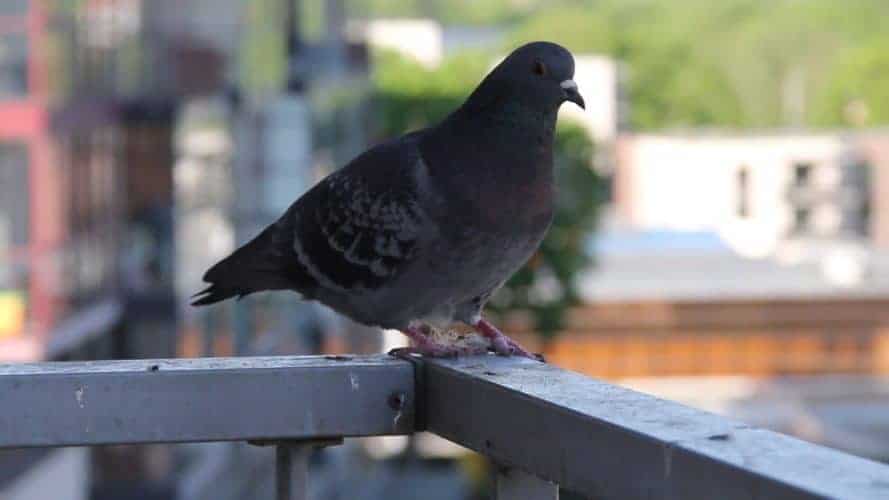 Despite depending on their sense of sight, pigeons also hate terrible smells like we do such as peppermint smell, garlic, cayenne pepper and more. However, this doesn't mean spreading one of these would keep away pigeons from balcony for long. In fact, it might be a temprory solution for some time until the smell is there and as soon as the smell goes out or lessens, pigeons will keep coming back.
In some cases, people have reported pigeons coming despite spreading those.
How to Get Rid Of Pigeons on Roof?
As much as we love having feathered friends around, not all of us are thrilled with pigeons. Especially when they start to congregate on our roofs! If you're looking for ways to get rid of these pesky pigeons, here are the stesp to help shift them along to another spot.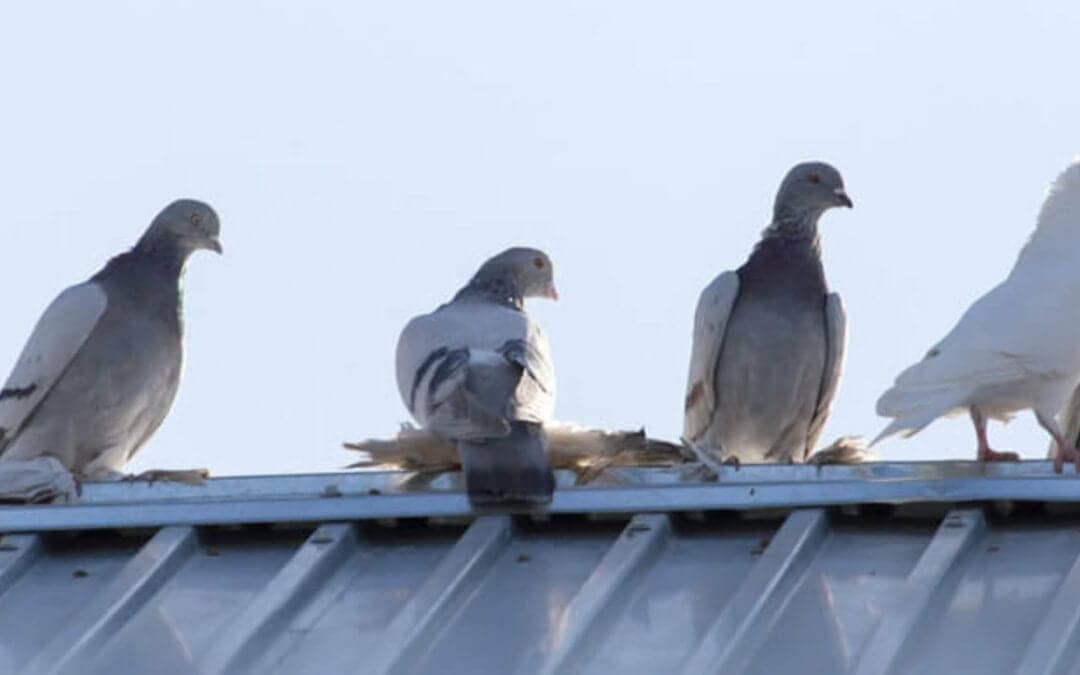 No one wants pigeons on their roof. They can cause a lot of damage and create a mess. If you're looking for ways to get rid of them, you're in luck.Keep reading to learn more about how to get rid of pigeons on your roof.
If pigeons are roosting, visiting or leaving droppings anyway on the roof, you can probably get rid of it with motion sprinkler. Instead of taking the hose and spraying manually, the motion sprinkler will do the same job without you having to do it.
Yes it exactly does. A motion activated sprinkler frightens animals away with a harmless burst of water. Its useful for nearly every kind of birds and even pets including pigeons. Just place it where you want, connect the hose and configure the sensitivty, spraying density and distance you're good to go.
Its effective, humane way, easy to install, cheap and doesn't harm anything. The best part is, it can cover a huge distance and turns around 300 degree which is just great. Not only that, you can also place it in your garden, roof or yard.
We are not sponsored by them so we are not advertising just for sake of being sponsored.
How to Get Rid Of Pigeons Off of & Under Solar Panels?
If you have pigeons roosting under your solar panels or even just pooping them without roosting, it's important to take action to get rid of them. Not only are they unsightly, but they can also cause damage to your panels and create electrical hazards. There are a few different ways that you can get rid of pigeons from your solar. However, as you know, we will bring the best out for you.
The number one way to get rid of pigeons from your solar panels is to use nets or chicken wire or things similar to it. Nets can be placed over the solar panels, preventing the pigeons from getting to them. This is a relatively simple and effective solution and cheap that doesn't require professionals to install.
Most importantly, while it blocks pigeons from entering, it also ensures air circulation which is a crucial part of solar panels' longevity.
Similar to net, you can use anything similar to cover the downside of solar panels if nets are expensive for you. Here's how you do it.
How To Keep Pigeons Away From Plants & Garden?
There are a few ways to keep pigeons away from your plants and garden. One of the easy but effective ways to keep pigeons away from your plants and garden is to use netting or chicken wire to create a barrier around the area you want to protect.
Another way is to try hanging shiny objects or metallic curling ribbon that use to wrap gift packages or small pieces of alumiunum foil can be attached to your fence, branches of the plants, trees or places in your garden.
Last but not least way is to install Motion water sprinkler devices to scare them away.
Connect the pieces together and place the sprinkler in your garden on a tripod. And connect the sprikler to a hose. You can adjust the sprinkler for time of the day to be active, distance, duration and range of motion.
As soon as the water sprinkler detects a motion in your yard, it will start sprinkling water and scaring birds, deers, squirrels, raccoons and other pests away.
The good part is, it sprinkles around 300 degrees which is absolutely perfect for a wide range of area.
How to Keep Pigeons Away From Window?
One of the ways to keep pigeons away from your window is to install a physical barrier. There are several options available, including bird spikes which can be installed on ledges and other horizontal surfaces like outside of windows where pigeons roost. Even though I'm not the biggest fan of spikes, however, in some places, spikes do better than others.
Another way to deter pigeons is to make the area around your window less attractive to them. Remove any potential nesting sites, such as ledges or trees nearby. Keep the area clean and free of food scraps or other debris that might attract the birds.