Flying squirrels are nocturnal mammals with large eyes that help them hunt and forage for food at night. Despite their name, flying squirrels do not really fly as birds would. These squirrel species glide in the air but can make an impressive leap in a single glide, often facilitating them in hunting. Flying squirrels glide with the help of the patagium membrane that extends from their front legs to their hind legs. But what do flying squirrels eat? What do they like to eat? And more.
The Short Answer…
As much as they are adorable, flying squirrels eat seeds and nuts, fungi, fruits like oranges and vegetables, tree sap, flowers, and buds, insects, eggs, and birds, small animals and carrion, formulated pellets, supplements. Including that, flying squirrels even eat human leftover and food including popcorn and chocolate when they find. But that's probably not a good thing. Here's why.
The flying squirrel's versatility is not limited to its way of commuting; it extends to what they eat as well. Omnivores, by nature, the flying squirrel, can survive on both vegetarian and non-vegetarian diets. Their versatile diet includes seeds, nuts, mushrooms, fungi, fruits, vegetables, and insects. One of the three species found in North America, the southern species tend to be more carnivorous, usually adding carrion, birds, and eggs to their diet.
Whether in the wild or captivity, there is a wide range of food accepted by this arboreal rodent. Read on to learn everything about a flying squirrel's diet and how it differs with species and location.
What Comprises of A Flying Squirrel's Diet?
Since they consume a broad spectrum of food, flying squirrels need a varied diet (especially in captivity). Combining the following foods provides flying squirrels with all the necessary nutrients.
Seeds and Nuts
Flying squirrels are arboreal mammals that reside in coniferous and deciduous forests. Thus nuts are an essential part of a healthy diet for them. They feed on various nuts, from hickory nuts to pine nuts, walnuts, and acorns. Since they are excellent sources of fiber, proteins, and omega-3 fatty acids, nuts are a vital part of a balanced diet for a flying squirrel.
Apart from nuts, the flying species also enjoy various seeds, just like other squirrels. They like a good mix of safflower, sunflower, and pumpkin seeds. Since they are nocturnal by nature, these rodents may even raid bird feeders for birdseed mixes – unsuspected. Seeds provide calories and fat content but should be mixed with other food groups. Solely feeding on seeds could result in the squirrel becoming overweight.
Fungi
Flying squirrels feed on fungi, lichens, and mushrooms. These gliding squirrels inhabit forests. Thus, fungi, mushrooms, lichens, and even truffles are often essential for their diet. The fungi are spread out of the forest floor in a dense web.
Fruits and Vegetables
Flying squirrel species have the ability to adjust their diet according to seasons and availability. During summer, their diet includes more fruits like strawberries and vegetables. The flying squirrel diet consists of persimmons and wild grapes as the weather turns warmer. Besides nut, southern flying squirrels eat fruit from the beech, hickory, oak trees and pine cones.
In captivity, flying squirrels need a variety of fresh fruits and vegetables to get essential nutrients like calcium.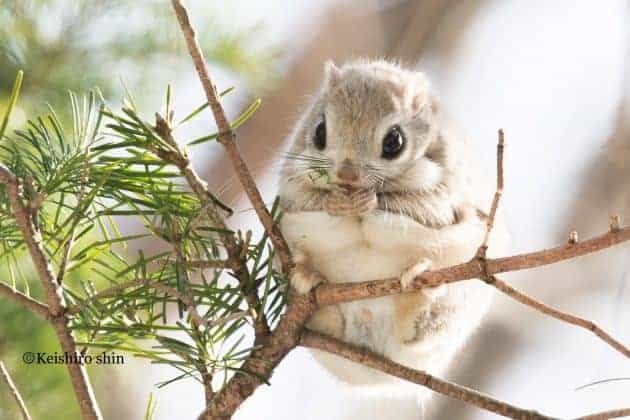 Tree Sap, Flowers, and Buds
Flying squirrels also hop on to tree sap and other fluids from plants. While they are omnivores, they can survive on a plant-based diet, including flowers and buds. However, they need to supplement their diet with various animal-based foods to keep a healthy balance.
Insects, Eggs, and Birds
Even though northern flying squirrels eat insects, eggs, birds, and nestlings, the southern species are more inclined towards an animal-based diet. Insects prove to be an excellent way to provide squirrels in captivity with protein, calcium, and Vitamin D3. You can feed them mealworms, crickets, and moths.
Small Animals and Carrion
Flying squirrels do not get a lot of sunlight since they are nocturnal mammals. Small animals like other rodents found in the forest and carrion provide these squirrel species with calcium as they can gnaw on bones. A southern flying squirrel is more fond of such a diet.
Formulated Pellets
You can feed your flying squirrel with specially formulated pellets to ensure a balanced diet in captivity. However, it is prudent to add some nuts, seeds, fruits, and insects to the mix to supply all the nutritional essentials. Additional diet options like parrot and monkey biscuits can also be given to flying squirrels, but remember that they do not work as a primary food source.
Supplements
Food supplements like calcium powders for reptiles are also an excellent way to avoid risks of a calcium deficiency in flying squirrels. Similarly, you can add a vitamin supplement to the water for an overall balanced diet.
What Do Flying Squirrels Like To Eat?
The flight squirrel likes to eat hickory sucks in spring and summer as part of its diet of fruits and a variety of other crops. Similarly these rodents eat the inactive lichen, parasite and fungus favorably. In warmer weather, it like to feed on a range of vegetation that includes flowers or ferns, as well as fruity grapes.
What Does Southern Flying Squirrel Eat-In Captivity?
If you intend to keep southern flying squirrels as pets, ensure that doing so is legal in your state. Also, ensure that you have an exotic veterinarian nearby to treat the flying squirrel if needed.
When kept as pets, the rule of thumb for feeding southern flying squirrels is to provide them with a well-balanced diet as they would find in the wild. You can feed these flying squirrels birdseed mixes, various seed varieties, sunflower and pumpkin, different kinds of nuts, including pine, hickory, and acorns.
You can also feed squirrel pellets, fruits, vegetables, waxworms, and mealworms. You can also provide your pet southern flying squirrel with cuttlebone or a calcium block as well as a mineral block to avoid deficiencies. Moreover, these blocks also help file down their ever-growing teeth.
What Do Northern Flying Squirrels Eat?
Northern flying squirrels' natural habitats are mixed coniferous and coniferous forests. Like a southern flying squirrel, this flying rodent species is also an omnivore and can feed on various foods, including fungi which make up a considerable part of its diet.
The northern flying squirrels also treat themselves to nuts, berries, tree buds, blossoms, carrion, bird eggs, insects, and lichens. They can also use their sense of smell and spatial memory to locate truffles to eat. They are also particularly fond of maple sap, often drowning in their buckets.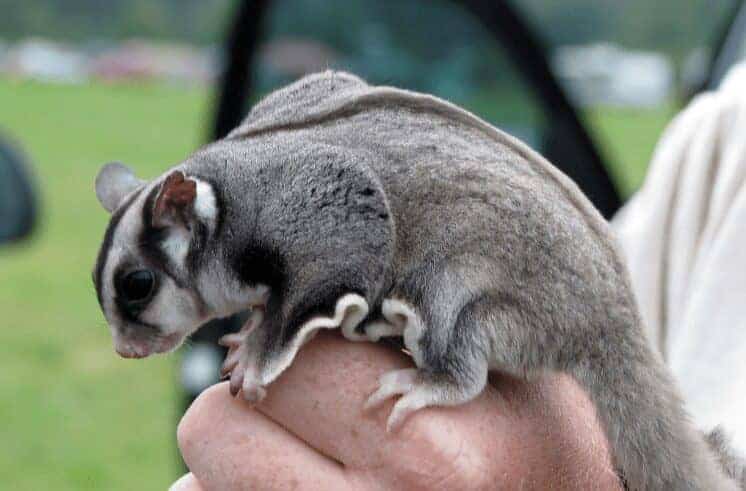 What To Feed A Pet Northern Flying Squirrel?
Just as you would with southern species, ensure that keeping a northern flying squirrel as a pet is legal in your location. Buying a northern flying squirrel through a verifiable breeder may need state permission as stated by law.
Northern flying squirrels are luckily not very picky with their diet. You can feed them a variety of food that provides ample nutrition. These flying squirrels do well by eating fruits, vegetables, and varying nuts and seeds. They also like to get their protein from worms and parrot seed mixtures.
Northern flying squirrels' owners should include a Vitamin D3 and calcium supplement along with a versatile diet to keep their pets healthy. Also, make sure they have clean water to drink.
What Do Baby Flying Squirrels Eat?
Depending on when you get them, baby squirrels need to be fed puppy milk and goat's milk replacement formula until fully weaned, which would be around eight weeks of age. Around 4 to 5 weeks, you can start with adult food along with replacement formula. Also, begin placing water in a wide bowl with shallow sides.
Do not feed baby flying squirrels any other kind of milk or formula as it can contain dangerous amounts of lactose.
How To Feed A Baby Flying Squirrel?
Even though you can use a dropper or bottle to feed the babies, it is best to start with an oral syringe which allows better control of formula.
They successfully transition to an adult flying squirrel's food we have already discussed when they are around ten weeks old.
Do Flying Squirrels Bite?
Flying squirrel teeth are sharp enough to scratch or tear out in pain. Typically, squirrels usually won't bite, like most animals, they might act if provoked or feel in danger. That is because squirrels have been hated mostly by people and even attempted to kill squirrels or hurt just like birds that fly away when someone is near. However, if someone comes close enough first times, squirrels may bite even if you offer food in your hand.
What Do Flying Squirrels Do At Night? Are They Active At Night?
In a natural sense, this adorable rodent is nocturnal which means they are active at night like ground squirrels. Their friendly and playful routine is running and mostly jumping from tree to another for food. You can watch the best view of flying squirrels at night just after midnight.
Final Thoughts
Flying squirrels eat a versatile omnivorous diet. Depending on their location, the southern flying squirrel and northern flying squirrel forage readily found food in their natural habitat. Since they live in hardwood trees, they feed on readily available fruits and nuts, as well as small mice and birds.
Northern flying squirrels are not as social as the southern flying squirrel (thus not found in suburban areas), but both can survive on various foods available, whether herbivorous or carnivorous.
Before getting a flying squirrel as a pet, ensure state laws allow you to do so and provide them with a varied diet as they find in the wild. You can do so with the help of supplements. A more animal-based diet would be better suited for the southern flying squirrel.