It is well known that roosters like to flap their wings. But why? Some believe that rooster's wing-flapping are attracting mates or signaling aggression. Others believe that wing-flapping serves as a way to release energy or relieve boredom. But what is the truth and why do roosters flap their wings especially when he sees you?
Roosters flap their wings for warding off predators, looking larger, showing their rankings and dominance, warn predators, stretching, taking oxygen before crowing, and in attempt for fighting. 
Why Do Roosters Flap Their Wings?
Everyone knows roosters flip their wings but little or few people know why roosters flap their wings.
Ward Off Predators
When a rooster sees a potential predator, he will often flap his wings and that includes you. Roosters see you and any other animals as predators and will flap his wings and even rub his wings in ground to ward off predators if they see you.
And not only that but also make loud noises as a way of warning the other animals on the farm. This behavior is known as "flapping."
Flapping wings is an instinctive behavior that helps roosters ward off predators and protect their flock. By flapping their wings and making noise, roosters are warning other animals that there is danger nearby. This instinctual behavior helps keep the flock safe from harm.
When a rooster flaps his wings, he is sending a message to the flock that they should be alert and on the lookout for predators. By paying attention to the warning signs set by the rooster, the flock can avoid danger and stay safe.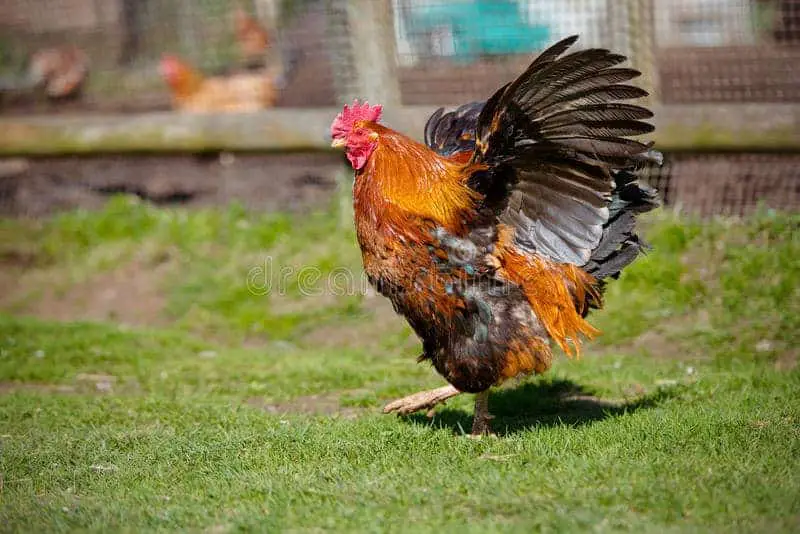 Appear Larger
When a rooster flaps his wings and crows, he is trying to make himself look bigger. By spreading his wings, he creates the illusion of being larger than he really is. This is a threat display that is meant to intimidate other roosters in the flock and other animals – including humans.
By making themselves appear larger and more threatening, the roosters dissuade potential predators or rivals. When a rooster do this, it is probably feeling unsafe with your presence so he is flapping his wings to tell you to keep you off. If you have ever been startled by a rooster's crow, you have experienced this firsthand.
The loud sound and sudden movement can be quite startling, especially if you are not expecting it. However, once you understand what the rooster is trying to do, it is easy to see why this behavior exists. In short, the rooster is just trying to look big and tough in order to protect himself and his territory.
De Ranking Other Roosters
When a rooster flaps his wings, he's essentially saying "I'm the boss around here!" to de rank other roosters and show his prime rankings. And more often than not, the stronger rooster which flaps his wings won't let other roosters flap their wings. And when they try, the strong rooster will hit him.
By establishing his dominance in this way, the rooster can avoid getting into fights with other roosters and can focus on more important things, like finding a mate.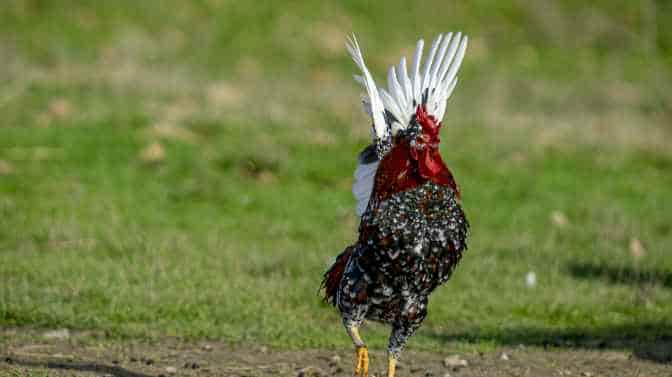 Stay Cool
First, flapping their wings helps roosters to stay cool. By circulating air around their body, they are able to regulate their internal temperature and prevent themselves from overheating especially in the hot summer. Chickens have a higher body temperature than humans, so they need to find ways to stay cool. Flapping their wings creates a breeze that helps to lower their body temperature
To Stretch
Like everyone stretches in the morning, roosters and hens also flip their wings to stretch and not just ward off their predators. Flipping their wings helps them to stretch their muscles and keep them limber. And not only flipping their wings but roosters and chickens may also strceh their legs.
Finally, wing-flapping helps circulate air around the rooster's body, cooling them down on hot days.
Why Does Rooster Crow When He Sees You?
Rooster crowing is often considered to be a farm-related noise, but city-dwellers may hear it too. The sound is most likely to be heard in the early morning hours, just as the sun is rising. But why do roosters crow?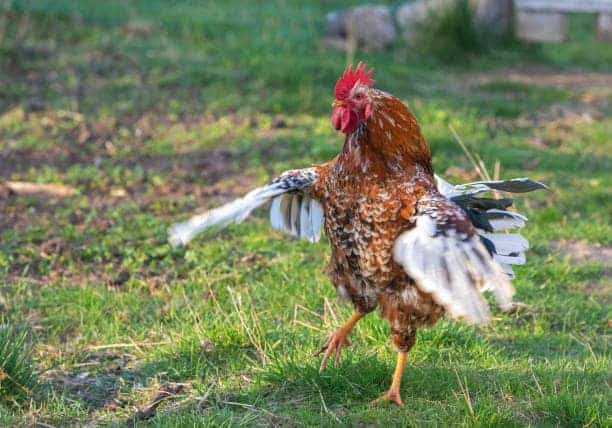 The sound of a rooster crowing is actually a call to announce his territory. He wants other roosters to know that this is his land and that he is the boss. How does he do this? By letting out a loud crow that can be heard for miles around.
A rooster will usually crow several times throughout the day, but the sound is most commonly associated with dawn. In fact, the phrase "cock-a-doodle-doo" is often used to describe the early morning hours. So next time you hear a rooster crow, remember that he's just doing his job!
What To Do If A Rooster Flaps His Wings When He Sees You?
A rooster flapping his wings is a sign of aggression, or it may simply be a way to stretch and exercise. However, most of the times a rooster flapping his wings to ward off predators and assume you a predator. Flipping his wings is simply a way of telling you to go away and not attempt to come near it.
If the rooster sees you and starts flapping its wings pointing towards you followed by hissing, charging, rubbing his wings in ground or mock-attacks, the rooster is telling you to go away. Just take a distance and do not attempt to go near him.
In general, if you see a rooster flapping his wings seeing you, simply move away from it and do not come near it.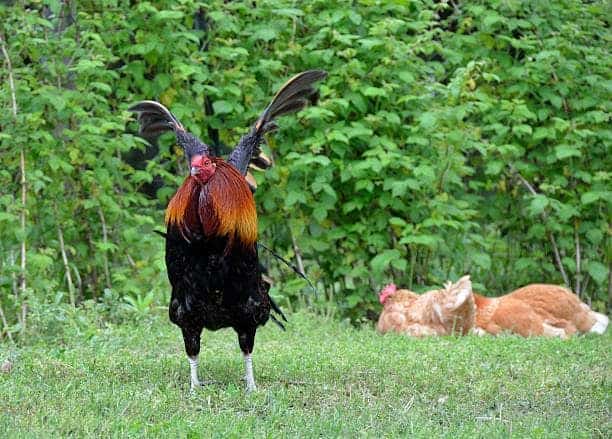 Why Do Hens Flap Their Wings?
Hens flap their wings mostly for cooling down but may also flap their wings for drying off, communicating, and showing their presence and dominance over other hens.
When it gets hot, the hen's body temperature rises and she begins to flip her wings. Flapping her wings creates a breeze that helps to lower her body temperature. If they get wet, whether from rain or a water bowl, their feathers can become waterlogged and heavy. Flapping their wings helps the feathers to dry more quickly. Finally, hens also use their wings to communicate. Hens wing flapping can signal different things, such as alarm or excitement.
How Do You Know If A Rooster Doesn't Like You?
While roosters can be finicky creatures, they don't always take kindly to newcomers. So how can you tell if a rooster doesn't like you?
If a rooster is flipping his wings seeing you and pointing towards you, chances are a rooster doesn't like you and is simple assuming you as a predator.
If he approaches you with his hackles raised and his tail held high, that's a sure sign that he's feeling aggressive.
If he's constantly fluffing his feathers and pacing around, it's a sign that he's feeling anxious or threatened. He may also attack you with his beak or spurs if he feels threatened.
Another way to tell if a rooster doesn't like you is by listening to his crow. A happy rooster will have a deep, resonant crow, whereas an angry rooster will have a high-pitched, shrill crow.
If you hear an angry crow coming your way, it's best to keep your distance.
Another way to tell if a rooster doesn't like you is by his behavior. If he's constantly pecking at you or trying to drive you away from his food, it's a pretty good indication that he wants nothing to do with you. Luckily, there are ways to win over an angry rooster.
Do Roosters Recognize Their Owners?
Yes, roosters and hens both are able to recognise and remember their owner and other people faces. In fact, a rooster is able to recognise up to 100 human faces.
A study suggests that roosters may be more intelligent than previously thought. The study found that roosters are able to distinguish between familiar and unfamiliar faces. What's more, the roosters tended to react more positively to their owners than to strangers. The findings suggest that roosters are capable of forming strong social bonds with their owners.
How Do You Know If A Rooster Like You?
Although it's easy to tell if a rooster doesn't like you, but its completely opposite and difficult to tell if a rooster likes you. They can be elusive creatures, and their interest can sometimes seem like a game of cat and mouse. But there are a few telltale signs that will let you know if a rooster is interested in you.
First, they will often make eye contact. If a rooster holds your gaze, it's a good sign that he's interested.
Second, they will often follow you around with their eyes. If you catch a rooster staring at you from across the barnyard, it's likely that he's interested in you.
Third, they will often try to get your attention with their crow. If a rooster makes a soft, long crow when you're near, it's a good sign that he wants your attention.
Finally, roosters can express their love towards you by rubbing their neck or beck, squatting, laying down, tilting their head and making soft nice, and low sounds.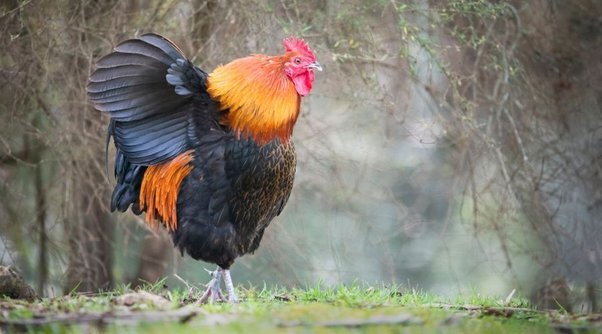 Why Does My Rooster Follow Me?
Some people might mistake it with chasing but no, chasing and following is completely different with different meanings. In short, chase is an aggressive form of act while following is a gentle way. However, that doesn't mean rooster loves you. Instead, it depends on how is he following you.
You can simply look for the first impressions of the rooster and how he reacts when he sees you. This will let you know if he sees you a friend and follow you as a friend or enemy.
If the rooster is following you with tails up, hackles raised, feathers fluffed and with speed, the rooster is threatened and it is chasing you to move you away from the flock.
Or if the rooster is following you making you uncomfortable and if the rooster is flipping his wings, fluffing up his feathers, hissing when he sees you, the rooster is definitely warning you.
But if the rooster is following you slowly not fast, making soft noises, and not fluffing his feathers, laying down, titling head, its likely that the rooster likes you.
Why Do Roosters Flap Before Crowing?
When a rooster flaps his wings and crows, it simply takes a deep breath and inflates its air sacs by flapping his wings. This allows the rooster to make a much louder noise than it would be able to with flapping its wings.
Additionally, the flapping helps to circulate oxygen through the rooster's body, which is necessary for making that loud crow. So next time you hear a rooster crowing, remember that there's more to it than just making noise – they're actually getting ready to take a big breath and share their morning greeting with the world.
Do Roosters Like To Be Petted?
Many people assume that all animals enjoy being petted, but this is not always the case. In fact, some animals may find it unsafe and even predators.
With that said, there are still some animals who enjoy being petted, and roosters are generally one of them. But it really depends on how the rooster have been raised and behaved with. Like if the rooster is handraised and often touched, hugged and showed affection with, then its no brainer that the rooster likes to be petted. And roosters are used to being handled, and their feathers are designed to be durable and comfortable. And they typically enjoy the sensation of being petted. Of course, every rooster is different, and some may be more skittish than others. If you're not sure whether your rooster enjoys being petted, it's always best to err on the side of caution and avoid handling him unnecessarily.