What eats squirrels? There are 18 common natural predators, including birds, reptiles, mammals, and parasites!
This blog explores the many creatures that prey on these small rodents. From hawks to owls to foxes, learn about who likes to snack on squirrels and how you can help protect them in your backyard.
The Short Answer Is …
Birds of prey, such as hawks and owls, typically go after young rodents.
Larger mammals, like foxes, weasels, and coyotes, target adult squirrels.
Even some reptiles, such as snakes and monitor lizards, will eat the creatures.
Domestic pets, such as cats and dogs, also see squirrels as a tasty treat.
However, perhaps the most dangerous predator of all is the lowly parasite. Tiny fleas, ticks, and mites can infest a squirrel's fur, leading to anemia and even death.
What Are Squirrels Natural Predators
Birds That Eat Squirrels
1. Hawks
Hawks are one of the most common predators of squirrels.
These birds typically go after young or sickly squirrels, as they are easier to catch.
Hawks use their talons to kill their prey before eating it.
Hawks will usually go for the neck or head of the squirrel, which can lead to a quick death for the Squirrel. However, in some cases where the hawks take back their prey to their nest – this results in a slower and more painful death for them instead.
2. Eagles
Eagles are notorious predators and will go after any small animal they can lay their talons on – including squirrels.
Eagles' sharp talons act as both gripping mechanisms to suffocate their prey or they use them to slice open the animal until it bleeds out.
There is no escape for the victim when an eagle has locked in on its target.
3. Falcons
Falcons typically hunt their prey–which consists mostly of squirrels–during the day.
By using keen eyesight, they're able to see potential targets from a distance away and swoop down to catch them with powerful talons before killing them.
If a falcon spots a squirrel relaxing in hiding or scurrying along the ground, another method they might use is flying high above and then dropping quickly down on top of the unsuspecting creature.
Additionally, sometimes these animals will kill squirrels by simply hitting them with their wings or beaks.
4. Owls
Owls are a common predator of squirrels, known for their silent and quick hunting skills.
They often sit perched atop a structure or tree, waiting patiently for an unsuspecting squirrel to walk by so they can pounce with sharp talons and kill their prey efficiently.
This often results in the quick death of the squirrel.
Reptiles That Eat Squirrels
5. Snakes
Snakes, including rattlesnakes and bullsnakes, hunt squirrels by lying in ambush near their trails. The snake will lunge at the animal when it comes within range.
Another hunting method is for the snake to chase the prey up a tree. To safety, the squirrel will jump from limb to limb until it reaches the trunk of the tree.
Sometimes snakes also eat young immature squirrels who have not learned how to avoid becoming prey.
6. Lizards
Lizards also hunt for squirrels especially ground squirrels.
To hunt squirrels, lizards use several methods.
Some stay in the trees until the animals come near, while others camouflaged themselves before pouncing. There are also those that chase after their prey.
7. Alligators
Alligators near rivers will wait for a squirrel to come and drink before stalking and assassinating their prey.
Alligators have very keen eyesight which helps them sit patiently until they see their next meal scurry toward the river.
At which point they will charge with astonishing speed and ferocity, quickly taking down the animal in a single bite thanks to their long rows of sharp teeth.
8. Crocodiles
The most common way that crocodiles hunt squirrels are by ambushing them from beneath the water.
Crocodiles will lurk just below the surface of the water, waiting for an unsuspecting squirrel to come close enough to snatch it up in their powerful jaws.
This type of hunting is especially effective when there are a lot of trees near waterways, as squirrels often have to cross rivers or come down to drink at the edge.
Cats and Dogs Also Eat Squirrels
9. Cats
Cats are natural predators of rodents, including squirrels.
Cats hunt squirrels in different ways.
Some cats stalk them and jump on them when squirrels get close. Other cats lay in wait for squirrels to come out of their nests. Finally, some cats may even chase squirrels up the trees.
10. Dogs
Dogs have a natural instinct to hunt, and they're especially good at chasing down smaller prey like squirrels.
When a dog sees a squirrel, the first thing it wants to do is give chase by running after it and catching it with its mouth.
Sometimes, the dog will chase the squirrel up a tree and then wait at the bottom for it to come back down again.
Dogs also sometimes work together as a team when hunting which makes taking down squirrels even easier.
Mammals That Eat Squirrels
11. Foxes
There are a few main ways that foxes hunt down squirrels. One is by surprising them while they're busy eating.
Since foxes are so stealthy and can move without making any noise, they're often able to get close to their prey before the squirrels realize they're there.
Another way foxes will trick squirrels is by copying their movements. Since squirrels are agile and quick, the fox will try to mirror their actions in order to confuse them and make it harder for them to escape.
Lastly, if a squirrel is running away, a fox might chase it down. Foxes are pretty fast runners and can catch up to most squirrels without much difficulty.
12. Coyotes
Coyotes are excellent predators who utilize different methods to catch their prey, one of which is called "coursing."
This strategy includes the coyote running after the squirrel in an open area until it gets tired. The exhausted prey can then be caught more easily.
Oftentimes, coyotes will also hunt together in pairs or groups since this increases the likelihood of success.
When they hunt in pairs or groups, coyotes typically designate one member to chase the prey while the others hide along the route and ambush their target.
13. Pine Martens
Pine martens hunt squirrels by stealthily sneaking up on them and pouncing on them.
Pine Martens are agile climbers, and they often stake out a high perch from which to launch their attacks. They also have a very good sense of smell, which they use to detect prey animals hiding in the forest understory.
14. American Minks
There are a few different ways that American minks hunt squirrels. They can either stalk them and ambush them, or they can chase them up trees and catch them. Minks are also known to enter the squirrel nests and kill the young inside.
When stalking prey, minks will silently follow it until they are close enough to pounce on it. Ambush hunting usually results in a quick death for the poor squirrel.
Chasing prey up trees is another favorite hunting method of minks. They are incredibly fast, so they can easily catch up to a squirrel even if it frantically climbs up the tree.
Parasites Eat Squirrels
15. Roundworms
Roundworms enter a squirrel's three ways:
by ingesting the worm's eggs via consuming plants or soil, known as orofecal transmission;
by eating other animals who have eaten roundworms, called percutaneous transmission;
or finally through contact with the nose or mouth.
These worms then travel to various organs throughout the body, such as the lungs heart liver, and brain where they lay their eggs.
These newly hatched larvae cause extensive damage not only to tissues but also to blood vessels which can lead to blockage.
16. Blowflies
Blowflies lay eggs on the carcass of a dead animal, the larva that hatch will consume the animal's flesh.
This can result in infection and sepsis, both of which can kill squirrels.
Furthermore, blowflies have been known to spread other diseases among squirrel populations – some include tularemia and plague.
17. Ticks
Ticks are dangerous to squirrels for many reasons.
They can spread diseases that cause sickness and death, and suck blood enough to weaken or kill the animal.
Ticks also attach themselves permanently to the skin of squirrels where they will irritate until it causes larger health problems.
Humans Also Eat Squirrels
18. Humans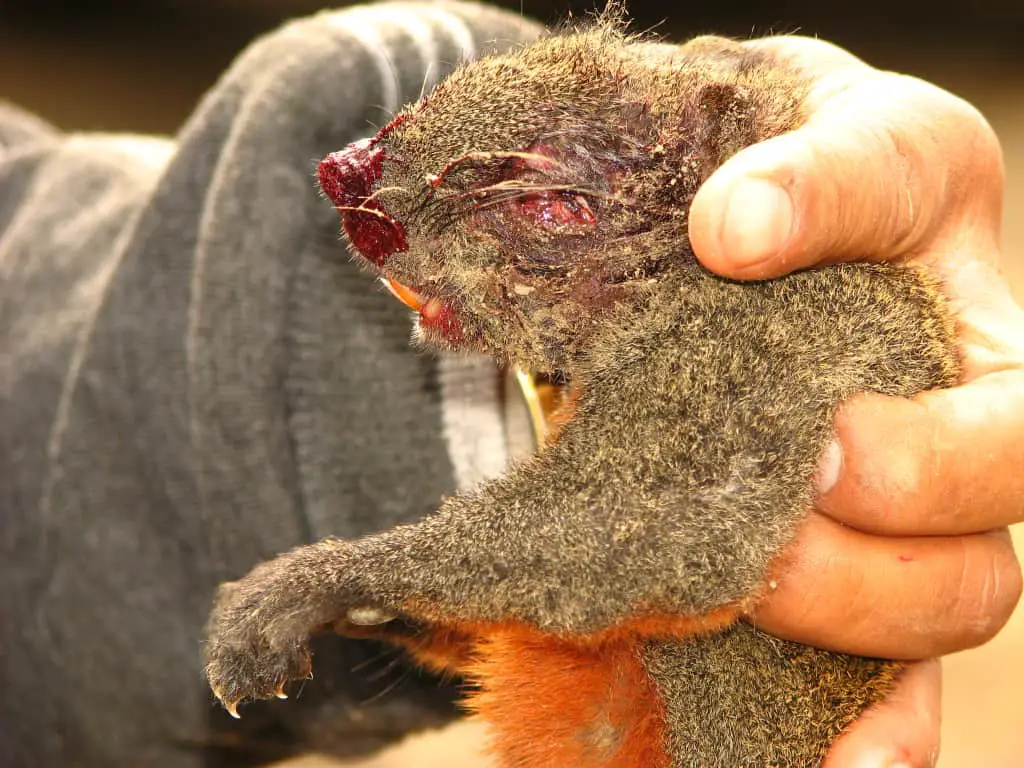 Many people are surprised to learn that humans are the biggest predator of squirrels.
There are a number of ways that humans kill them, but trapping, poisoning, and shooting are the most common methods.
Some people use leg-hold traps which snap the bones in a squirrel's legs, leaving it to die a slow and painful death.
Others may simply poison them by putting out bait laced with deadly toxins.
And still, others will shoot at them with rifles or shotguns.
In some cases, hunters will even take aim at pregnant females in an attempt to kill as many squirrels as possible.
How to protect squirrels in your backyard?
By building houses and feeders for squirrels in your backyard, you can help protect them from natural predators, such as snakes, owls, and hawks.
Some benefits of doing this are that the squirrels will stay away from your house, be less likely to enter attics or chimneys, and have enough food to eat so they won't get hunted as often.
By taking these simple steps, you can help to protect the squirrel population in your area.
Conclusion
There are many natural predators hunting and eating squirrels, these include snakes, birds of prey, and mammals. Besides, parasites and worms also kill squirrels.
However, humans kill them for fun or to preserve their belongings.
If you want to safeguard your backyard squirrels, one way you can help is by giving food and shelter in your backyard.
By helping provide these two things, you improve the chances they will have enough to eat and won't be targeted by predators as easily.