While sour crop is a common problem in chickens that can cause serious health problems if left untreated. While figuring out sour crop may be difficult, there are some general signs to look out for. So what are the symptoms of sour crop in chickens?
In this post, we'll explore what causes sour crop in chickens and outline some of the most common symptoms. We'll also share some tips on how to treat sour crop at home and prevent it from occurring in the future. Let's get started!
The Short Answer…
The main symptoms of the sour crop are listlessness, appetite loss, regurgitation, and weight loss. Chickens with sour crop may also have bloated crops, diarrhea, and sour, liquid and bad smell from the beck. If the sour crop is left untreated, it can lead to dehydration and death.
Chickens with sour crop should be seen by a veterinarian as soon as possible. Treatment typically involves a course of antifungal medication, as well as supportive care such as fluids and vitamins. In some cases, surgery may be necessary to remove the affected portion of the crop.
What Is Sour Crop In Chickens?
When the crop of chicken becomes inflamed and filled with fluid is sour crop. The crop is at the base of the chicken's neck and is used to store food before it enters the main part of the digestive system.
Unlike humans, chickens have crop where the food is stored before passing to the digestive system. When the chickens eat food, it doesn't goes to their stomach but instead, the food stores is stored in the crop. However, when the crop becomes infected, it can fill with gas and start to rot. 
A sour crop occurs when there is an overgrowth of yeast in the crop. This can cause the crop to become sour-smelling and acidic. The sour crop can be caused by several things, including a poor diet, dehydration, or intestinal blockage. Chickens with sour crop may have trouble eating or may vomit up food that has not been fully digested.
While sour crop is more common in young chickens, it can affect birds of any age.  If the sour crop is not treated, it can lead to malnutrition and even death in severe cases.
What Are The Main Symptoms Of Sour Crop In Chickens?
When a chicken eats food, the crop is filled which is easily. However, if the chicken crop is full without eating anything like in the morning, then there's a problem but how do you know if the chicken is sour crop or its filled with food.
Well, there are some signs and symptoms which could indicate sour crop. Here are the main symptoms of sour crop in chickens.
We have explained sour crops already, but the impacted crop is the condition where the crop of the chicken becomes filled with materials that can not be passed through the chicken's digestive system.
Sour crop is usually caused by poor hygiene, as the yeast thrives in dirty conditions. However, it can also be caused by stress, an underlying health condition, or a diet that is high in carbohydrates.
If you see chickens, they are usually always on the move. So, if you notice one of your chickens acting lethargic, it could be a sign that there may be something wrong. However, a sour crop can block the crop and prevent the chicken from being able to eat or drink properly.
One of the symptoms of a sour crop is regurgitation, where the chicken brings up partially digested food. This food is often sour-smelling and may be discolored. Chickens with sour crop may also appear lethargic and have a reduced appetite.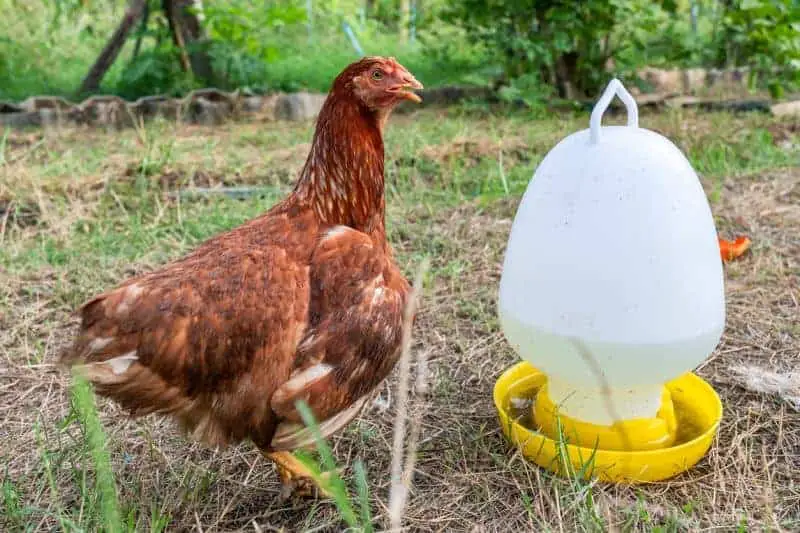 Another symptom of sour crop is a lack of appetite. A lack of appetite can easily indicate there is a problem with a chicken. It can be sour crop, respiratory, digestive or any other problems. This can be caused by stress, poor nutrition, or a change in the bird's environment.
Watery eyes and a wet, gurgling beck are a simple but very effective symtom of sour crop. Chickens may also have trouble swallowing, and their crops may appear enlarged or distended. In severe cases, sour crop can lead to death. If you suspect that your chicken has sour crop, it is important to take them to a vet as soon as possible for treatment.
What Does A Sour Crop Chicken Looks Like?
The crop is the part of the chicken's digestive system where food is stored before it enters the gizzard. When a chicken has a sour crop, the food doesn't seem to be moving through the digestive system properly and just stays in the crop. The crop can become full of gas and start to smell bad. If you think your chicken has a sour crop, take it to the vet for treatment.
A sour crop chicken looks like it has a balloon in its crop. If put any pressure, water may come out of it. Vomiting may be sporadic at first, but as the condition worsens, it can become more frequent and violent. chickens may also have diarrhea, droop their wings, and fluff their feathers in an attempt to stay warm. In this case, a sour crop can cause a chicken to stop laying eggs.
A lethargic chicken is one that doesn't move around much and appears to lack energy. Chickens with sour crop typically stand in the same spot all day and may sleep more than usual. They may also have sunken eyes and dry, flaky skin. In some cases, the crop may appear swollen or distended.
Why Do Sour Crops Happen In Chickens?
For chickens, the crop is used to store food so that the chicken can eat when it wants to. However, when the crop isn't functioning properly, the food ferments and can cause the crop to become sour. Chickens with sour crops often have an overgrowth of yeast or bacteria in their crops. This can lead to pain, diarrhea, and vomiting. In severe cases, it can even be fatal.
That's precisely what happens to some chickens, which is not a pleasant experience. So why does sour crop happen? The causes of the sour crop are as follows. 
There are a few different reasons, but overeating wet or moldy food is the most common. 
If a chicken eats a hard object like straw, or plastic or bone, it will be stuck in the throat and if swallowed, it stucks in the crop. If a hard object becomes stuck in the crop, it can block the normal flow of food and cause the crop to become sour. This is because the food begins to ferment, creating a sour smell and taste. Sour crops can be very dangerous for chickens, and can lead to dehydration and even death.
Like some people like to feed meat or live animals like snakes, which puts the risk of sour crop and bite.
While sour crop is happens due to bacteria disturbtion, dirty or infected food and water can easily cause sour crop in chickens. Poor quality food or water can introduce bad bacteria into the chicken's digestive system, which can cause infection.
There are a number of possible reasons why sour crops might occur in chickens. However, it could be due to a disease or infection. If a chicken is infected with any disease within the coop, it may easily transmit to other chickens. However, although sour crop doesn't trasmit directly to other chickens, it may spread other problems and disease to other chickens.
Sometimes, worms can block the opening between the crop and the rest of the digestive system, causing food to back up and fermentation to begin. Chickens with sour crop may appear lethargic and have a foul-smelling crop.
The yeast infection in the crop causes the sour crop in the chickens. The yeast responsible for the sour crop is the Candida Albicans. This is the same yeast that is the cause of thrush in babies. The Candida albicans are found in rotten foods and chicken feces.
Chickens are notorious for scavenging, and they don't always make the best choices when it comes to food. The crop is a part of the chicken's digestive system, and it stores food that has been consumed. Usually, the crop is kept relatively clean by bacteria that break down the food.
A simple cause of sour crop is stress, which can cause chickens to gulp down their food too quickly and swallow air along with their meal.
Whatever the cause, sour crop is an uncomfortable condition that can be dangerous if not treated properly.
Like any other birds, chickens also need a balanced diet in order to stay healthy. This diet should include a mix of grains, vegetables, and protein. Unfortunately, many commercially-raised chickens are fed a diet of primarily processed foods. These foods lack the nutrients that chickens need in order to stay healthy. As a result, they often develop health problems, including sour crop.
How To Treat Sour Crops In Chickens?
There are a few different ways to treat sour crop, but the most important thing is to identify the cause. If the chicken has been eating something that has upset its stomach, then removing this from their diet is the first step. You may also need to provide them a probiotic to help restore balance in their gut.
First, try massaging the crop in a clockwise direction for several minutes. This will help to loosen the contents and allow the chicken to expel them more easily.

 In the meantime, you can try feeding your chicken boiled rice water or plain yogurt to help soothe their stomach.
Related: Do Pigeons Eat Meat? Is It Good For Them? Chicken or Beef?
You should also make sure they're staying hydrated by giving them lots of fresh water. You can also give the chicken an electrolyte solution to help rehydrate and restore lost nutrients.

Finally, make sure to keep the coop clean and dry, as wet conditions can exacerbate sour crop.
How To Prevent Sour Crops In Chickens In The First Place?
While sour crop can be treated, it's best to prevent them in the first place. The chickens that do not get proper prevention are more likely to develop sour crops. Here are a few tips: 
Keep your

coop clean

and dry. Sour crop often occurs when chickens are kept in dirty, damp conditions. 

Make sure they have plenty of access to fresh, clean water.

Feed your chickens a healthy diet. A diet that's high in fiber will help promote healthy digestion and prevent sour crop. 

Feed them a balanced diet that includes all the necessary vitamins and minerals. 

Monitor your chickens for signs of illness. If you notice any of the symptoms of the sour crop, contact your vet immediately. 
Following these simple tips can help keep your chickens healthy and free from the sour crop. And that's all to there it is about symptoms of sour crop in chickens