Although they can be entertaining to observe, squirrels are often a source of frustration for gardeners due to their habit of digging up and eating bulbs or seeds, chewing on stems and leaves, and using potted plants as bathrooms.
If you're looking for ways to keep your precious flowers safe from pesky rodents this season, here are some tips to help you fight back.
In this blog post, we will discuss some effective methods that have been known to repel these furry critters from your prized potted plants.
Why Do Squirrels Dig In Potted Plants?
There are a few reasons why squirrels may be attracted to your potted plants.
Most notably, these furry creatures are always on the hunt for food, and some types of plants have tempting seeds or bulbs that offer a delectable meal.
Moreover, when placed near their usual path or nest area, pots become an easily accessible food source.
Lastly, they might view the plants as fun toys and destroy them by chewing or excavating the soil around them.
How To Keep Squirrels Out of Potted Plants? 9 Effective Methods
Here are nine potential methods for keeping squirrels out of your potted plants:
1. To discourage squirrels from digging in the soil of your potted plants, cover it with a layer of chicken wire or mesh.
2. Create a physical barrier around your pots by erecting a fence or wall to block squirrels from getting close enough to tamper with them.
3. For extra protection, try sprinkling spicy repellents such as cayenne pepper and hot sauce over the soil; these odors can ward off unwanted visitors.
4. Startle those pesky squirrels away from your precious potted plants with a motion-activated sprinkler. When the critter approaches, this innovative system will activate and scare them off instantly.
5. Use commercial repellents bought from any local garden supply store as another effective solution to prevent squirrels from approaching your plants. These products contain scents and flavors that they find extremely unpleasant.
6. Grow plant species that are unattractive to squirrels in your pots, such as rosemary, lavender, or lamb's ear. Because of their strong aromas and rough texture, this can keep squirrels away from your plants.
7. To deter squirrels from your potted plants, place them in areas that are harder for the animals to access, like a balcony or deck.
8. Offer alternative snacks outside of your garden by placing bird feeders and allowing some ground space for digging and searching through foliage – this may divert their attention away from your precious flowers.
9. If other preventative methods don't work, humane traps can be used to capture the critters so they can be safely released into another park or the natural area nearby – but make sure you check local laws before taking any action.
Common Mistakes To Avoid When Trying To Keep Squirrels Out Of Potted Plants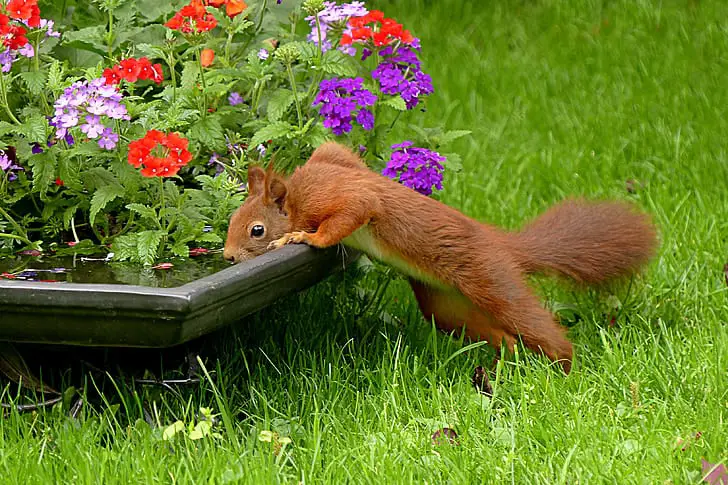 There are some common mistakes gardeners make when they try to keep squirrels away from their potted plants.
1. Acquiring knowledge about squirrel habits is a must: To effectively repel squirrels from your potted plants, you need to understand what triggers them and why they are so drawn to these areas in the first place.
2. Don't depend on temporary or ineffective solutions: Using methods like noise-makers or predator models may only have a temporary effect before the animals become accustomed to their presence; hence it's essential to implement multiple deterrence methods for successful results that last.
3. Not protecting the entire plant: Squirrels are cunning and will endeavor to find ways around any hindrances you put in place.
4. Not evaluating potential negative impacts on other animals: Some methods, such as chemicals or pesticides, can be harmful to other animals and nature itself – make sure to use humane, eco-friendly strategies instead.
Being persistent and consistent
Persistent and consistent are necessary when attempting to keep your potted plants squirrel-free. Squirrels are intelligent animals that will persistently seek access to your garden until they accomplish their mission, even if you initially manage them away.
If the initial safeguards fail, these intelligent creatures rapidly adapt by finding ways around whatever boundaries have been put in place.
To successfully repel squirrels, you must be persistent and consistent in your approach. Utilize a combination of methods to protect the entire plant area, diligently surveying for any hints of squirrel activity.
Remaining conscious that conditions may change over time is also essential – monitoring the situation vigilantly so you can modify tactics as necessary will help ensure continuing effectiveness.
Although you may encounter obstacles and temporary failures along the way, it is essential to remain determined and continue using methods that have worked.
If a certain deterrent fails, use an alternative one or add additional protective layers to make your plants inaccessible to squirrels.
With patience and consistency, you can prevent those pesky critters from ruining your potted garden – allowing you to appreciate its beauty without any interruption.
Conclusion
In conclusion, it is possible to protect your potted plants from pesky squirrels.
By taking an educated approach that involves understanding the behavior and habits of these creatures, utilizing a mix of deterrents, safeguarding the plant's entirety, being consistent in our efforts, and persisting even when results don't come quickly – we can drive away intruders without any harmful impacts on other animals or nature.
With this combination of methods applied correctly and effectively, you'll enjoy a magnificent garden devoid of rodents.
Frequently Asked Questions
Are there any plants that squirrels are not attracted to?
Certain plants, such as marigolds, lavender, and geraniums, are not appetizing to squirrels. Since they will consume nearly anything if they are hungry enough, it's important to implement deterrent strategies that help safeguard your plants from being eaten.
Can squirrels climb trees or fences to access my potted plants?
Squirrels are excellent climbers, so to keep them from accessing your precious potted plants, you must take extra precautions. The best way is to construct a wire mesh or hardware cloth cage around the plant for its protection and place it on an elevated surface like a table. This will help ensure that pesky critters don't ruin your beloved plants.
Can I feed the squirrels to distract them from my potted plants?
While it may seem sensible to feed the squirrels, this approach can actually worsen your issues with them in your garden. Once they discover food sources there, chances are that you will find them returning regularly and consuming all of your plants! Rather than offering a distraction by feeding these pesky critters, consider using deterrents as a way to keep distance between yourself and their destructive behaviors.
Are there any professional services or products to help me keep squirrels out of my garden?
There are many professional services and products available in the market to help keep squirrels out of your garden. These can include humane traps to relocate the squirrels, specialized repellents, and exclusion devices to prevent them from accessing your plants. You can also consult a local wildlife control professional for advice and assistance.
Meta Description: Keep squirrels out of your potted plants with these proven methods and expert tips. Protect your garden and say goodbye to nibbled plants for good.