We have all had that feeling before. You're in your room, minding your own business when suddenly a spider appears. You look down and notice a spider and start running. When you come back with shoes or a bag or something to hit, the spider is gone! But where do the spider come from and where it go? And how to find a spider in your room before it scares you again?
The Short Answer…
The best way to find spiders is to check all the corners, crevices, closets, eaves, window frames, and ceilings in the room. You can also look for spider web, and egg sacs which will lead to the spider itself.
While they not only pose a health threat, their presence can also be unsettling, and their webs can be unsightly. Fortunately, there are a number of things you can do to get rid of spiders in your room.
How To Find Spider In The Room?
There are a few things that you can do to find spiders very easily and fast in the room.
Check All The Corners, Crevices & Holes In The Room
First, check all of the corners and crevices in the room. Spiders like to hide in dark, secluded places where there isn't much human activity like attics, closets, eaves, window frames, the corners and ceilings of rooms, and the spaces underneath furniture. Take a good look at these places. Do not skip any one of these places. If you see a spider in one of these places, there's a good chance that there are more spiders nearby.
Second, look for webs. If there are spider webs in the room, chances are that there is also a spider. You can either wait for the spider to arrive and clean it with its web together or simply clean the web which will lead to the spider moving away from this place.
The spider web is not only terrible looking but is also a contributor to negative energy and poorness according to Vastu Shastra. Some people also believe it unlucky.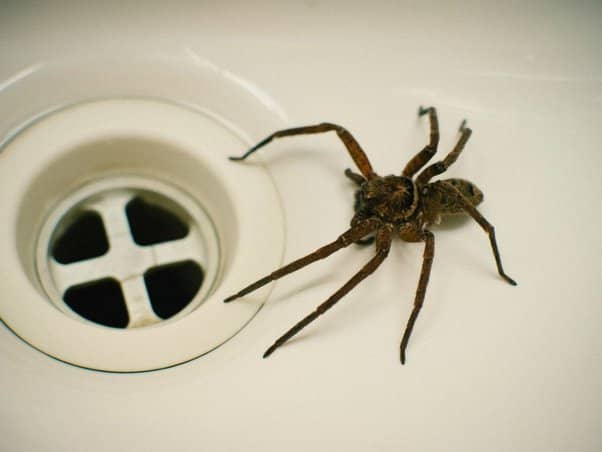 Finally, keep an eye out for egg sacs. If you find a spider web, chances are there are also egg sacs beside their prey. It not only causes dirtiness but it also results in more spiders in the house.  These are usually white or light-colored and contain dozens of eggs.
How To Get Rid of Spiders In The Room?
Most people are afraid of spiders, which is understandable considering their reputation for being creepy and dangerous in fact, poisonous. Find out about common spiders and dangerous spiders.
If you're finding spiders in your room, there are a few simple steps you can take to get rid of them.
If you find a spider in the room, especially a large one. Set a spider trap and when it's trapped, just move it outdoor and kill it with a spray, a solid object or vacuum it up.
One of the simplest and most effective methods is to remove their webs.
This will not only eliminate their food source, but it will also make your room less attractive to them. You can also reduce spider populations by eliminating other sources of food, such as insects.
Finally, keeping your room clean and clutter-free will make it less inviting for spiders and other pests.
There is a wide range of spider repellents available on the market, so you should have no trouble finding one that suits your needs. Repellents typically come in the form of sprays or granules, and they work by creating an unpleasant environment for spiders.
Many repellents contain strong chemicals that can be harmful to children and pets, so be sure to read the labels carefully before purchasing. When using a repellent, be sure to follow the instructions on the label to avoid damaging your furniture or carpeting.
It is important to vacuum regularly and dust all corners of your room to remove any potential hiding spots for spiders. By taking these simple precautions, you can keep your home spider-free all year long.
Where Do Spiders Live In Your Room?
Most spiders are not particularly fond of humans and prefer to set up shop in places where we are not likely to disturb them.
In The Corners of the Room, Under Furniture, Closets
For this reason, spiders are often found in dark corners, beneath furniture, or in closets and basements. In order to find these hidden spider homes, it is often necessary to look for webs. These webs can be either messy and haphazard, or neat and tidy, depending on the species of spider.
All spiders use their webs both to catch prey and as a way to protect their eggs. So, if you want to find out where spiders live in your room, keep an eye out for those telltale signs of a web. Chances are good that you will find your eight-legged roommates hiding nearby.
Related: What Color Car Do Deer Hit The Most? Why? (Video)
Most people are familiar with the sight of a spider near a light fixture in their room. This is because spiders are light attract insects and prey for spiders which they use to help them hunt for food.
While this may be the most common place to find spiders, it is not the only place they live. Spiders can also be found in other dark, secluded places in your room, such as beneath furniture or in closet corners. In fact, some spiders are even known to build their webs in toilets! While most spiders pose no threat to humans, it is always best to be cautious when handling them.
How To Find Spider Web In Your Room?
There are few things more disconcerting than finding a spider web in your house. Not only are they unsightly, but they can also be a sign that there are spiders lurking nearby. If you're trying to track down the source of a spider web, there are a few things you can look for.
A spider will make its web (nest) where there is a corner or two-sided place to attach its silk.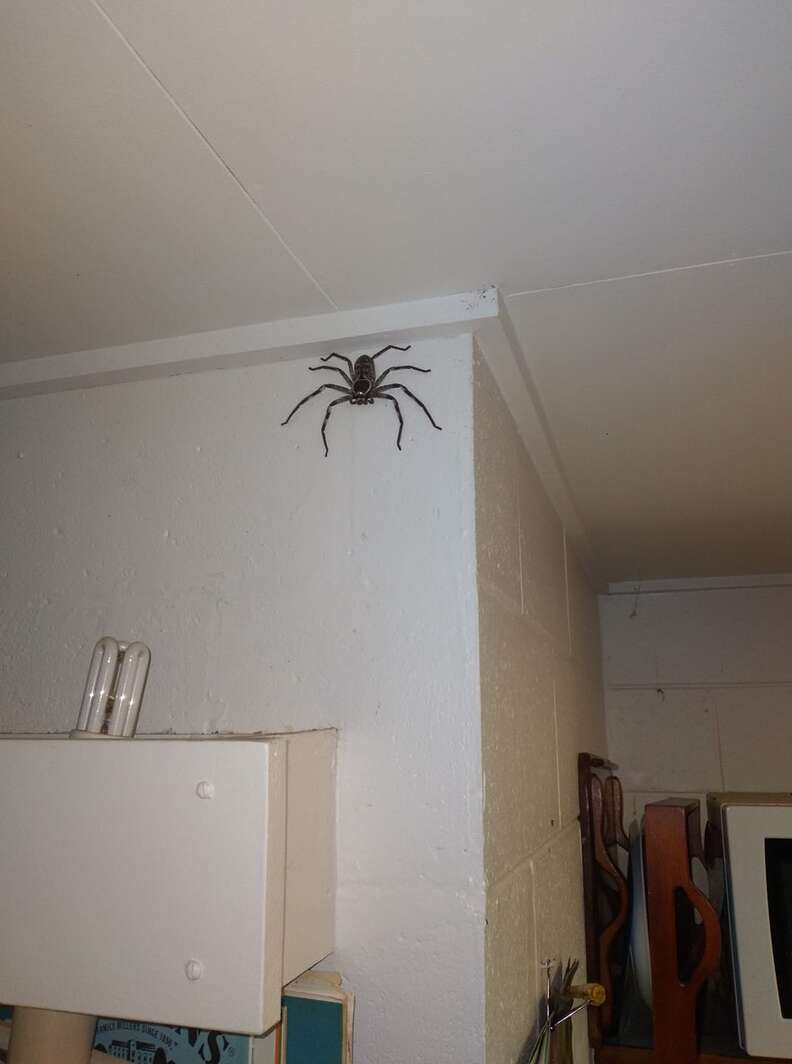 First, check any dark corners or recesses where spiders are likely to build their webs. This includes eaves, attics, crawl spaces, and behind furniture. Once you've located any potential hiding spots, take a close look at the web itself. Is it neatly woven or does it look messy and tangled? If it's the latter, it's likely that the spider has already moved on.
However, if the web is well-constructed, there's a good chance that the spider is still close by. Be sure to exercise caution when approaching any suspected spider dens, as some species can be venomous.
Why Do Spiders Come In The Room First Place?
There are two main reasons why spiders come into rooms.
The first and primary reason is that they are looking for food. Smaller spiders will eat insects that are attracted to light, while larger spiders will eat anything they can catch. In either case, the spider is likely to enter a room in search of a meal.
While spiders are nocturnal (which are active at night) they use darkness to catch their prey so that's why spiders love and get into rooms where it is dark which people's rarely use or don't use at all. But that doesn't mean spiders don't come into rooms where people are actively using it.
The second reason is that spiders are seeking shelter. Rooms offer protection from the elements and from predators, both of which can be dangerous to spiders. Many houses have cracks and crevices that spiders can use to build their webs. For these reasons, spiders often prefer to live indoors where they can find both food and shelter.
How To Clean Up A Spider Web?
Cleaning up a spider web can be a challenge, especially if the web is in a hard-to-reach place. If possible, it's best to remove the web with a broom or vacuum cleaner. However, if the web is too large or difficult to reach, you may need to use a hose or sponge. First, wet the web with water from the hose or sponge.
Then, using a broom or vacuum cleaner attachment, slowly and carefully sweep the web away. Finally, rinse off any remaining residue with clean water. With a little patience and care, you can safely and effectively remove even the biggest spider webs.
How To Avoid Spider Coming Into Room?
Spiders are one of the most common household pests, and they can be quite a nuisance. Not only are they creepy and crawly, but they can also cause damage to your clothes and furniture. If you're dealing with a spider infestation, there are a few things you can do to get rid of them for good.
Seal Any Cracks, Crevices  & Holes In The Room
First, make sure to seal any cracks or openings in your walls and floors. This will help to prevent spiders from getting into your home in the first place.
Next, vacuum regularly and dust all surfaces to remove any spider webs or eggs. that may be present.
Finally, consider using a spider repellent to discourage these pests from setting up camp in your home. You can use peppermint oil, vinegar, insecticide for spiders or any other repellent. However, a good insecticide would work great. Spread it accross the room under the carpet if you have otherwise just spread it. Make sure the kids and pet aren't touching or eating it.
Do Spider Bite? Why? Is It Dangerous?
Unfortunately, most spiders bite venomously except two small groups in the arachnid family. Most spiders do not bite humans typically unless they threaten or attempt to kill it.
While the venom of most spiders is not particularly harmful to humans, their bite can cause pain and even medical complications. The good news is that, in most cases, the pain from a spider bite will subside within a few hours and there will be no lasting damage.
However, if you experience severe pain, swelling, and redness after being bitten by a spider, it's important to seek medical attention immediately. In rare cases, spider bites can lead to serious health problems such as tissue necrosis (death of body tissue) or kidney failure.