Ants are amazing creatures. They can lift objects 50 times their own weight and they can travel long distances in search of food. But how do ants find food so fast? And how far can they find out food?
How Do Ants Find Food So Fast?
For such small creatures, ants are incredibly efficient at finding food. So how do they do it?
The Short Answer…
When a worker ant finds some tasty food, she leaves a smelly trail behind her. When she returns back to the home, she informs other ants about the food to other worker ants. After which a group of worker ants follows the smell and signs of the ant with their antenna. When a whole group of ants is following a trail like this, they form a line of helpers.
How Do Ants Find Food From So Far Away?
As worker ants build hill tunnels and protect the anthill, worker ants also go out to find food to bring back to the queen and the males protecting the queen. But how do they do it?
Luckily, the workers have some special skills that help them to find plenty of food. When a worker ant is out looking for food, she uses her great sense of smell to sniff out any food in the area. But instead of using a nose like us, she uses her antennae, the two little things sitting on top of her head.
An ant's antennae are actually better at smelling than a human's nose. They can easily smell things that people can't smell at all. Ants have a very keen sense of smell, which they use to find food sources from far away. And when a worker ant's antennae smell some tasty food, like the fruit at our picnic, she follows the smell until she finds the food.
Now that she knows where the food is, she can use her eyes to look around at what's near the food, like bright picnic blanket. If she needs to find the food again, she'll look for those familiar sights until she finds the food.
And while most ants are omnivores, meaning that they'll eat plants, other animals, and all sorts of things. The different foods they like to eat all have different smells, so the ant can smell out which one she wants to bring home.
The worker ants need to find enough food to feed themselves the queen, and the males not to mention the baby ants. They can carry something that's up to 50 times heavier than they are. That would be like you picking up a small car!
How Fast Can Ants Detect Food?
When a worker ant is out looking for food, she uses her great sense of smell to sniff. But instead of a nose like us, she uses her antennae which is way better than a human nose, and even smells things that people can't smell at all.
Why Do Ants Suddenly Appear?
The truth is, ants are constantly on the lookout for food and water. When they find a source, they leave behind a pheromone trail that that acts as a map for other ants to follow. This could be food crumbs, spills, pet food, or even water leaks. This is why you may see a sudden influx of ants if there is food available. In addition, ants are attracted to warmth, so they may also enter homes during cold weather in search of a warm place to nest.
Does Killing Ants Attract More?
As any homeowner knows, ants can be a persistent problem. They seem to appear out of nowhere, marching across counters and floors in search of food. While a few ants may not be cause for concern, a large infestation can be difficult to get rid of. And, once ants have found their way into your home, they can be difficult to get rid of. So, does killing ants actually attract more?
One thing that many people do in an attempt to control the problem is to kill ants on sight. However, there is evidence that this strategy may actually backfire. When ants are killed, they release a chemical signal that can alert other members of their colony. As a result, killing ants may actually cause more of them to come into your home in search of food. If you're dealing with an ant problem, it's best to call a professional exterminator rather than trying to solve the issue yourself.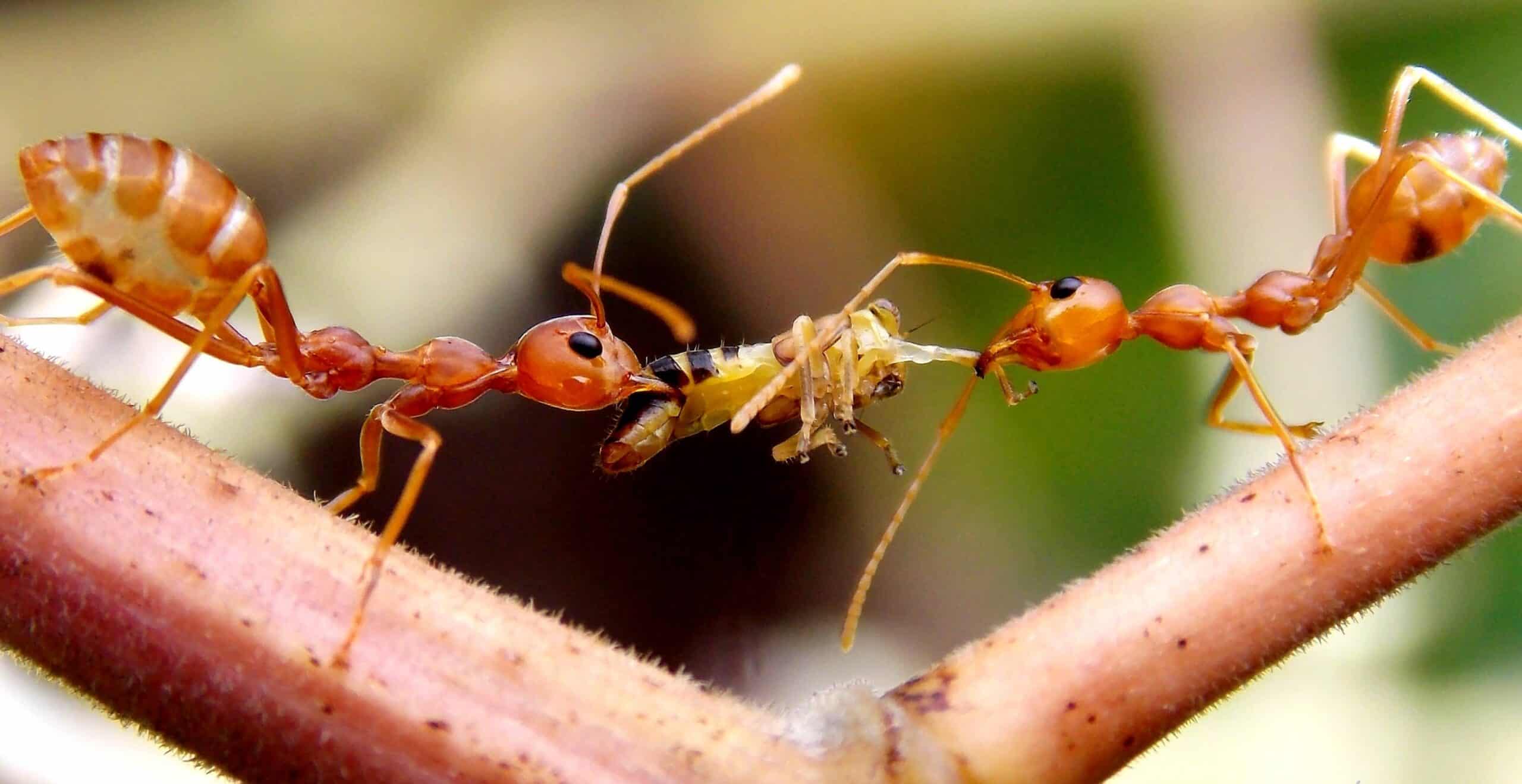 Why Are There Ants In My Room When There Is No Food?
If you've ever found ants roaming around your room, you may have been wondering why they're there. After all, there's no food in your room, so what are they after?
Moisture
It turns out that ants are attracted to a variety of things not just food, including the warmth and moisture of the room. Ants are attracted to areas that are high in moisture, and your room is probably more humid than the rest of your house. This is because rooms are typically smaller than houses, so the air doesn't circulate as well.
This can cause condensation on surfaces like windows and mirrors which makes a perfect opportunity for ants to drink water and if it's hot outside, it's probably the best place for shelter.
Dark & Quite
They also like places that are dark and quiet, which is why they often end up in bedrooms. In addition, ants are attracted to certain smells, such as the fumes from cleaning products or even perfumes.
Temperature
If you find ants in the hot summer, it's likely because the room is cool. And vice versa if its cold winter outside, chances are ants have came into the room for some warmth.
How Far Away Can Ants Smell Food?
Researchers have found that ants can detect the smell of food from as far away as 10.8 feet (3.3 meters)
This is because ants have a highly sharp sense of smell, especially with their antennas, which catches smell and scents from far away. When they smell something that interests them, they will follow the scent trail until they find the food source.
This means that an ant colony can quickly become aware of a potential feast, even if it is located some distance from the nest.
While this may seem like an impressive feat, it is actually quite common among insects. Many species of bees, for example, can also detect the scent of food from great distances. In fact, this ability is thought to be one of the reasons why insects are so successful at finding their way to flowers that are hidden among the foliage.
Can Ants Smell Food Through Plastic?
As any picnicker knows, ants are attracted to food. They seem to be able to sniff out a crumb from across the park, and they'll go to great lengths to get to it. But can they also smell food from plastic?
Recent research has shown that ants cannot actually smell food through the plastic. But if they come across food with plastic wrap, they feel around for an opening until they find a way in.
How Do Ants Carry Food Back To Nest?
Ants are some of the most hardworking creatures on the planet. Though they are small, they are able to lift and carry objects 50 times of their own weight. However, if they find food which is heavier than an ant can carry, they will seek other's help. If the food is fragile, they will break into pieces and pass out a small piece to every ant.
However, if the food isn't fragile enough to break quickly, all of the ants will carry the food together to the nest.
How Do Ants Find Their Way Home?
Ants are amazing creatures. Not only are they able to lift objects 50 times their own weight, but they can also find their way home from great distances. So how do they do it?
Studies have shown that ants navigate by sight, using landmarks and the sun's position to orient themselves. They are able to store this information in their tiny brains and recall it when necessary. This ability is called spatial memory, and it is something that humans have only recently begun to understand.
What Do Ants Like To Eat The Most?
Ants are attracted to food sources that are high in sugar and protein, particularly sugar and anything that contains sugar. They are particularly fond of honeydew, a sticky substance that is secreted by aphids. Honeydew is so popular with ants that they will often protect aphids from predators in order to keep their food source safe.
In addition to honeydew, ants also enjoy eating other sweet substances such as nectar and fruit juices. They will also scavenge for insects, dead or alive, as well as seeds and other plant material. Basically, if it contains calories, an ant will probably try to eat it. As tiny as they are, ants consume a lot of food – up to 10% of their body weight every day!
How Do Ants Navigate?
According to some studies, ants use a combination of landmarks and the position of the sun to find their way around. For example, when an ant leaves its nest in search of food, it will first orient itself using visual cues like rocks or tree trunks. Once it has established a mental map of its surroundings, the ant will set off in a straight line towards its destination.
If it encounters an obstacle, the ant will use the sun's position to determine which direction to turn. This navigational strategy is known as 'vector navigation' and it allows ants to cover large distances without getting lost. So next time you see an ant crawling across your picnic blanket, take a moment to appreciate its impressive navigational skills.