Getting rid of pests like raccoons can be a tricky business especially when they decide to take up residence in your attic. These highly intelligent creatures are skilled at breaking into buildings and causing damage, and their presence can lead to a whole host of long-term problems.
To keep raccoons out, it's important to thoroughly inspect the area for entry points and seal them off as quickly as possible. But sealing works before they make it to the attic. Once they have settled down, it is a serious problem. However, how do you remove those now?
When it comes to dealing with unwanted pests, many people turn to tried-and-true methods like smoke bombs or insect sprays. But does smoke get raccoons out of the attic? Here's how.
Does Smoke Get Raccoons Out of Attic?
Some people use smoke as a means of driving away pests including raccoons. After all, the strong pungent odor of the smoke effectively overwhelms a raccoon's senses and disorients compelling them to move to another area. The smoke could disrupt their normal patterns of movement and behavior, potentially wrecking their habitat within the attic.
Other people believe raccoons are driven away by fire itself, not just smoke. So which one is the correct option?
The Short Answer…
Yes, smoke can drive raccoons out of an attic but also harm you and your family. The smoke from a fire can cause respiratory problems for both humans and animals. And there is always the risk of starting a house fire.
Smoke bombs are not meant to be used in homes with small children or pets because the fumes can be harmful. In addition, if you don't know how to properly use a smoke bomb, you could start a fire.
Last but not least, smoke can harm your lungs, and it can also set off your home's fire alarm.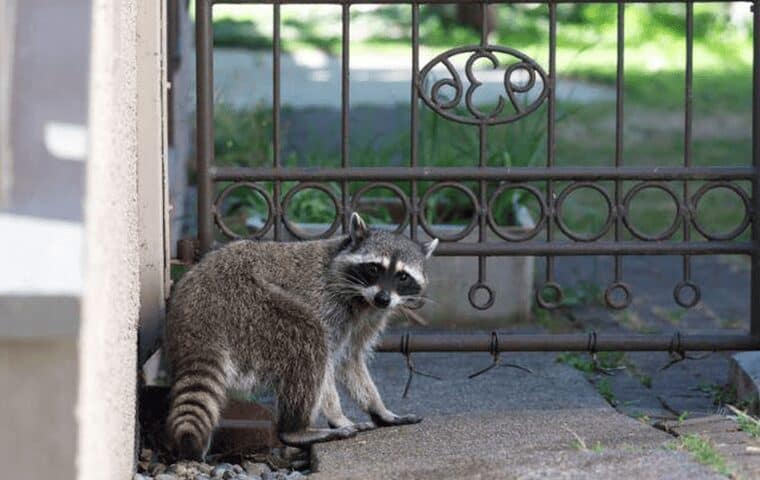 Is There A Smoke Bomb For Raccoons?
Raccoons are attracted to attics because they provide a warm, dry place to nest and raise their young. However, raccoons can cause significant damage to your home, so it's important to get rid of them as soon as possible.
Without surprise, there is a smoke bomb for pests including raccoons. It is widely used by farmers, gardeners, and property owners to get rid of nuisance insects and other creatures that can cause damage. The most common smoke bombs are made from kerosene or gasoline, which burns quickly and creates a dense cloud of smoke that chases away unwanted pests.
Smoke bombs can also contain other chemicals, such as diatomaceous earth which irritates the skin of insects like fleas, ticks, and bed bugs.
While smoke bombs can be effective in some places, it isn't a good option for attic or anywhere inside the house.
Can You Smoke A Raccoon Out?
As any homeowner knows, a raccoon in the attic can be a real nuisance. Not only are they noisy, but they can also cause damage to your home and spread disease. If you find out you have a raccoon in your attic, you might be wondering about driving out smoking.
Raccoons are offended by the smell of smoke, so either with a smoke bomb or by firing smoke and blowing the smoke into the attic, you may be able to get the raccoon to come out on its own. But it also poses a serious risk to you and your family.
First, the chemicals in the smoke can seep into your home and smoke is a high risk of fire. The fumes from the smoke can cause respiratory problems, and the raccoon may become agitated and aggressive especially if it has babies. It can become panicked and attack people or damage property.
The smoke spreads to other parts of the house and can smoke out everyone in the house. In addition, trying to smoke raccoons out of their hiding place is likely to simply drive them deeper into your home where they will be even more difficult to remove.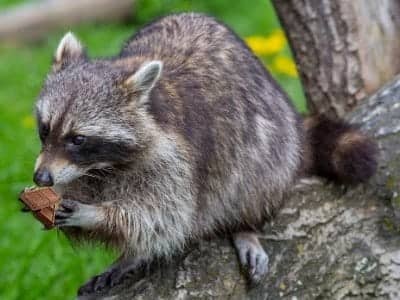 You cannot smoke out raccoons as it can also be dangerous for your family.
How Do I Get Rid Of Raccoon Smell In My Attic?
If you're concerned about raccoons on your property
When Do Raccoons Leave The Attic? During The Day?
Generally speaking, however, raccoons will attempt to leave the attic and find a new home for themselves when their babies have matured which is usually from February to May. If left unchecked long enough, raccoons may choose to remain in an attic for years.
How Do Raccoons Get In Attic?
When it comes to getting rid of raccoons, it's important to know how they get there in the first place. There are multiple ways a raccoon can enter your attic. One way is through an opening on the roof, typically where there are missing shingles or cracks in the roofline. Another way is via the chimney where they can climb up and squeeze through the flue. Once they are inside, they will start to look for a place to build their nest and have their babies.
In general, raccoons make through the attic from ways and places where building is joined, attic vents, or breaking fascia.
Can Raccoons Break Through Ceiling?
No, raccoons cannot break through ceiling. Although these animals are strong and agile, they aren't as powerful as necessary to enter a home through its roof. With specialized claws and teeth, they can sometimes gain access by gnawing on wooden boards or beams, but as severe as they can break through ceiling.
In fact, all of their efforts are toward finding food sources and natural shelter. And not only they cannot but they won't attempt as they are lazy and only find food and habitat already made. No matter how strong they may seem, raccoons simply don't have the physical strength to break through a ceiling.
Can Raccoons Live In A Hot Attic?
It is a common misconception that raccoons are aquatic animals that can only survive in wet or watery environments. In reality, however, these clever critters are highly adaptable and can thrive in a wide variety of outdoor habitats, including deciduous forests, swamps, urban landscapes, and even the hot attic of an abandoned building.
This is because raccoons are able to control their own body temperature by systematically changing their behavior patterns throughout the day. When temperatures are too high, they seek shade and spend more time resting in cool burrows underground or under tree roots. Conversely, when temperatures drop they become much more active and search for food, often even crossing paths with humans in search of an easy meal.
Will Loud Music Get Rid Of Raccoons?
There is no doubt that raccoons can be a nuisance, wreaking havoc on gardens and backyard habitats with their constant foraging and trash-scavenging behaviors. backyard habitats with their constant foraging and trash-scavenging behaviors. Many people have tried various methods for getting rid of these pesky critters, from live trapping to chemical deterrents. But what about sound deterrent or blasting them with loud music?
Yes, noise pollution will send raccoons packing because they are sensitive to sound and their young are vulnerable to hearing loss. While this strategy may help in some cases, it will likely take more than just a few tunes to make a lasting impact on the troublesome rodents.
How Long Will Raccoons Stay In Your Attic?
Raccoons are playful, curious creatures that can make a mess of your home if they decide to move in. If you have raccoons in your attic, you may be wondering how long they'll stay.
Raccoons live in an attic for a year until the babies have matured. After raccoons have settled in a place, they will breed. Once the babies are born, they will typically live there until the babies are matured. That happens by the end of summer.
Are Raccoons In The Attic Dangerous?
Yes – raccoons in the attic can be dangerous, especially if they are allowed to nest and grow in number. Raccoons can carry a wide range of diseases and parasites that can be harmful to both humans and animals, including rabies, roundworm, and even leptospirosis. In addition, because raccoons typically build their dens in areas that offer ample food sources, such as exposed trash cans or ripe garden vegetables, they can also cause significant damage to property that goes beyond their need for nesting materials. Therefore, it is important for homeowners with suspected raccoon infestations to take swift action to remove these unwanted guests from their attics. Not only will this help prevent disease and destruction, but it will also ensure the safety of both people and animals in the area. Plus, keep raccoons away without smoke raccoons out of attic.
How to Get Rid of Raccoons From Attic?
While many people think of raccoons as cute and cuddly woodland creatures, these animals can also be a major nuisance. Raccoons are known for their intelligence and dexterous paws, which they use to rummage through garbage cans, dig in gardens, and even enter homes through pet doors. For homeowners who have had the misfortune of dealing with a family of raccoons in their attic, one of the biggest questions is how to get rid of raccoons.
To get rid of raccoons from an attic, it is important to first understand the reasons why these animals are choosing to make their home in your building. In most cases, it is because there is access to shelter and food sources, such as pet food that has been left out or garbage cans that have not been secured properly.
Trap Mother Raccoon
One option for getting rid of existing raccoons is to trap mother raccoons. How you do is set trap in the parts of the attic where it have been congregating. These traps should be placed at least two feet off of the ground and should include bait that will attract raccoons but not other types of animals, like pets. In order to successfully trap a raccoon, it is important to check these traps regularly and relocate any animals captured as quickly as possible.
With Raccoon Eviction Fluid
One of the most effective ways to get rid of raccoons is to use Raccoon Eviction Fluid. This product is designed to mimic the scent of a mother raccoon, tricking the animals into thinking they're no longer welcome in the area. As a result, the raccoons will be driven out of your attic and back into the wild where they belong. Raccoon Eviction Fluid is safe to use around children and pets, making it an ideal solution for families with young children or furry friends. That was all about smoke raccoons out of attic.