It is a common belief that mother birds sleep in the nest with their babies. But do they really? Researchers from the University of Vienna set out to answer this question by studying different species of birds. Here's do mother birds sleep in the nest with their babies.
Do Mother Birds Sleep In The Nest With Their Babies?
Most mother bird species do not sleep in the nests with their babies at night, except if it's cold outside. Instead, they roost in trees or branches or nearby sites. 
In cold regions, however, mother birds usually sleep with their babies in the nest to keep their chicks warm. Some species of nocturnal birds, such as owls and swifts, will roost in their nests during the day to protect their chicks from the weather and predators. The mother bird tucks her young under her feathers to keep them warm, and she will often stay in the nest overnight.
Birds typically build nests for breeding and raising their young. Birds only spend a few hours in their nests each day but most time bringing food and protecting from predators but not sleep.
Why Do Mother Birds Do Not Sleep With Their Babies In The Nest?
After the eggs hatch, the mother bird will stop sleeping in the nest with their babies. First, if the mother birds stayed in the nest, their body heat would be too much for the chicks, especially in the summer. Second, if a predator attacks the nest, it would be easier for the mother bird to defend and find help if she was not in the nest.
Birds are vulnerable to predators when they're asleep, and a mother bird would be an easy target if she were sleeping in the nest. By roosting somewhere else, she can keep watch for predators and give her babies a better chance of surviving.
Next, sleeping in the nest would expose the mother bird to the elements, which could harm both her and her chicks. So while it may seem like mother birds are abandoning their young, they are actually doing what is best for them.
When Does A Mother Bird Leave Her Babies?
A mother bird will generally leave her babies when they are old enough to fend for themselves. Depending on the species of bird, it is typically when the young are around three to four weeks old.
The mother bird will usually stay close by during this time, teaching her offspring how to find food and build a nest. Once the young are able to survive on their own, the mother bird will typically move on to raise another brood. While it may seem heartless, it is actually an instinctual behavior that helps ensure the survival of the species.
If a predator were to kill the mother bird, the entire brood would be lost. However, if the young are able to fledge before the mother leaves, they stand a much better chance of surviving to adulthood.
How To Tell If A Mother Bird Has Abandoned Her Nest?
While mother birds often leave their nests for finding food for their young during the day, it can be difficult to find whether a mother bird has abandoned her nest. There are a few telltale signs that a mother bird has abandoned her nest.
For one, the eggs will be cold to the touch. Next, if there is no sign of activity from the mother bird, it is likely that the mother has left, and it will be eerily silent.
Finally, if the nest is significantly disturbed or if there are no sounds coming from it, it is probable that the mother bird is no longer present. While these are not foolproof methods, they can give you a good idea of whether or not a mother bird has abandoned her nest.
Why Do Birds Throw Babies Out Of The Nest?
In reality, most birds will do everything they can to care for their chicks, even if it means making some tough decisions. One of those decisions is whether or not to throw a chick out of the nest.
Yes, the mother bird will do it, not other birds. It might seem cruel, but there are actually good reasons behind it. If a chick is sick or weaker than the others, it can put the whole clutch at risk. By throwing it out of the nest, the parents prevent the spread of disease.
One is that the mother bird may be trying to kill the baby due to undernourishment. If the mother bird is not getting enough food, she may decide to get rid of her weakest offspring in order to increase the chances of survival for the rest of her brood. Finally, if a chick has died, the mother will throw it out of the nest as it can spread disease and mess.
Where Do Baby Birds Go When They Leave The Nest?
When baby birds leave the nest, they will fly to tree cavities, buildings rooftops, empty buildings, and different places depending on the species. Some birds, such as pigeons, will head to the rooftops of buildings or other high places. Others, such as sparrows, will stay close to the ground in bushes or trees.
Where a bird goes after leaving the nest often depends on where its parents live. But it will never go back to the nest where it left.
What Do Mother Birds Do With Dead Babies?
Mother birds are loving and nurturing creatures, but what do they do when one of their chicks dies?
In most cases, mother birds simply remove the dead chick from the nest and continue on with their lives. While this may seem cold, it is actually an essential part of maintaining a healthy population of birds. If mother birds were to mourn the death of every chick, they would not have the time or energy to care for the living ones.
Also, dead chicks can quickly attract predators, putting the entire brood at risk. By getting rid of the carcass as soon as possible, mother birds help to ensure the safety of their remaining chicks.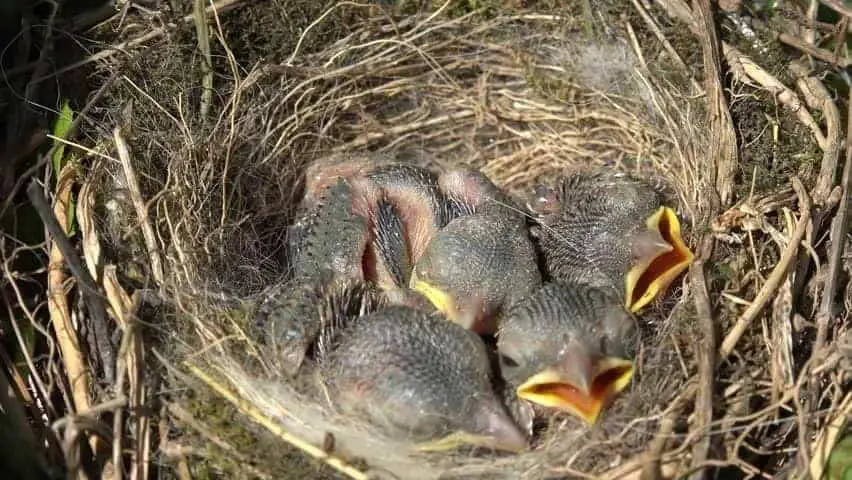 How Long Do Baby Birds Stay In The Nest?
Baby birds are born without feathers and are unable to fly. In order to keep them warm and protected, they must stay in the nest until they are fully feathered and ready to make their debut into the world.
Depending on the species of bird, this can take anywhere from 18 days to 22 days. Some baby birds, like hummingbirds, are able to leave the nest as early as 15 days after they are born. Others, like eagles, may not take their first flight until they are nearly fully grown. Once a baby bird is ready to leave the nest, it will typically spend a few weeks learning how to fly and hunt before it strikes out on its own.
Do Baby Birds Go Back to Nest At Night?
Many people believe that baby birds go back to their nests at night, but this is actually a myth. Once they are old enough to fend for themselves, they leave the nest for good and never look back.
Do Birds Sleep In Other Birds Nests?
Neither birds sleep in their own nests nor in other birds' nests. But where do they sleep? Most birds do not sleep in nests except incubating period. However, they do not sleep in other birds' nests either.
During the nesting season, birds build their own nests for incubating and raising the chicks. They sleep in the nest incubating the eggs for 21 days and when the babies hatched, they no longer sleep in the same nest. Not only there's not enough space, but it can also overheat chicks and being vulnerable. However, birds neither sleep in other bird's nests. Birds are territorial and do not let each other enter their territory leave alone their nest.
Where Do Birds Sleep At Night?
Most birds sleep their nights roosting and perching in trees, branches, chimneys, windowsills, eaves, and wires. Other than that, birds may also sleep in small crevices or holes in trees or on ledges, rooftops, empty buildings and attics.
During extreme weather conditions, such as cold snaps or severe storms, birds will sometimes seek shelter in large flocks in order to stay warm. In these situations, birds will huddle together and tuck their heads under their wings in order to trap body heat.
Do Birds Sleep Stand Up?
Most people believe birds sleep standing up, however, it isn't true. Some birds do indeed sleep standing on one leg, but most birds actually sleep lying down. The reason for this is that lying down helps to keep their feathers warm and dry. Wet or matted feathers can make it difficult for birds to fly, so they need to be able to keep them in good condition.
Interestingly, some birds will even tuck their heads under their wings when they sleep. This helps to protect their eyes and face from the cold wind and also provides a bit of camouflage if they happen to be sleeping in an exposed spot. Some birds even sleep floating on the water and some sleep upside down.
c
How Long Do Birds Sleep?
Most birds sleep for 10 to 12 hours per day, although some species may sleep for as little as four hours and others up to 20. The amount of time a bird sleeps depends on its age, health, and time of year. For example, young birds typically sleep more than adults, and sick birds usually sleep less than healthy birds.
As well a, birds tend to sleep more in the winter than in the summer. While most birds do the majority of their sleeping at night, some species sleep during the day.