Is dragon fruit safe for birds to eat? This is a difficult question to answer as there are many factors to consider.
Dragon fruit can be a healthy snack for birds, but you need to be aware of a few things before feeding this fruit to your backyard feathered friends.
We will explore the nutritional benefits of dragon fruit for birds, how often you should feed them this fruit, and some alternative fruits that wild birds love just as much.
What Is Dragon Fruit? Where Is It From?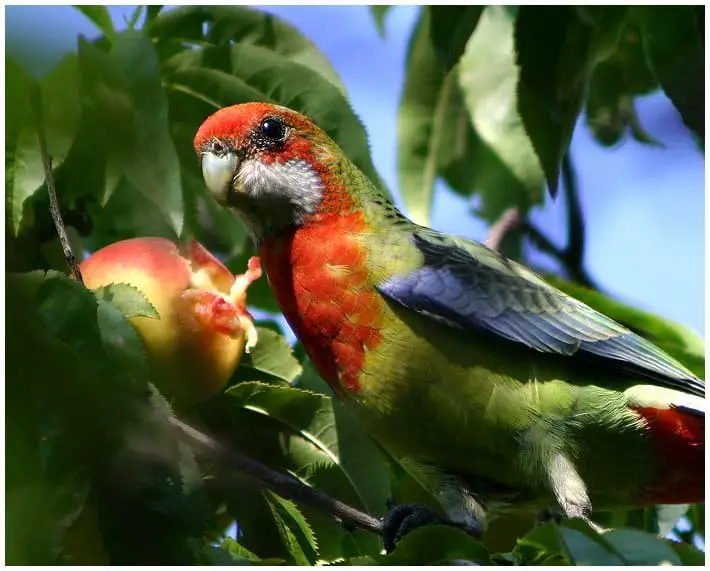 Dragon fruit comes from Central and South America. It is usually red or pink with green scales, has a white fleshy interior dotted with black seeds, and tastes like kiwi. The fruit is often used in desserts, smoothies, and salads because of its sweetness and crunchiness. Dragon fruit is also healthy since it contains fiber, vitamins C & B, as well as antioxidants that help protect cells from damage.
Dragon fruit, though not commonly found in supermarkets, is often available from specialty stores or online retailers.
This type of fruit typically ripens during the summertime.
When picking a dragon fruit, choose one that is brightly colored and firm; avoid fruits with bruises or brown spots.
Dragon fruit can last up to a week when stored in the fridge. To eat dragon fruit, cut it lengthwise and scoop out its flesh with a spoon—or add it to salads, smoothies, etc.
Can Wild Birds Eat Dragon Fruit?
The answer isn't quite as simple as you'd think.
Birds usually consume a diet that is mostly fat and protein with minimal sugar. The main issue comes from the fact that dragonfruit typically has high sugar content.
Nonetheless, some professionals say that small doses of sugar can actually be helpful for birds since it provides them with energy to live throughout the day.
Therefore, it's possible for wild birds to eat dragon fruit without any issues, although consuming large quantities at once is not recommended.
Are Dragon Fruits Safe For Wild Birds?
Yes, dragon fruits are safe for wild birds.
Not only is the flesh of dragon fruits not poisonous to birds, but the seeds are an appropriate size for them too. This means that they will not choke on them.
Also, brightly-colored dragon fruits often attract birds who then realize that it is a good food source.
While dragon fruits may not be a large part of their diet, they can help to sustain birds during periods of food scarcity.
In addition, dragon fruit consumption can also play an important role in supporting the health of wild bird populations by providing essential vitamins, minerals, and antioxidants.
What Are The Nutritional Benefits of Dragon Fruit To Birds?
Dragon fruit, a tropical superfood, not only looks exotic but also provides many nutritional benefits.
There is controversy over whether dragon fruit is helpful to birds, however, its many nutrients promote good health.
For example, dragon fruit contains a lot of vitamin C which strengthens immunity.
In addition, it has antioxidants and plant chemicals that protect cells from damage.
Dragon fruit contains a good amount of fiber, which aids in keeping the digestive system healthy. Although more research needs to be done specifically on the benefits of dragon fruit to birds, there is no denying that it is beneficial and can help promote good health.
Do Wild Birds Like To Eat Dragon Fruits?
Absolutely! Many wild birds love dragon fruits and consider them a favorite food.
In fact, different species of birds including parrots, toucans, and hummingbirds all enjoy dragon fruits.
The bright colors attract the attention of these animals, while the fleshy pulp contains vital nutrients needed for bird health.
So if you're interested in attracting wild birds to your garden space, planting some dragon fruit trees is an excellent solution.
How To Feed Dragon Fruits To Birds?
The best time to feed dragon fruits to birds is when they are most active, which typically happens in the mornings.
If you can't do that, try feeding them during the evenings or at night.
Regardless of what method you choose – bird feeder, suspended from a tree branch, or simply on the ground or in a food bowl – be sure there's plenty of light exposure if you go with the latter two methods.
The birds will also need access to water, so be sure to provide a birdbath or other source of water nearby.
How Often To Feed Birds Dragon Fruit?
A question that birders often ask is how often they should feed wild birds with dragon fruit.
As many people know, this exotic fruit is high in sugar content, and birds are particularly attracted to sweet things.
That said, it's generally best not to give dragons too much fruit too often; doing so can lead to weight gain and other health problems down the line.
Instead of feeding them constantly, think of it as a special treat you give them every now and then!
As a general rule of thumb, you can help wild birds by feeding them small pieces of dragon fruit once or twice a week.
By following these guidelines, you can ensure that wild birds will be attracted to your backyard and stay healthy and happy.
How Much To Feed Birds Dragon Fruit?
A question many bird enthusiasts ask is how much dragon fruit they should give the backyard birds.
This answer varies based on two things: the specific species of bird and the sugar content in said fruit.
As a general rule of thumb, it's best to only give one or two small slices because the dragon fruit has high sugar levels.
One or two slices every time you feed wild birds is ideal.
Although toucans and parrots prefer foods that are high in sugar, they can eat more dragon fruit than other birds.
However, as with all healthy diets, variety is key. Too much of any one food group can lead to health problems down the road.
So while dragon fruit may be a delicious treat for your birdie friend, make sure they're getting a well-rounded diet by feeding them fruits and vegetables of different colors.
Can Wild Birds Eat Dragon Fruit Seeds?
Though people enjoy dragon fruit, you might question if it's okay for birds to eat.
The good news is dragonfruit seeds aren't poisonous to birds. In fact, many bird species regularly consume the seeds of various fruits and vegetables.
Still, it's key to provide other foods alongside dragon fruit seeds.
Doing so will make sure the birds are getting all the needed nutrients and stop them from depending too much on one food source.
By following these steps, you can give dragon fruit safely to wild birds.
Can Wild Birds Drink Dragon Fruit Juice?
Yes, you can safely give dragon fruit juice to wild birds in moderation.
It's made from the flesh of the fruit and is a less sweet option than other fruits birds might eat, making it popular for bird feeders.
While dragon fruit juice is safe for wild birds to drink, the birds may not enjoy the taste as much as they would if they ate the fruit itself.
What Are The Alternative Fruits For Wild Birds?
Wild birds are notoriously fussy eaters, and it can be difficult to tempt them into your garden with conventional bird feeders.
In addition to dragon fruit, there are many alternative fruits that can attract wild birds to your yard:
Oranges
Grapefruits
Berries
Apples
Pears
These fruits are appealing to wild birds because they contain high levels of sugar and nutrients.
So, if you're having trouble attracting wild birds to your garden, try using some of these alternative fruits.
Conclusion
Dragon fruit is a scrumptious and nourishing snack for wild birds, but like with all snacks, it should only be given to them every now and then to avoid obesity or other health concerns.
In addition, when you do feed dragon fruit to your pet bird(s), make sure that they also have access to other types of food so that they receive a good amount of different nutrients.