When we think of a butterfly, we picture a brightly-colored creature with beautiful wings that flit from flower to flower. With their brightly colored wings, they are a welcome sight in any garden, however, can butterflies see their wings at the back?
The Short Answer…
Interestingly, butterflies can actually see their wings quite well. In fact, they can see 360 degrees around which means they can also see their back at the same time they can see their front. Not only that but their eyes are specially adapted to see in ultra-violet light, which means they can see patterns and colors that we cannot.
Does Butterfly See Their Own Wings?
With two compound eyes, butterflies can view 360 degrees which includes their whole body, not just their wings. The reason for this is that butterflies have compound eyes, which are made up of many small lenses. The two eyes of butterflies compounds, with one use for focusing and the other for segments.
Each one of these lenses detects light, dark, color, and degree of view so they can provide a clear image. This also provides an extremely wide field of view and excellent depth perception. But, their distance view isn't very good so they can only see fine details up to 12 feet.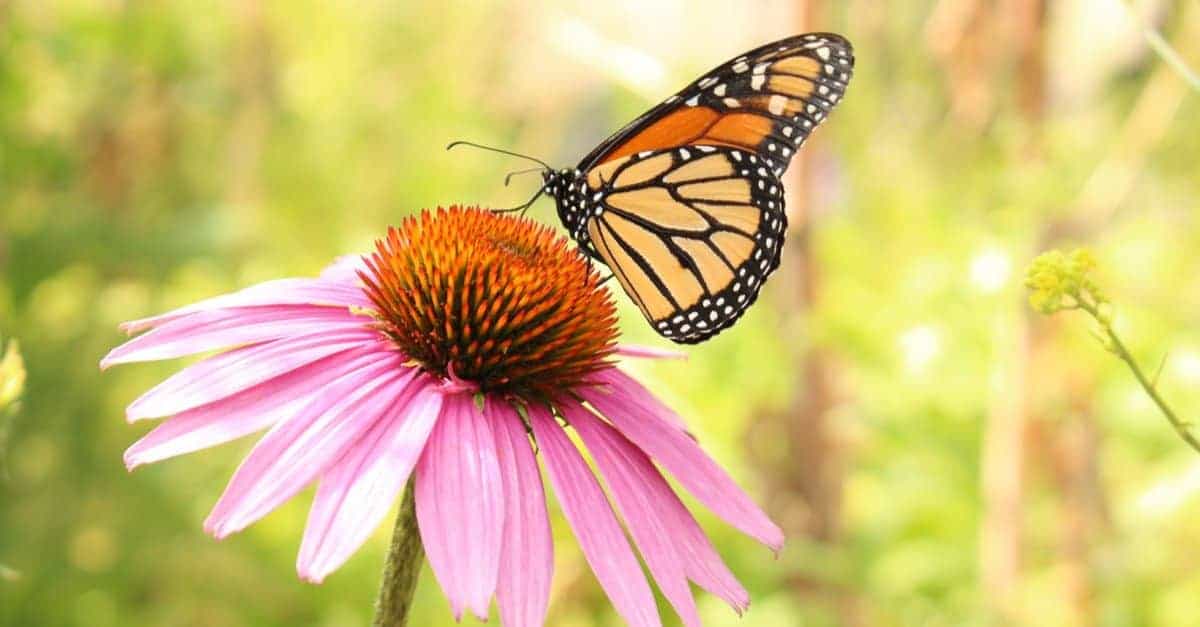 Butterflies have photoreceptors in their eyes that allow them to see polarized light. This means that they can detect the polarization of light waves, which can be used to determine the orientation of objects. Studies have shown that butterflies use this ability to orient themselves relative to the sun and navigate while flying. This is an incredible adaptation that allows butterflies to make the most of their limited eyesight.
Can Butterfly See Color of Their Wings?
Butterflies actually have an excellent color vision so they can easily see the color of their wings. They are able to see a wide range of colors, including some that humans cannot perceive. They are also able to see ultraviolet light, which helps them to find food and mates.
Butterflies' eyes are sensitive to UV, violet, blue, and green, and they can see a wide spectrum of colors.
Can Butterflies See How Pretty & Colorful They Are?
Butterflies are some of the most beautiful creatures in the natural world, with their brightly colored wings and delicate aerial acrobatics. But do they know how pretty they are?
The answer appears to be yes. A study has found that butterflies have the ability to see all colors and even ultraviolet light, which means they can see colors that are invisible to humans. However, with their 360-degree view, they can also see their own body, colors and how colorful they are.
This finding could help to explain why butterflies are attracted to certain flowers despite they primarily use smell to find flowers. Many flowers reflect ultraviolet light, which makes them appear brighter and more colorful than butterflies. The patterns on butterfly wings are often UV-reflective, their wings pattern is also used in swimming and many more areas that may help to camouflage the insects from predators or attract mates.
Whatever the reason, it's clear that butterflies have a unique perspective on the world around them.
Can Butterflies See At Night?
The answer is YES! While butterflies have keen eyesight during the day, they are able to see at night by using their compound eyes.
However, butterflies are diurnal which means they are only active during the day. However, they can also see during the night but rarely they may come out during the night.
Each of their eyes is made up of thousands of tiny lenses, which allow the butterfly to detect even faint sources of light. So next time you see a butterfly fluttering around in the dark, remember that it is not just following its instincts—it can actually see where it is going!
Why Do Butterfly Wings Color Come Off?
The short answer is, that butterflies wing's color comes off with their age. 
Butterfly wings are some of the most beautiful things in nature. Their colors seem to shimmer and change as they reflect the light which makes truly mesmerizing to behold.
The colors on butterfly wings come from tiny scales that cover the wing surface. These scales are pigment cells that contain color pigments. As butterfly wings age, these scales begin to fall off, causing the colors to fade. In some cases, wing color may also be affected by environmental factors such as sunlight or temperature.
Over time, these factors can also cause the scales to fall off, resulting in faded wings. While the loss of wing color may make butterflies less visible to predators, it can also make them more difficult to find mates. As a result, fading wing colors can have a significant impact on a butterfly's ability to reproduce.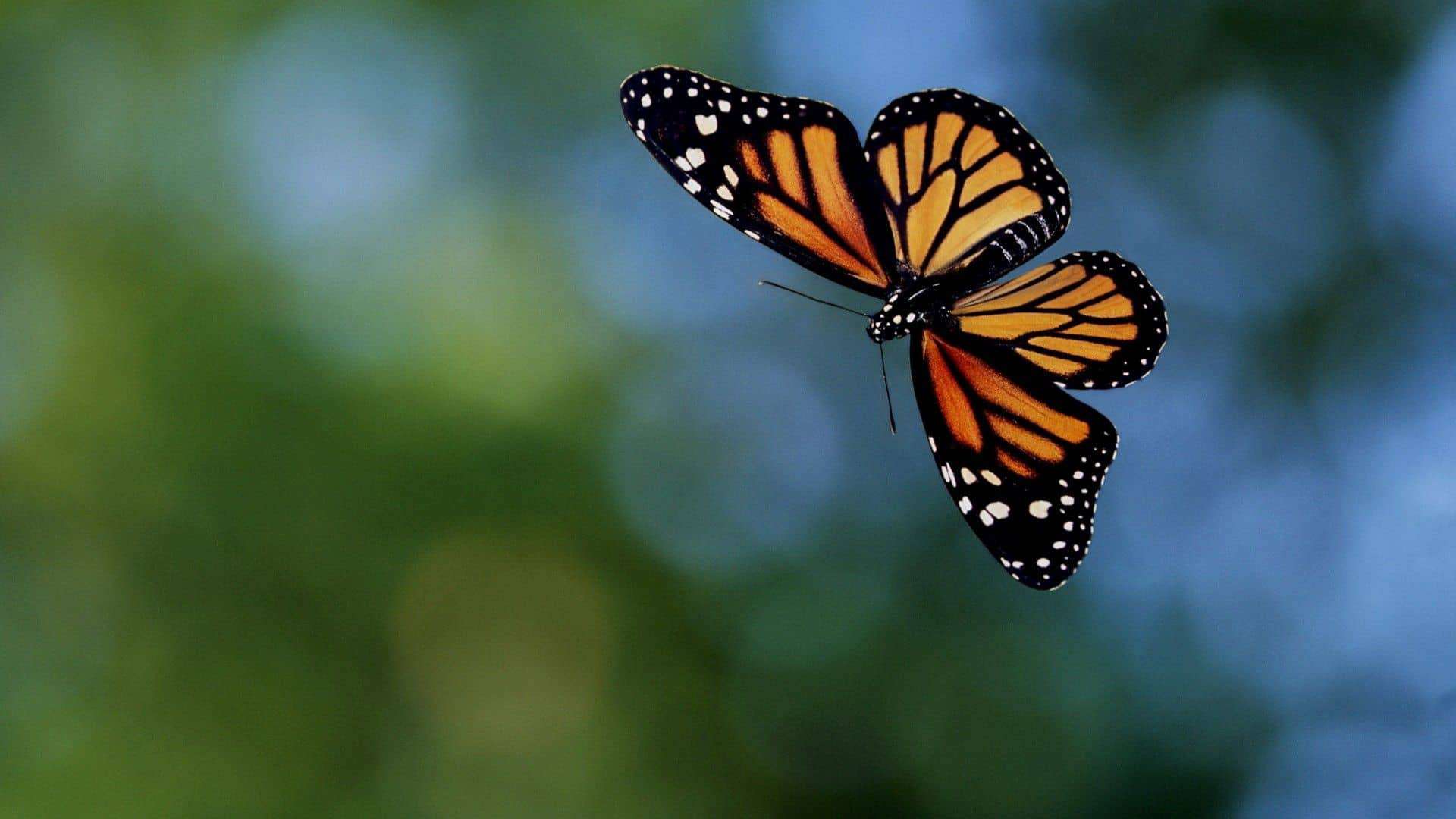 Can Butterflies Grow Their Wings Back?
Unfortunately, butterflies cannot grow their wings back. Their wings are composed of only two layers of skin, with no bones or other structures to support regeneration. This means that if a butterfly loses a wing, it will be permanently crippled.
In some cases, the butterfly may be able to compensate for the loss by altering its flying technique, but it will never achieve the full range of motion or beauty that it once had. As a result, it's important to take care of our butterflies and protect their delicate wings.
How Much Around Can Butterfly See?
If you've ever been lucky enough to have a butterfly land on you, you may have wondered how much of the world they can see. Butterflies have eyes on the sides of their heads, and each eye is made up of thousands of tiny lenses. This gives them a very wide field of view- in fact, they can see almost all the way around them! To be exact, butterflies can see 356 degrees which is slightly less than 360 degrees.
Their eyes are so sensitive that they can even detect ultraviolet light, which helps them to find nectar-rich flowers. The next time you see a butterfly fluttering by, take a moment to appreciate the beauty of their world.
What Happens If You Touch A Butterfly Wings?
In compliance with people's believe, touching a butterfly's wings will damage their wings.
If you touch a butterfly's wings, you will probably end up with powder all over your fingers. That will also cause damage to butterfly but not kill it. That's because butterflies have scales on their wings, and when you rub them the scales come off. The scales are what give butterflies their coloration, so if you remove enough of them the butterfly will look pale and drab.
In some cases, rubbing off the scales can actually kill the butterfly. The scales help to protect the butterfly from predators and parasites, and without them the butterfly is more vulnerable to attack. So next time you see a butterfly, resist the urge to touch its wings and enjoy its beauty from a distance.
How Large Is Butterfly Eyes? Where Is it?
Butterfly eyes are large and close together on the butterfly's head. Each eye is made up of many small hexagonal lenses that provide the butterfly with excellent vision. The size of a butterfly's eyes depends on the species of butterfly, but they are generally larger than the eyes of other insects. However, the exact size is yet to be known.
With addition their large size, butterflies also have three eyelids that help to protect their eyes. The top eyelid covers the eyes when the butterfly is at rest, while the bottom eyelid helps to keep dust and debris out of the Butterfly's eyes. The third eyelid, which is located in the center of the eye, protects the Butterfly's pupil from damage.
How Good Is Butterfly Vision?
If you've ever taken a close look at a butterfly's eyes, you'll notice that they have large compound eyes made up of thousands of tiny lenses.
This design helps butterflies have excellent vision, letting them see in almost every direction at once. Butterflies can see a wider range of colors than we can, including ultraviolet light. Some experts believe that this enhanced vision allows butterflies to communicate with each other and navigate their way around the world.
Although butterfly vision isn't sharp as ours, they are still better than human eyes in many ways. Not only they can see things larger, but they are also good at perceiving objects faster and lastly, they can differentiate between many UV and polarized lights.
Can Butterfly Change The Color Of Their Wings?
Unfortunately, the answer is no. Although when they fly and the sunlight relects, it may seem another color from what you saw but they cannot change the color of their wings. This is due to the fact that their wings are so many colors.
Butterflies get their colors from two main sources: pigment and iridescence. Pigment is a colored substance that absorbed some wavelengths of light and reflects others. Iridescence, on the other hand, is caused by light interference. When light waves bounce off of an object, they can either cancel each other out or amplify each other, depending on their alignment. This creates the shimmering effect that is often seen in butterfly wings.
Together, these two mechanisms allow butterflies to produce a wide range of colors, from deep blacks and vibrant yellows to iridescent blues and greens. However, once a butterfly has developed its colors, it cannot change them. So if you're ever lucky enough to spot a butterfly with unusual colors, it's likely that you've found a rare and special individual.
How Far Can Butterfly See?
Despite butterflies excellent vision, their eyes still lacks some things. Although they can see better and faster, their eyesight isn't sharp and cannot see far away.
Butterflies are often seen flitting from flower to flower, sipping nectar with their long proboscises. But what most people don't know is that these delicate creatures have excellent eyesight. In fact, a butterfly's eyes are composed of thousands of tiny lenses, allowing them to see in every direction at once. With 360-degree field of vision and the ability to see objects as far away as 12 feet. Not bad for an insect that only has a wingspan of a few inches! And that was all about can butterflies see their wings.